Norway's North Cape is far bleaker than ours, its summer majesty chilling David Hill to the bone.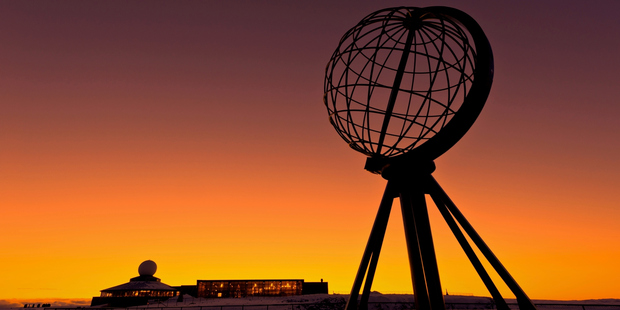 We were at North Cape, where the two seas meet. In front, cliffs dropped away to the ocean. Above, the sun glowed low and white. Behind, snow streaked the plateau.
Snow? Well, this wasn't New Zealand's North Cape. This was Norway's Nordkapp, just about Scandinavia's northernmost accessible point of land.
The sun was low because it was 11.30pm. Snow streaked the plateau because, even though we were there in summer, the temperature was a blood-slowing 3C.
Nordkapp bulges into the sea at 71N. Transfer that to the Southern Hemisphere, and you're on the edge of the Antarctic ice shelf.
At this North Cape, the sun never sets between mid-May and late July. Which means that it never rises between mid-November and late January. Most tourists come in summer, when snow beside the road is only a metre deep.
We got there from Honningsvag, a sturdy grey town of fishing boats, fjords, and a miners' dormitory hotel with frayed carpet.
The one-hour bus trip took us across a high plateau of splintered rock and snow-choked gullies. Reindeer looked up calmly as we passed. The only green things were moss, lichen and the dollars of American visitors.
Guidebooks get sniffy about the Visitor Centre at Nordkapp. Yes, it's expensive, and much of it is shops selling reindeer key rings, reindeer bath mats and reindeer boxers. The wrap-around AV theatre provides sensation rather than information.
But you can stare through big windows at the steel-coloured sea wrinkling below. You can dash outside in your midsummer wardrobe of fleecy parka, gloves and woolly hat, to photograph the big, skeletal globe marking 71N, and the clunky, oddly affecting stone discs carved by kids from all continents. Then you dash back in again, nose numb, eyes watering, exposed skin burning from a northerly straight off the Arctic ice.
We were in and out until midnight. We found tiny pink flowers among the moss. We stood just along from rows of campervans parked to face the sinking sun, and stared at Norway ending in ravine-slashed, 100m cliffs dropping to where a fishing boat lurched.
From the west the Greenland Sea meets the Barents Sea. In World War II, over the horizon from Nordkapp, Arctic convoys slugged their way through colossal waves and horizontal sleet towards Murmansk, hounded by German U-boats.
Survival time in the water for torpedoed sailors was about 60 seconds.
North Cape gained popularity after King Oscar II of Norway visited in 1873. He came by sea - brave king. Photos in the Visitor Centre show him climbing a precipitous path to the plateau, accompanied by his even braver Queen in her ankle-length skirt.
Half an hour before midnight on the early-June evening we arrived, a cloud bank began to build along the horizon, and our hearts dipped.
But the cloud stayed low, beneath the pale, heatless sun. The plateau turned pink and peach. The sea turned bronze. The light was indeed bright enough to read by, as all the guidebooks claim. Our shivering 1.8m shapes cast 6m shadows across the ground.
Midnight, and suddenly the place was like New Year's Eve. The campervans blasted their horns. People cheered, shook hands, took more photos, headed off to buy a reindeer tea-towel. The sun, that had crawled down to about three finger-widths above the horizon, edged slowly along then, undeniably, began crawling upwards again.
We left Nordkapp at 1.15am, with the sun rising higher and higher, and the snow on the plateau turning from pink back to white. A trio of reindeer loped gormlessly along the road in front of our bus. The barking of a kelpie is supposed to make them scatter, but I didn't feel up to it. We got to bed in Honningsvag at 2.30am, in the bright, bright daylight. We didn't sleep.
It didn't matter. We felt we'd been near the world's end. After all, we had the tea-towel to prove it.
IF YOU GO
Getting there: Wideroe Airlines flies daily to Honningsvag, above, from many Scandinavian centres.
Getting around: Boreal Transport runs buses from Honningsvag to Nordkapp, 35km away, Monday-Friday every week of the year, snow conditions permitting, and seven days a week from May-August.
Further information: See the Nordkapp Visitor Centre.
David Hill paid his own way to Nordkapp.