Julia Shallcrass visits Amsterdam, which colours its history with fun and interactive museums.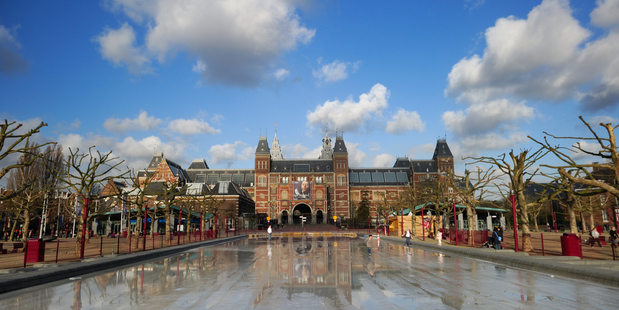 "Sense of time and feel for beauty" is the motto of the famous Rijksmusem.
This motto sums up Amsterdam itself, which has more than fifty museums featuring art, fun, history, coffee shop culture, science, technology and canal boats, as well as Dutch tulips, cheese and beer.
My husband and I visit several museums that paint Amsterdam as a vibrant city, and engage our interest through fun, provocative and challenging exhibits.
Our favourite museums include:
Rijksmuseum
The Rijksmuseum hosts a collection of art and objects of culture from the Middle Ages through to today. Dolls houses and delftware, paintings and photography tell the history of Dutch trade and royalty.
Rembrandt van Rijn's famous Night Watch is a must-see. Also of note is Jan Asselijn's "The Threatened Swan" which represents Dutch statesman Johann de Witt as the swan defending its egg (Holland).
Van Gogh Collection
While the Museumplein undergoes extensive renovations, you can admire works by Vincent van Gogh collection during its temporary stay at the Hermitage museum. We chronicle the master's journey from the old techniques to his use of bright vivid colours; the influence of Japanese prints on his paintings; and his inventive brush strokes that breathe vigour to still life, such as his "Sunflowers".
In May 2013, the world famous paintings will return to Museumplein, and special celebrations will mark the 40th anniversary of the Van Gogh Museum.
Diamant Museum and Coster Diamond Factory
Find out how this precious crystallised pure carbon is formed and created at the Diamant Museum. Next door at the Coster Diamond Factory, we see staff polish diamonds with wheel, diamond dust and oil to create a sparkling example of the "Amsterdam Cut". It is here that we learn to consider the four "c" words when purchasing diamonds: cut, colour, carat and clarity. It seems that cost is irrelevant.
National Marine Museum 'Het Scheepvaartmuseum'
Visit the National Marine museum for attraction park displays, including the "Voyage of a Sea". On this virtual 4D adventure, you can take part in a sailing race, encounter storms, sea battles and a shipwreck.
In the canal, board a life-size replica of the Amsterdam Ship (VOC schip Amsterdam) which could carry around 350 passengers when the Dutch East India Company traded in Asia.
Heineken Experience
The Heineken Experience captures the history of the pale ale in all its glory. Described as a "Disneyland" for adults, this family owned brewery provides us with beer, foosball, and a host of Heineken advertisements.
Create your own music videos, and find out what it feels like to be brewed and bottled in the "Brew U" 4D experience. Most importantly, taste the hops in a cold beer.
This exhibition leaves us invigorated and well-liquored.
Amsterdam Cheese Museum
The Dutch have been making cheese for over 600 years. At the Amsterdam Cheese Museum, discover an array of antique dairy appliances, including milking seats, a churn, and even a set of scales from the 17th century.
Sample award-winning Dutch cheeses within the Museum's store. You can purchase gourmet cheeses named after cities in the Netherlands including Old Amsterdam cheese, Gouda and Edam.
Anne Frank's House
Anne Frank's house recalls the harrowing story of a Jewish girl in hiding during the Holocaust. Teenager Anne Frank and her family hid in the loft of her father's workplace during the Nazi Occupation, until their capture by the SS.
We visit the modest rooms of this "Secret Annex", which displays photographs of a young Anne and original manuscripts of her famous diary, published following her death at Auschwitz.
In video footage, Anne's father and Holocaust survivor, Otto Frank, describes his decision to publish his daughter's diary: "To build a future you have to know the past".
The museum concludes with an interactive multi-media display that questions our ideas of human rights, including freedom of speech and religion.
Booking:
For priority entry, discounts and free public transport, consider purchasing the Amsterdam City Card.
- nzherald.co.nz