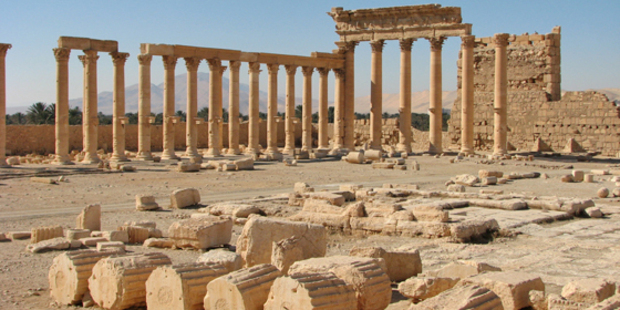 Soft footfalls in the sand; sounds like a slowly unblocking drain. I didn't want to look round - I thought maybe my daydreams about life in Palmyra, Syria, 2000 years ago had brought something ghostly to life.
A voice: "I have been looking for you all day."
I doubted that any Roman ghost would have spoken such heavily accented English. I swung around on the lump of Corinthian column on which I'd been perched.
A knobbly hairless knee was at my eye level. There were three more nearby. A trail of drool splashed beside me. I hoped it was from the camel and not the man who was riding it.
The camel, grumbling throatily, folded down beside me. I recognised its owner after a meeting earlier that day. After all - surely there could only be one man in Palmyra wearing a corduroy suit, a red and white keffiyeh headdress and John Lennon sunglasses.
Ali (not his real name for reasons that may become obvious) the Bedouin and I had been discussing the possibility of him taking future groups of Kiwis on sunset tours of Syria's most spectacular ruins.
"Now it is time for you to experience this for yourself," he said.
Before I could think up a good excuse he'd whisked my backpack on to the back of the saddle and rather unnecessarily had almost bodily thrown me onto the camel. I was two metres above the sand before I knew it.
"Do you like my camel?" he asked as he led us through the ruins.
It was a handsome animal with its tasselled camel blanket. We drew up beside an ancient wall and suddenly Ali sprung up in front of me. It was a cosy fit.
"You may need to put your arms around me so you do not fall off."
"I'll be fine," I told him firmly.
Camel riding for two should really only be permitted for those who are really, really good friends.
My dodgy left hip for once proved useful - I told Ali my new location was proving painful. He leapt off with a slight sigh.
As we meandered among the colonnaded street and temples Ali told me how Syrian women only wanted one thing (which thankfully turned out, according to him, to be a range of state of the art household appliances and a nice car) so he was looking for a foreign woman as a wife.
By now I smelt more than camel.
"We will take my camel to my garden and have tea, then have dinner in the desert," he said.
I told him my plans were somewhat different.
"You have a sightseeing programme after dark?" he said. Damn.
It was still light, the road through the ruins was busy and there was a scattering of tourists about and I had my phone with me.
We swayed into the sunset to the wooden door that led to his garden. The camel stopped.
"Jump down into my arms," said Ali.
"I'll wait for the camel to kneel thanks," I said.
"He can't," said Ali. "He has sore knees."
We contemplated each other for a few seconds. I refused to be outmanoeuvred. I slid down the camel's flanks achieving what I think was a rather nifty half-turn mid-flight that meant that it was my shoulder rather than anything else that collided with Ali.
"I would have caught you," he said, a little aggrieved.
"Look at my muscles."
Inside his walled garden two other Bedouin were sitting around a fire sipping tea. I was delighted to see them.
We joined them and as the sun disappeared Ali took me on a tour of his garden.
"I can offer you all these olive trees, many date palms. Ten camels and a 200-star hotel," he said, pointing skywards.
As a pick-up line it really did take some beating.
"How old are you?" he went on, none too subtly.
"You seem very healthy even with your sore leg."
I wondered if he was going to ask to check my teeth. I told him it was time I went back to the hotel.
We made the return journey by motorbike - Ali taking a shortcut through the gloriously floodlit Roman main street - once Emperor Hadrian had walked here, as had legendary local queen Zenobia.
On the outskirts of the town Ali stopped the bike.
"If you are really not going to stay with me I will go the gym," he said.
I got off the bike. He began to drive away but suddenly did a u-turn and came back.
"If you get lonely in the night just call me and I will be there," he said, handing me his business card.