Drilling starts as stars' daughter makes a sticky 'human lock'.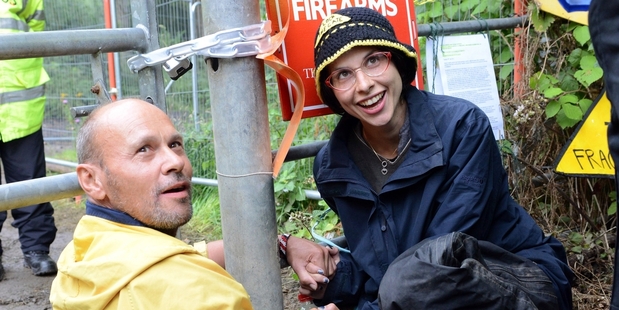 Oil drilling began yesterday in Balcombe, West Sussex, where anti-fracking campaigners have been protesting for 10 days.
Protesters tried to slow vehicles as they arrived at the site of energy company Cuadrilla.
More than 30 people have been arrested in the past week, mainly for obstructing deliveries. They included Natalie Hynde, the 30-year-old daughter of Kinks star Ray Davies and Pretenders singer Chrissie Hynde, who glued herself to her boyfriend, veteran environmental activist Simon "Sitting Bull" Medhurst, 55, to form a "human lock" at the site entrance on Thursday.
On Friday, two protesters aged 19 and 22 were arrested on suspicion of assaulting police. Six people were arrested on Thursday after protesters blocked the site entrance with an antique fire engine.
Cuadrilla spokesman Matt Lambert said the company had made good progress in getting lorries delivering drilling equipment on to the woodland site.
Human rights activist Bianca Jagger has called on people in the UK to join the protesters. Vanessa Vine, from Frack Free Sussex, said fracking would be "a violation of our geology that could threaten our water, fresh air and our children".
Protester Kathryn McWhirter said: "It is of huge national importance that we all stand up against this dangerous coalition of the petro-chemical industry with our Government."
Friends of the Earth's Brenda Pollack said: "It threatens their environment and quality of life, and will mean more climate-changing emissions are pumped into the atmosphere."