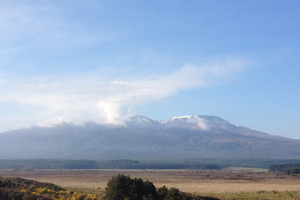 The Minister for Conservation has been briefed on the current state of activity at Mount Tongariro.
Kate Wilkinson visited the area yesterday along with Taupo MP Louise Upston following Wednesday's eruption.
DOC and GNS scientists briefed them on possible future scenarios for the mountain's Te Maari crater.
They also met with community leaders to discuss the best way forward to support the community and businesses who rely on tourists coming to the area to walk the currently closed Tongariro Crossing.
Ms Wilkinson says she's pleased to see DOC working hard with GNS to monitor volcanic activity so any re-opening in the future is done without compromising staff or public safety.