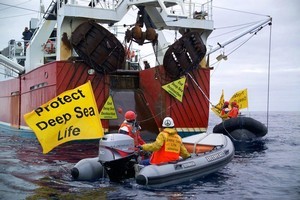 You know what they say about good reputations - hard to earn, easy to lose. If you wanted a case study on that particular piece of wisdom, you'd do well to look at bottom trawling.
Mention those two words to the average New Zealander and the image they'll call up will probably consist of huge nets rolling along the ocean floor laying waste to everything in their path.
Stands to reason people should think that, it's a doctrine that has been preached by environmental lobbyists for a long time.
There's no denying that bottom trawling has some effect on the environment but the scientific jury is well and truly out when it comes to gauging the scale of that effect.
The real problem facing fisheries worldwide is more fundamental than any fishing method. Put simply, too many fish are being caught.
Unfortunately there are many examples around the world of how badly managed fisheries allow this to take place.
But the fact is that in New Zealand we're at the forefront of sustainable fisheries management. Other countries point to us as an example of how it should be done.
The implication that New Zealand's ocean floor is being systematically scoured for fish is simply not true.
The Ministry of Fisheries' comprehensive data-collection system, backed up by satellite tracking of fishing vessels, shows only 10 per cent to 15 per cent of the exclusive economic zone (EEZ) has ever been bottom trawled. Right now only 1 per cent of the EEZ is bottom trawled each year.
New Zealand fishers care about the marine environment and why wouldn't they? It's their front office, the place they go to work.
If it's not well managed their businesses suffer. That's why the industry got together in 2007 and voluntarily closed about 30 per cent of New Zealand's EEZ to bottom trawling forever. The area is broadly representative of New Zealand's seafloor (or benthic) habitats.
That's 1.2 million sq km, or an area four times the size of New Zealand's land mass, that will never be touched by a bottom trawl.
An article in the October 16 Weekend Herald, "Fish stocks on the rise - but there's a catch", cited several sources, including the Guardian and the New York Times, talking about "unsustainable" bottom trawling.
The article went on to point out, quite rightly, that whether allegations like this are true or not is in one sense immaterial - it's perception that counts.
The feature quoted Environmental and Conservation Organisations (ECO) spokesman Barry Weeber criticising New Zealand's science spend. It's worth noting that this is the same system which has been identified by fisheries scientists around the world as leading the way in sustainability.
In the face of such general praise of New Zealand's fisheries management from the international scientific community, you should probably wonder what green groups have to be outraged about.
It seems fisheries managers can't win. If a catch limit is raised there is outrage because it is too high. If it is lowered, there is outrage because it used to be too high.
Another way to look at it - one more in tune with the reality of fisheries management - is that fisheries naturally fluctuate for a wide range of reasons, with commercial fishing being only one.
We may not completely understand the full set of factors behind those fluctuations in all fisheries but we can act on the information we have about fish numbers.
It would be nice to have a comprehensive set of data to work with, but economically and scientifically that's not feasible. Indeed, we could spend a lot more for less effective science. It's all about getting the best value out of the science we conduct.
At some point we have to accept that all the essentials of modern life involve some kind of environmental trade-off. Everything, from the buildings we live in to the roads we drive down and the food we eat has some effect on the environment.
The robust practices in place to manage the seafood industry make our impact relatively small, but nevertheless it's there.
We bring $1.4 billion to the economy and keep more than 26,000 New Zealanders in work. We believe that makes the environmental impact we do have worth it.
But that doesn't mean we will stop working to improve - far from it. The starting point for any of this improvement is science and the New Zealand seafood industry is required by law to fund Government science to support the quota management system. But over and above that, New Zealand fishers also put their hands in their pockets to the tune of millions of dollars a year to fund science. The fact that we're recognised as leading the world is evidence that the approach is working.
* Peter Bodeker is the chief executive of the Seafood Industry Council.