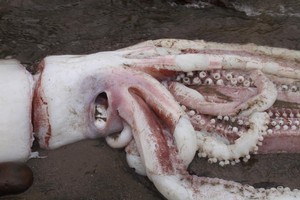 A giant squid which washed up on a Wellington beach this morning will be left to the elements, the Department of Conservation (DOC) says.
A Houghton Bay resident found the squid, measuring up to 3.5m, on the south coast beach and contacted DOC.
"She thought it was a bit of old rope" but upon closer inspection realised it was a giant squid, DOC spokesman Brent Tandy told NZPA.
DOC contacted Te Papa as marine invertebrates were outside its jurisdiction but because the creature was in bad shape, the museum was not interested in it for collection.
However, it had asked that its "beak" - the mouth and muscle around it, similar in size to a rugby ball - be removed for examination.
The squid was considered small and was therefore either a male or a juvenile, as females were the larger of the species.
Its body would be left where it was to decompose, or wash back into the sea.
- NZPA