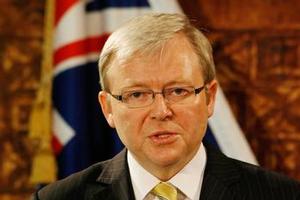 CANBERRA - Prime Minister Kevin Rudd's green credentials continue to take a hammering as he prepares for an election this year in which the environment will be a key issue.
Two new polls have confirmed that support for his major climate change policy - a greenhouse emissions trading scheme - is collapsing even as the Government tries for a third time to ram it through Parliament.
One poll shows that Opposition leader Tony Abbott's alternative carbon reduction proposal is now preferred by most voters.
And while the Government still enjoys a commanding lead over the Coalition, the gap is narrowing and Rudd's personal popularity is sliding.
His greenhouse problems lie in the complexity of his ETS and the Government's failure to adequately explain it to an increasingly sceptical public, especially after the failure of the December climate change summit in Copenhagen.
Apart from New Zealand and a limited European Union scheme, no other country has yet adopted an ETS, a fact that the Opposition continues to emphasise as it plugs its own A$3.9 billion ($4.7 billion) plan to cut emissions by fining major polluters, providing incentives to industry and farmers, planting 20 million trees, storing 85 millions tonnes of carbon in the soil, and subsidising domestic solar panels or hot water systems.
The Opposition is also attacking the Government for creating an expanding emissions trading authority already employing 150 public servants, even before the scheme has been approved by Parliament.
That approval seems doomed.
The scheme will pass the House of Representatives - where it is being debated this week - because the Government has a majority.
This will be boosted by the decision of former Opposition leader Malcolm Turnbull to cross the floor and vote for the ETS, which he managed to install as Coalition policy in the run-up to the 2007 election. He lost the leadership because of his support for Rudd's ETS.
Under Abbott, a climate change sceptic, the Opposition now firmly rejects an ETS.
In Parliament yesterday Turnbull lashed Abbott and the Opposition's new climate change policy, warning that it would be vulnerable to an "army of lobbyists [who are] ... all too effective at getting their sticky fingers into the taxpayers' pocket".
He said that an ETS was the only credible option if Australia was to meet its commitment to reduce emissions by 5 per cent of 2000 levels by 2020.
"All of us here are accountable, not just to our constituents, but to the generations that will come after them and us," Turnbull said.
But the ETS legislation will be almost certainly be defeated again in the Senate, where the Opposition and other non-Government senators continue to oppose it.
A Neilsen poll in yesterday's Fairfax newspapers said most Australians shared their misgivings. It said that since the Copenhagen summit, support for an ETS - previously steady at 66 per cent - had dived 10 points.
The Sydney Morning Herald reported that 45 per cent preferred Abbott's alternative plan, with 39 per cent supporting Rudd's ETS.
A National Forum poll for the Australian Climate Science Coalition also said belief that CO2 was a greenhouse gas had slumped from 62 per cent to 54 per cent, and the proportion of Australians believing there was a risk of catastrophic climate change had slipped from 55 to 49 per cent.
The Fairfax Neilsen poll also continued the trend of declining support for the Government, reporting that its lead in the two-party preferred vote had narrowed by two points since November, with Labor at 54 per cent and the Coalition at 46.
Preference for Rudd as Prime Minister had slumped from 68 per cent to 58 against Abbott's 31 - 10 points ahead of Turnbull's rating when the last Neilsen poll was made in November.
Meanwhile, dreams of turning the far north of Australia into a giant foodbowl have been dashed by a federal report.
Planners had hoped that the vast monsoonal north, with massive annual rainfall, could switch farm production from the embattled Murray-Darling basin, which irrigates Australia's most important agricultural regions and provides water for millions in the eastern states.
The basin is in crisis because of years of overuse, drought, increasing salinity and widespread pollution.
The previous conservative Government of John Howard ordered a study of the north's potential, which it considered untapped despite disastrous experiments in the 1960s around Darwin, and the failure of the huge Ord River project in Western Australia's far north to meet expectations.
The report of the Northern Australian Land and Water Task Force, released yesterday, dashed expectations.
Although the federal and WA governments will spend more than A$400 million to expand the existing 14,000ha of farmland irrigated by the Ord by a further 8000ha, and total agricultural production in the north could grow by 40,000ha, the maximum area that could be used for irrigated farming across the Top End was estimated at only 60,000ha.
In contrast, about 4.1 million sq km of Australia are at present being farmed.