This may be a second go round the track for 2014's Mario Kart 8 but it can only be considered a victory lap.
It may sound blasphemous but this re-release on Nintendo's new Switch console may be as close to perfection as their long-running, crazy racing series has got.
Essentially, it's the same game that came out on the Wii U a couple of years back. Only much, much better.
In sending the game over to the Switch, Nintendo seized the opportunity to implement handling and gameplay tweaks, add new features, make under-the-hood improvements and even bring about the return of the long-missed Battle Mode.
Nintendo should also be applauded for ignoring the accountants and making the Wii U's two packs of DLC tracks a part of the package. This gives you a whopping 48 racetracks to master straight out of the gate.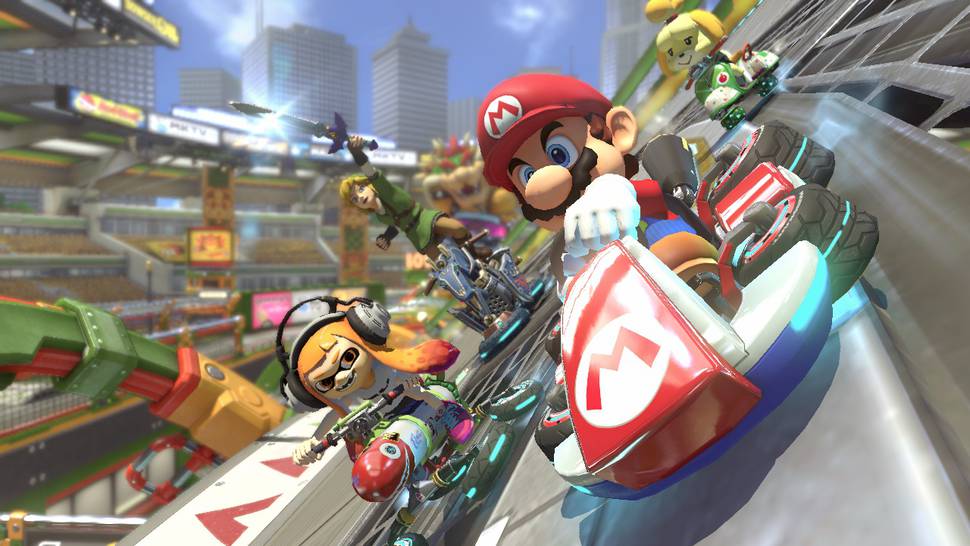 Needless to say the game is absolutely stuffed with content and more than lives up to its Deluxe suffix.
Of course, Wii U owners may have already mastered these tracks. Regardless, there's enough improvements here to warrant a re-purchase. I liked Mario Kart 8 on the Wii U but I absolutely love it on the Switch.
The game feels more immediate, the controls more refined. It's still as chaotic, exhilarating and frustrating as ever but it feels at home on the Switch in a way it didn't on the U.
I've played it mostly in handheld mode and it's been a dream. The game's already fantastic graphics look frankly amazing on the Switch's HD screen. It's made the commute whiz by but has earnt me very strange looks when I've failed to suppress a whoop of joy at a last second victory or a loud 'fuuuuuu' when a blue shell has shattered my podium chances. As seasoned Karters will know, this is a fairly regular occurrence...
Fun as the single player is, Mario Kart has always been better when racing against friends. The genius of the Switch's tabletop mode, which lets you pop two controllers off the console and use the tablet as a shared screen, has made squaring off against pals easier than ever. Sure, the Joy-Cons are a little cramped but they've proven functional enough for bitter workplace rivalries to emerge during impromptu lunchtime gaming sessions.
Alongside Zelda, this can only be considered a must buy for Switch owners. Even for those who already know MK8 inside and out (and upside down...).
The joys of playing MK8 wherever you are, with the added bonus of being able to let your mates join in thanks to tabletop mode, the abundance of in-game content, and the manic, fun-filled intensity of the game itself make this the definitive Mario Kart experience.
Platform:
Nintendo Switch
Rating:
G
Verdict:
A must buy. Even if you've played it before.