Last year, Joe and Fay Gock, former child refugees who came to New Zealand from war-torn China during the World War II Japanese occupation, were the subject of a short but very sweet documentary.
How Mr and Mrs Gock Saved the Kumara told the remarkable story of how, during the 1960s, the country's kumara crop was threatened by Black Rot when Joe and Fay gifted their disease-resistant strain. They didn't want to be paid for it; they merely wanted to help the country they'd made home and were raising their family in.
The four-minute documentary was made by director Felicity Morgan-Rhind and producer Arani Cuthbert and was inspired by a desire to show the positive contributions refugees make to NZ. The parents of three daughters, the Gock's lifetime contribution to horticulture has earned the couple accolades and awards but the industry pioneers don't rest on their laurels. They're still market gardening in Mangere.
The watermelon pickers - and eaters - photo shown here could be one of the Gock's other innovations: seedless watermelon, which they developed in 1958. It's one of around 100 rarely-seen photos in Being Chinese in Aotearoa New Zealand: A Photographic Journey.
The exhibition, at the Auckland War Memorial Museum, includes a collection of photos and other artworks showing the past and present of Chinese people in this country. It has three components that have seen historians, artists, writers and poets working to tell the story of the Chinese in NZ.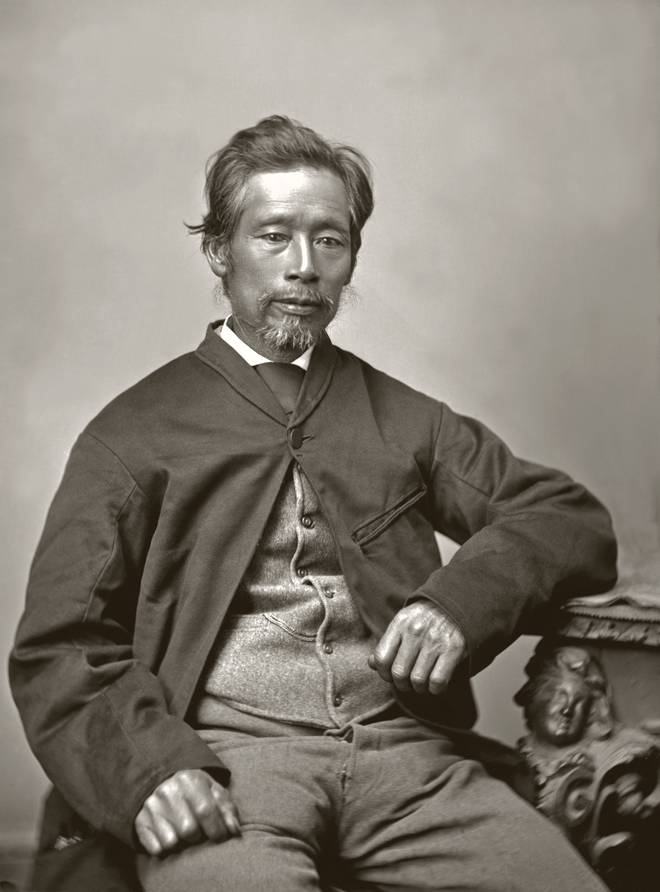 The first, curated by historian Dr Phoebe Li and photographic historian John B Turner, is the photos from the first Chinese settler, Appo Hocton, pioneering goldminers, merchants, architects and entrepreneurs through to more recent migrants.
The second is a graphic novel-style of contemporary artworks created by renowned graphic artist Ant Sang, who drew some of the TV series bro'Town's much-loved characters, and writer Helene Wong.
Golden Threads, the third and final component, is a digital interactive journey where you "choose your own path" to follow, through stories and illustrations, the life of one of five early Chinese settlers. Playwright and poet Renee Liang and artist Allan Xia, the founder of biennial Indie Arts Festival Chromacon, have created the touch-screen piece.
Given that Auckland's Lantern Festival is now held in the Domain, exhibition developer Simon Gould believes it makes sense to have a show at the museum that delves into Chinese history and complements the festival.
The photos are the largest part of Being Chinese. In 2014, Li was at a conference in Guangzhou, a region to where many Chinese New Zealanders can trace their ancestors, when she was asked to put together an exhibition about the Chinese community in NZ.
She recalled the numerous "fine photographs" (those taken by professional photographers) she'd seen while working on her PhD and set about contacting public institutions to look at some 10,000 photos from which to select just a handful for exhibition.
She says it was difficult to get answers to numerous emails about accessing collections and then whittling down photos to those she wanted.
"The more I found, the more I thought I should tell people and share my knowledge."
She picked photographs that show a range of experience and tell the story of 175 years of Chinese NZ history. The exhibition was staged at the Overseas Chinese History Museum in Beijing but Li also took the photos to Auckland Museum, where staff were discussing how to complement the Lantern Festival.
"It was extraordinarily good timing," says Gould, "because it was basically an exhibition that already had a very cohesive narrative and was looking for a space to be exhibited in. Many people won't be familiar with this history; even though it's there to find, it's almost like a hidden history and you realise what a huge contribution Chinese people have made to NZ."
Li says she was surprised, given how long it took to gain access to some of the photographic collections, that Auckland Museum was so keen to hold an exhibition.
"The museum is one of the country's pre eminent cultural institutions and this puts Chinese history in its proper place."
What: Being Chinese in Aotearoa New Zealand: A Photographic Journey
Where & when: Auckland War Memorial Museum, from February 10