A host of Kiwi musicians are speaking out in support of Aaradhna, who made headlines on Thursday night when she accused the New Zealand Music Awards of placing her in a "category for brown people".
The soul/R&B artist was nominated for best urban/hip hop album but was the only nominee who wasn't a hip hop/rap act.
READ MORE:
• Watch: Breakfast team's hilarious Adele cover
• Spy hits the VNZMAs red carpet
She said she felt like she'd been lumped into the category because she was brown, and gave her prize to SWIDT, who she said was "the future of hip hop" and were more deserving.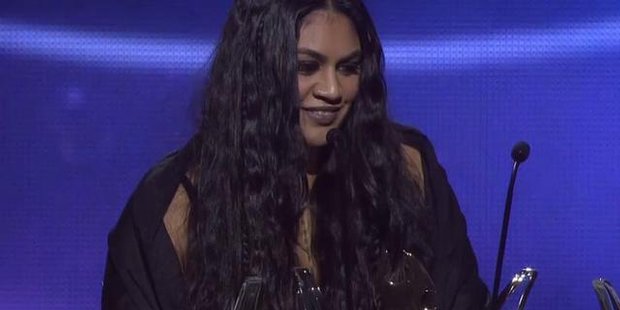 A Music Awards official has rejected the notion of racism, but many Kiwi musicians are commending Aaradhna for speaking out.
SWIDT, who thanked their "sis" on stage after picking up the second-hand award, tweeted their gratitude to Aaradhna:
Last night was historical. Thank you @NZMusicAwards. Shout out to the Queen @AaradhnaPatel, caught chills from that speech. So powerful!

— SWIDT (@swidtmusic) November 17, 2016
Rapper K One tweeted: "[It's about] time someone stood up and said it. F*** 'urban' - mad respect @AaradhnaPatel."
And NZ hip hop legend Savage added: "If you can't tell the difference between hip hop and R&B 'Urban' to soul then you're one dumb [son of a b****]. Go slap yourself!"
@AaradhnaPatel SIS YOUR SPEACH ABOUT URBAN CATEGORY WAS Good on you for letting them know they been puttin us in that box for years!!

— Savage NZ (@SavageDkonz) November 17, 2016
And many others joined in on Twitter, including the recipient of the NZ Herald Legacy Award, Bic Runga.
About last night - @AaradhnaPatel is all I can say. #BrownGirl

— Bic Runga (@bicrunga) November 17, 2016
Yes @AaradhnaPatel! What the hell does "Urban" mean if not "brown"? Lol. Call it.

— Anna Coddington (@AnnaCoddington) November 17, 2016
Im with @AaradhnaPatel on this one...and we've been trying to tell them.. https://t.co/H9y2pMTnwy

— P-MONEY (@p_money) November 17, 2016
Tooooo much sis @AaradhnaPatel - Warrior Woman moves right thurrr sis! @swidtmusic - Fly all day!#VNZMA2016

— Che-Fu (@chefumnzm) November 17, 2016
Man, shout out to the Queen @AaradhnaPatel tho. Her speech silenced the masses. Truthful, powerful & honest. Blessed to witness that⚡️

— SPYCC (@spyccmusic) November 17, 2016