How do you know the honeymoon is over? Having a screaming match in a yellow kayak while stranded in crocodile infested waters is a pretty good signpost to watch out for.
That's the situation one of our couples found themselves in on Monday night's Married At First Sight. Having known each other for 24 hours, the couples are packed up and sent off on their romantic getaways. Some are luxurious. Some are not. And while one couple blows up at each, another finally does it. As in it.
Jono and Clare
Before they head off for their honeymoon, Clare discovers Jono has been keeping a secret. Waking up, the morning after their wedding, she gazes at her new husband in bed. In the soft glow of the morning light, she sees the blotched ink of a Southern Cross tattoo etched into his back.
In these modern times, if you find out after the wedding that the man you married has omitted the fact he has a Southern Cross tattoo, courts allow - and often encourage - an annulment. Not a lot of people know that.
But Clare doesn't care. She rather enjoys Jono's fading stain and can't wait to hear about the Bali boys trips it commemorates.
While the other couples are sent to coastal and island resorts, Jono and Clare are given the keys to a '96 Nissan Patrol with a UBD in the glovebox and sent on their way up to dusty Northern Territory.
"I've never had this much fun with a female before," a surprised Jono says, pronouncing the word "female" like "foi-mahl".
But the fun abruptly ends the second they squeeze into a yellow kayak and get pushed out into a crocodile infested creek.
That's when Jono starts freaking out, and acting like a foi-mahl.
"Stop being a bitch. Enjoy it," Clare tells him.
"I am enjoying it!" he screams.
At first it seems like he might just be joking, but he's not.
"Alright, you got your tantrum out?" Clare taunts him.
"Do you know why I had a tantrum? Because I can't just do what I've been told to do when I get angry - and that's walk away from a situation," he informs her. "So f*ckin', what the f*ck am I meant to do?"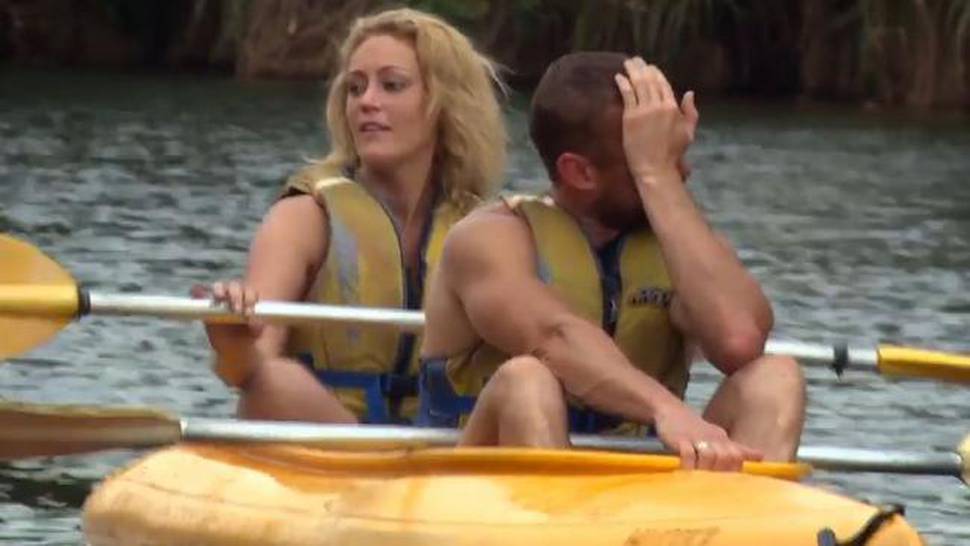 Clare then tells him to calm down, and suggests he tries some light breathing and counting exercises. He almost smacks her across the face with his yellow paddle.
"I don't like this. And I'm struggling with being told how to deal with it," he says. "I tell you what, I've got f*ck all patience."
Out of the creek and with hindsight, Jono gives his final thoughts on the situation.
"I was furious. She's definitely testing my boundaries," he concludes.
But the fight doesn't last for long. Soon after, Clare picks up a dead snake off the side of the road which leads to them making out under a waterfall and Jono dubs it the "best day ever".
Foi-mahls, huh?
Erin and Bryce
Arriving in Palm Cove, Queensland, Erin and Bryce can't wait to stand on their balcony overlooking someone else's wedding. They proceed to troll it.
"That guy's an idiot," Erin says about the groom.
They then take to the sky. Chartering a hot-air balloon, they hover around the north Queensland coastline and continue to judge locals from afar.
Afterwards, Bryce is enchanted with Erin's candour, and gifts her with a Tiffany necklace.
She says she loves it, which is an appropriate reaction. Then she decides to say more: "F*ck off. Holy sh*t. I died. F*ck. F*ck me that was so cute."
Freshly accessorised with a Tiffany necklace from their new "F*ck Off" collection, Erin decides it's the perfect moment to open up to Bryce.
"I have never used a washing machine in my entire life," she says proudly.
But then she clarifies her statement: "I have seen washing being done."
Bryce doesn't know what to say.
Christie and Mark
Things for Christie and Mark are looking dim - like the lighting on their dinner date in New Caledonia.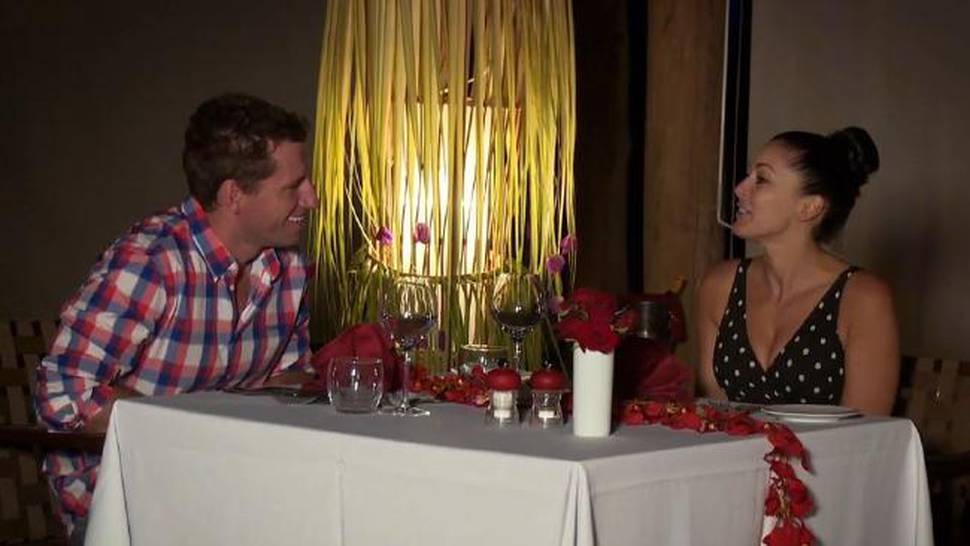 Having spent 24 hours with each other, they have nothing more to say to each other and Christie is kinda over it. She says the sexual chemistry is not there. She proves this by rarely talking to Mark and staying far away from him.
We find out Mark isn't very perceptive.
"I couldn't put my finger on if she's really into me in a big way," he says, completely unaware of the fact he hasn't really been within three feet of his new wife. "I find it really hard to judge how she's feeling at the moment." Meanwhile, blind and deaf people buried under ground can judge how Christie's feeling at the moment.
To make it even more clear, over breakfast when Mark asks if she would've hit on him in a club, Christie gives it to him hard and fast: "No."
To make their honeymoon even more tedious, they're sent off horse riding. Christie starts getting anxious about everything. She even thinks her horse is out to get her.
"I don't think Cinnamon likes me," she sulks. To be honest, it's probably not just Christie's anxiety. Cinnamon looks like a total bitch.
Hitting the water, Mark goes snorkelling and Christie begins to wonder what would happen if she doesn't open the perspex latch when Mark begins clawing at it.
But back in the resort pool, Christie starts to let herself get closer to Mark - and he's elated with any action she allows.
"It's great to be finally kissing her. It felt really natural," Mark says as he kisses Christie's under-chin.
The action doesn't stop there. The following morning, it seems things progressed much further than under-chin kissing.
"I am a gentleman. So yes, between husband and wife, I think I'd like to keep a little bit of our private life private I guess," Mark says, kidding no one.
The bathrobe belt flung across the room and strewn on the floor isn't as coy: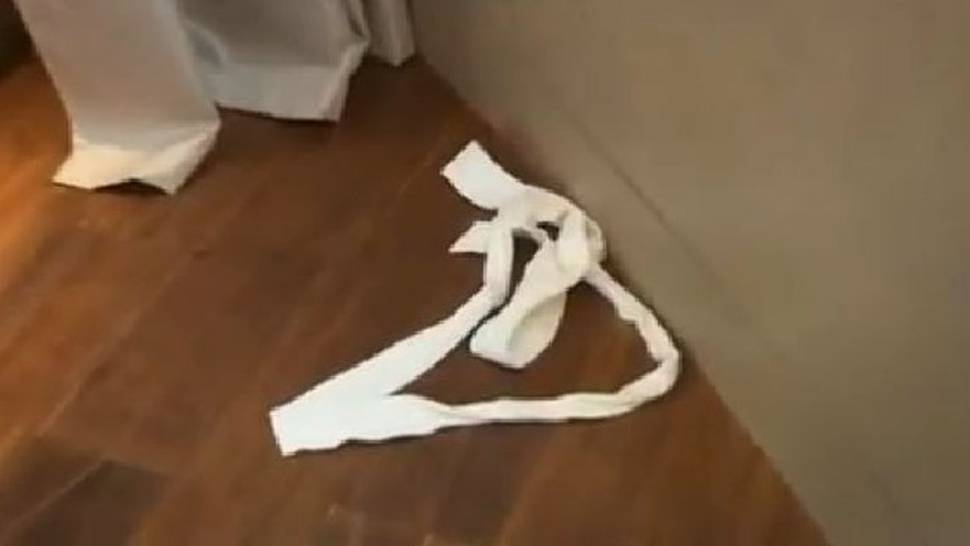 Xavier and simone
In Fiji, we pick up where we left off with Xavier and Simone. When we last saw them on their wedding day, they were bonding over getting up at 5am and doing meal prep on Sundays. And on their honeymoon, the conversation is just as electric.
We find them in their villa, having a 20-minute conversation about whether or not they tuck the doona in.
Simone is super excited to learn that Xavier also doesn't like to tuck the doona under the mattress - instead, preferring to throw it over the bed in a relaxed manner.
For Simone, this is more than just interior design aesthetic. It's a sign.
"I know that what we have is very real already because we have so much in common," she says. "It's ridiculous how much we've got in common."
They go on to discuss all the big issues. Their mutual hatred of sheets. How they sometimes just have eggs on toast when they couldn't be stuffed cooking at the end of a long day. No stone is left unturned.
They then use each other's bodies as barbells to exercise.
But just as Simone is about to really cement their union by creating a joint Instagram account, Xavier drops a bomb.
"After getting back from the gym it's like: dinner, watching some TV and then bed," he says of his strict home routine. "But I think it's just gonna be a matter of you and I understanding that that's how it's gonna be. Not taking it personally if one of us is not really keen on having a massive conversation - no offence."
For the first time in the 24 hours since meeting Xavier, Simone does not jump to agree with him. She does not yell, "Me too!" She does not shriek, "Same!"
Instead, she looks down into her pinot grigio and remembers the good times - when not tucking the doona under the mattress meant everything.
- news.com.au