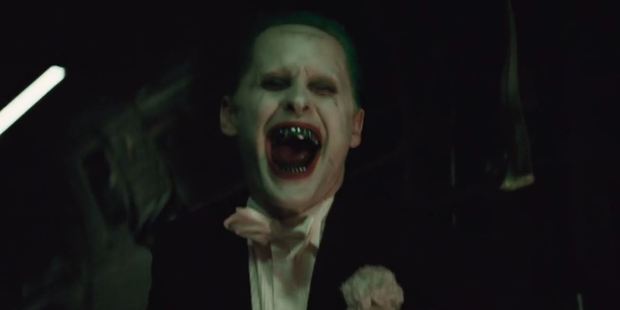 The full diabolical Suicide Squad lineup is revealed in a new trailer for the film.
The story centres around a team of super villains pulled from prison and assigned to execute dangerous tasks in exchange for shorter sentences.
We're bad guys. It's what we do. WATCH the new trailer for #SuicideSquad now. https://t.co/v96bE89U16

— Suicide Squad (@SuicideSquadWB) January 20, 2016
In the clip Aussie actress Margot Robbie is unrecognisable with a psychopathic smile, pink and blue hair and scant costumes, embodying Harley Quinn.
Jared Leto is seemingly helming the team of villains in his ever so creepy depiction of The Joker.
Joining Robbie is fellow Australian Jai Courtney (Captain Boomerang), while big names like Will Smith ( Deadshot) Ben Affleck (Batman) and Cara Delevingne (Enchantress) fill out the cast.
Set to Queen's Bohemian Rhapsody the trailer is filled with insights into the warped minds of the villains and the powers they possess.
Earlier fans were treated to a new poster depicting the characters in full costume.
#SuicideSquad trailer tonight. 9:30/8:30c on @CW_network. pic.twitter.com/YGSb3kWUYY

— Suicide Squad (@SuicideSquadWB) January 19, 2016
The Joker is shown with a tattoo saying "Damaged" positioned right on his forehead and stands away from the rest of the cast.
This exclusive #SuicideSquad teaser poster shows the whole dastardly team: https://t.co/SYwj0jekwZ pic.twitter.com/D7ixSmVop1

— Yahoo Movies (@YahooMovies) January 19, 2016
The theatrical trailer debuted Wednesday at 4pm (NZ time), with fans desperate for new information.
"The entire world as been waiting for this," fan Enzo Sanchez wrote on Facebook.
Within seconds of the release of Suicide Squad's new trailer, people took to social media doting over the comic book movie.
#SuicideSquad I CANT FREAKING WAIIIIIIITTTTTTTT ????????

— Eiza Gonzalez Reyna (@eizamusica) January 20, 2016
#suicide squad OMG YES! YES A 1000 TIMES YES! New Suicide Squad trailer https://t.co/K5OXQeyFam via @TheAVClub

— Luis Pina (@LuisPina0420) January 20, 2016
I've already watched the #SuicideSquad trailer 5 times haha. It just keeps gettin' better every time I see it!

— Jules (@BatgirlRises) January 20, 2016
The film is set to be released in New Zealand on August 4.

-AAP