Robert Ellis marked a turning point in our country's art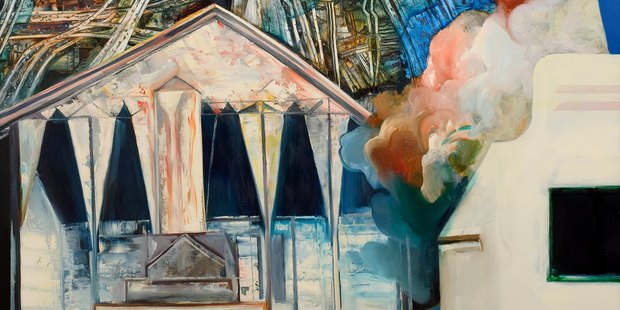 In 1957, Robert Ellis, a young artist and amateur musician, arrived in Auckland directly from the Royal College of Art to lecture at Elam School of Fine Art. His achievements as a painter over a long career are blazoned in a show in the lower Wellesley wing of Auckland Art Gallery.
Among other experiences, such as conversations with Francis Bacon, Ellis spent time as an aerial photographer in the Royal Air Force and this helped forge an individual manner of painting. He evolved an imagery of symbols of cities seen from the air. He did not paint one particular city but generalisations of the relationship between a city and its surroundings. These were created with energy, complexity of colour and remarkable handling of paint.
His expressionist manner of impasto and layered, slashed surfaces was full of vigour and colour. These works came at a time when motorways were being established and the way they cut through the cityscape was used as a dynamic element in the works.
The first painting, City With Flyover, smaller than most, has a bold slash of white across the lower part, a sign of what followed. Around the city he painted clouds, sometimes a hint of sea coast or simply a dark resonant background. They also incorporated a symbol for a river or inlet.
Each work was strikingly individual. City in a Dark Landscape is like a great head or brain, intricate and pulsing with veins leading out of it, channelling its energies.
The most explicit reference to Auckland is Conjunction IV, a city squeezed into an isthmus.
The finest of all, Megalopolis, done in 1966, is a dramatic, unusually large work for its time. It has an intense complexity of brushwork and the lines that feed this are exceptionally vigorous in bringing life to the image.
Its size gives room for a patch of green, a thought of a park or stadium, not evident elsewhere, although such pieces as City and River in Orange Landscape are also rich with colour.
Megalopolis was one of the finest New Zealand paintings of the 20th century. It belongs to our art history because Robert Ellis adopted this country and its people wholeheartedly. His marriage to Elizabeth Aroha Mountain at Otiria Marae in Moerewe sealed his commitment.
The latter part of his achievement has that synthesis of Maori and European reference as strongly as any other artists concerned with biculturalism, such as Colin McCahon or Gordon Walters.
The combination is seen at its most complex in the sumptuous tapestry Ellis designed for the Aotea Centre, but it is also richly evident in this exhibition.
It is shown in his paintings of the land, especially around the marae at Te Rawhiti.
This isolated settlement has an extraordinary marae with unusual pillars for its porch; these are a design element in Te Rawhiti III where they are posed alongside a surprisingly art deco structure which is the whare kai. Both are shown under the same masterly painting of the sky and clouds that unite them.
Most tellingly, the Maori concern for the land and identification of the sacredness of specific peaks is overlaid with a European concern for measuring and surveying to give organisation of a different kind.
The constant theme is the spirit of the land.
A symbol that recurs is the hand with mystic signs on it as it openly bestows gifts of place and sustenance.
The symbolic use of the john dory fish is a notable part of this element. The gifts can be as simple as sweets or as mechanical as a lorry. The lines and notations of surveying replace the motorways as a strong design element.
Across the west end of the gallery is an immense painting. Against a black background hanging on fine lines is the word Turangawaewae - A Place to Stand. The lettering itself stands steadfast - even the Ws are monumental. Underneath it are symbols of the spiritual teaching of the Ratana Church, including the star and crescent moon. It proclaims the affinities of the artist's family and emphasises the importance of the things that attest to our individuality as a nation.
Another artist and tutor long resident here is Henry Symonds who has an exhibition at the Pah Homestead. He is from South Africa but his art is international. His rich and painterly manner has its origins in the colour of his homeland - although he learned to use green in New Zealand - and in the work of Matisse.
The present exhibition references Matisse's The Piano Lesson in Moma. These large paintings have the same reductive qualities with tall rectangles and details of curving ornamental work.
It shows interiors transformed into compositions of intense, textured colour and Symonds' idiosyncratic way of small, sudden patches revealing underpainting to energise the surfaces and add tension to the general serenity. It is an elegant, handsome exhibition accompanied by an excellent catalogue.
At the galleries
What: Turangawaewae: A Place to Stand by Robert Ellis
Where and when: Auckland Art Gallery Toi O Tamaki, Kitchener St, to March 15
TJ says: A welcome retrospective of a brilliant painter who led the way as painting in New Zealand gathered confidence last century and who later became a model in successfully incorporating Maori lore in his art.
What: The Piano Lesson/ Considered and Abandoned by Henry Symonds
Where and when: Pah Homestead Wallace Arts Centre, 72 Hillsborough Rd, Hillsborough, to September 28
TJ says: Elegant, sophisticated large paintings ultimately derived from Matisse but shot through with modern tensions, colour and a certain unease.