Malcolm Black was lead singer of Netherworld Dancing Toys before becoming an entertainment lawyer and signing Brooke Fraser, Che Fu, Dimmer and Stellar for Sony Music. He is director of music for Les Mills International and manages Neil Finn.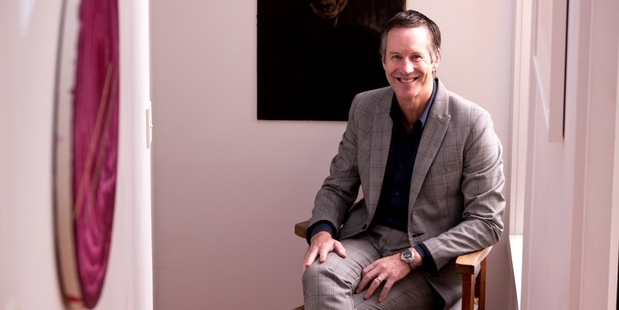 1. It's more than 30 years since the Netherworld Dancing Toys formed: why was that band so big, do you think?
At the time we were playing there wasn't much New Zealand music about, certainly not the breadth and depth of New Zealand music that's being made now. Only five or six albums a year were released and we were like the boys next door or something. My wife calls us the "big-headed geek band". Those plaid shirts - they were pre-Nirvana. And then there was [singer] Annie Crummer. My career in music has been to an extent recognising great female artists, if you think about Bic [Runga] and Brooke [Fraser] and Boh [Runga] and Annie. [The band] was all a long time ago and it was only five or six years of my life but they were great years. We didn't have any expectations when we started and it all felt really natural and organic and fun. Then we had to make a choice whether we became serious or not and by the end we were probably better managers than musicians. I'm not sure we had the talent or the drive to go overseas. We all graduated and everyone went on to have careers.
2. But For Today lives on: do you still get paid for it?
The cheque still arrives. It's made a lot of money over 20 years, that song. It keeps on keeping on. It's just been recorded again actually, with Hollie Smith, for the next Olympic Games song.
3. Describe your childhood.
I grew up in Dunedin. Both my parents were accountants - my mum was an early graduate of Otago University and head girl of Columba College. It was privileged; I never wanted for anything and had lots of love and support. There was lots of freedom but it was also grey and cold, maybe a little dour. It's stayed with me, Dunedin, that Presbyterian work ethic, the thing about not showing off and doing what you say you're going to do. I was a boy soprano and learned guitar, started playing in pubs with a band at 14. By 16 I was playing in cover bands three nights a week.
4.What is bigger business now - exercise or music?
I don't know the relative numbers, but I do know the fitness industry is growing and the music industry is shrinking. Music is still all-pervasive, though - probably more impactful than ever, just not so profitable. Exercise-to-music is a sweet spot to be working in for both industries. I spend a lot of time overseas talking to record companies and publishers and we produce about 300 tracks locally each year which are licensed to clubs around the world. We're probably the biggest employer of local musicians in New Zealand. Music certainly makes exercising more enjoyable and sustainable.
5. Do you go to the gym?
I don't do group fit classes. I prefer to exercise alone. I do yoga and I walk and do some weights, stuff like that. I don't go to the gym.
6. Where did you meet Neil Finn?
I don't know if he'd remember but I met him in the very early days of Crowded House. They were doing some small shows in Auckland. I was playing in the Netherworlds and was introduced through some record guys. When he came back to New Zealand he decided he wanted local management. I've never regretted the Netherworld Dancing Toys decision. I've worked with guys like Neil now and I understand how good you have to be, the talent required, and how driven. Neil works hard.
7. What was it like working in the big music companies in the 90s?
It was fun, and we had lots of resources and perks and did some good work. I never got too caught up in [the hedonism] because otherwise you can't function. You crash and burn. I'd grown up playing in a band so I didn't feel the need to do it again. For a period of time it was easy to make money - if you're selling CDs for $30 and they cost $3 to make. That meant companies got a bit flabby so when they were challenged by the internet, we didn't handle it well.
8. When have you been at your lowest, and how did you pull yourself out?
My first marriage ended and both my parents died at about the same time when I was 42. I wasn't used to things not going my way and I found it all a bit difficult to process. But I liked being single a lot. I bought a little house at Piha and I rented a place in Titirangi close to my family. I learned to play the piano and did some yoga and just really calmed right down. I thought that was going to be how things were. Getting married again wasn't my plan.
9. But you did marry again?
Yes. To Julia. She's the business. We met through work when I was at Sony, five years after my marriage split. I was 51 when we had Cilla. I also have Ruby, who's 23, and Awhina, a first-year law student. What's the best and worst of a second family? The best is seeing the big girls fall in love with their little sister and their stepmother, and everyone feeling happy and secure in the new environment. The worst is the thought of leaving too soon - I need to live to at least 100.
10. Which musician have you worked with who you thought would go further?
Che [Fu]. I'm really surprised and disappointed [that he hasn't]. He was one of the most naturally talented of everyone. Working with big record companies, there's always compromise involved. You're making artists fit a commercial model. I think all of them got a bit burned by that.
11. What is the best of life for you?
I thought by the time I got into my 50s I would be stalled or stagnant but I've been lucky, the combination of a happy and dynamic family life, good friends and colleagues and still actively learning and thinking about everything is a real joy. I recently had a month at a business school in France which was incredible. Les Mills is exploding and Neil's doing all this great work. I really like being alive.
12. Write your own epitaph.
Not yet.