Lydia Jenkin has spent the past six months following rising Kiwi brother-sister duo Broods, witnessing their transformation from indie pop act garnering international interest with their fledgling potential, to a soaring success. Here she tells their story of promising beginnings, good fortune and hard work.
It's a dark 3pm on a cold Saturday afternoon in the middle of June. Backstage at Vector Arena in Auckland, Broods brother and sister combo Caleb and Georgia Nott are squeezing in a bit of press time in between a soundcheck and performing a supporting set for Brit pop star Ellie Goulding.
They've not long disembarked a plane, on the back of several months touring the United States, Canada, Britain and Australia, and they'd have every right to be tired and grumpy. But the pair, despite being only 20 and 22, are genial and generous, and always professional. They find their lively voices and play along with requests from radio hosts, pose for photos, and toss sibling banter and jokes about with ease.
They're distinctly un-precious pop stars.
It's only when they're done that Caleb lets out a yawn and Georgia wonders if she might be able to find a blanket so she can grab a quick power nap, but they're too excited at the prospect of playing their first proper shows to home crowds for sleeping.
Indeed, if the name Broods doesn't feel overly familiar yet, that's because the duo have spent most of 2014 playing overseas, or heads down in the studio crafting their album. But there's no doubting they're a big deal, even if they've had an unusual path to success.
When they released their first Broods song Bridges via their SoundCloud page in October last year, it quickly notched up nearly half a million plays in three months and found them fielding interest from international record labels.
Bridges has now been streamed over 1.6 million times and their second single, Never Gonna Change, has over 700,000. They've been signed to Capitol Records in the US and Polydor in the UK, and they've toured across the globe with a whole variety of indie pop darlings like Haim and Chvrches, plus played over 30 headlining shows of their own.
"We've been building up momentum as musicians, on our own, doing our own thing, and then all of a sudden it's accelerated. It's a bit overwhelming but we're loving it," Georgia smiles.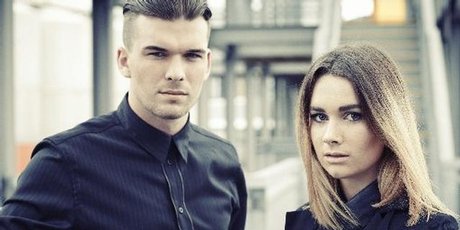 Suffice to say they've had a fair few international pundits calling them "the next Lorde", which isn't entirely without basis given some of the similarities: they're young; from New Zealand; released their work for free online first; signed an international record deal; spent a lot of time touring overseas, having played hardly any shows at home; and Lorde's co-writer and producer Joel Little is also their co-writer and producer.
But comparisons aside, they do look likely to be our next big musical export when they release their debut album, Evergreen, next week and that's not because they've modelled themselves on Lorde - they have their own distinctive story to tell about where their music comes from.
That story starts with their formative years in Nelson, as they explained when we first sat down in February.
Both their parents were musical - they even played in a covers band together, just for fun - and their mum started teaching Georgia guitar at a young age, which quickly led to songwriting.
"I loved Mum teaching us. We'd all sit in a group and just sing along, and I thought it was great. The stuff we were writing when we were younger was pretty funny, though. Three words per song isn't really enough."
Caleb laughs at her recollection. "I think both Mum and Dad tried to teach me guitar, but I just got way too frustrated with them, so I had to go somewhere else to learn."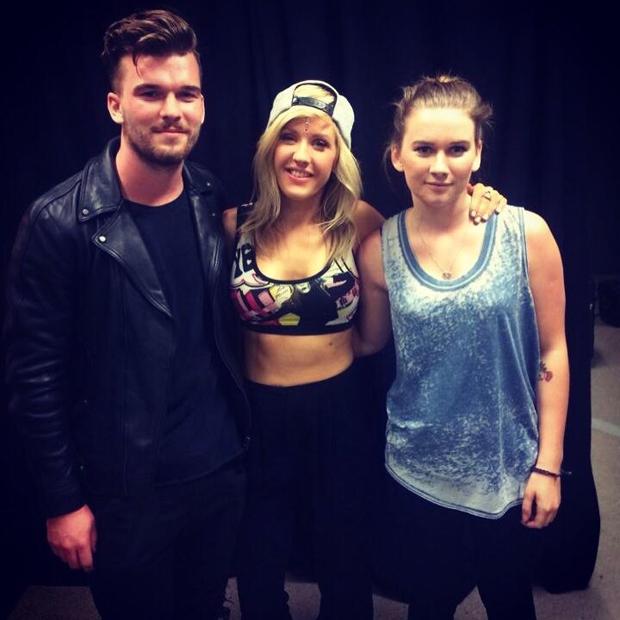 Caleb and Georgia with Ellie Goulding, who they opened for in June on her Australasian tour.
They have two younger sisters, Tegan and Olivia, who are both keen on music ("When we were little, we wanted to be The Corrs a lot," Georgia reveals), and an older brother, Matt, who has always been "more into maths and engineering", although Caleb and Georgia are already threatening to be "the cool aunt and uncle" who take Matt's new daughter Izzy on tour when she's a teen.
It's clear family is important to the pair, and a strong influence on their level-headedness, but they also credit their high school music teacher at Garin College, Kyle Proffit, with their love of songwriting.
"That's basically why we started writing music, because he encouraged it," Caleb explains.
"I remember when I first started, my music teacher was a bit of an old bag, and she used to make us sit there and sing old war songs. And I was about to drop music for good in high school."
Fortunately, Mr Proffit turned up.
"He was all about listening to Gorillaz or Jamiroquai or Red Hot Chili Peppers, and I thought, 'Yeah, I'll stick around now'."
Proffit encouraged them to start a band with a bunch of likely friends, and mentored them through the Rockquest competition. They entered a couple of years in a row in different guises, eventually winning the competition in 2011 as The Peasants.
Caleb wasn't actually in the band that year, having already finished school, but Georgia in particular was singled out for her vocal prowess.
"Her voice is totally different from any other New Zealand singer," said NZ On Air repertoire executive Tania Dean at the time. "It is powerful, emotional and dynamic - she actually left me speechless."
Joel Little was also on the judging panel, and in another stroke of good fortune, Little's friend and colleague Ashley Page, who runs independent record label Dryden Street with Little - and Page 1 Management - was in the crowd.
Page liked what he heard too, and got in touch with Georgia after the competition win.
Watch the video for Mother and Father by Broods here:
"He just sent us a message on Facebook after the Rockquest finals," Georgia explains.
"At the time, it was like, 'Who the hell is this guy? Is he genuine or is he a creep?'" she laughs.
"But he turned out to be totally legit," Caleb grins.
When The Peasants split up at the end of 2012 and Georgia moved up to Auckland to study music at university (Caleb was studying design), Page suggested they might like to spend some time in the studio with Little and experiment.
"We'd met Joel a couple of times, and we kind of got to know him better through Ashley and just started experimenting with him in the studio, and we all clicked."
It seems for Broods, everything has fallen into place.
"We've been very lucky, all our opportunities have worked out and everyone who's been involved has been the best, and three months after we put the single out, we're off touring overseas."
That first interview took place in a Morningside cafe where Georgia used to work, just a hop from Little's Golden Age Studios and not far from the flat that the duo share with two others in Kingsland.
"I never venture out of this square kilometre radius," Georgia joked at the time.
But when we sat down for another chat in late March, they'd hardly been home. Their flatmates have even joked about turning their rooms into a "Broods Bed and Breakfast".
Their body clocks were a bit skewed with the jetlag, but they were still exceedingly upbeat. They unwrapped vinyl versions of their debut EP and discussed all the cool things you can do with vinyl these days - they went for clear records this time round, but Georgia was jokingly contemplating something sparkly for the album.
"What about one that squirts out glitter? That would be amazing. You'd have to make a really happy record for that though."
"Somehow I think that's impossible for us," Caleb laughs.
See, although the siblings are delightfully engaging in person, their music is a little more broody. That is partly where the name came from, after all.
"We like to write about situations with people, because no matter what you're doing or where you're going or where you come from, you always have conflict with other people that you can relate to through a song."
"You can probably usually hear whether it's Georgia or myself writing lyrics," Caleb adds, "because Georgia is super emotional with her writing, and I tend to be more visual with my words. I don't think literally - I like more abstract ideas."
"I'm all about the inside feelings, and Caleb's all about creating a picture, because he's a visual artist, and I'm just a really dramatic person," Georgia laughs.
They didn't get a lot of time to work on the album during that particular home visit.
It was only a week or so before they jumped back on a plane to the Northern Hemisphere again for a 19-date headlining tour, but Georgia was buzzing with the energy of their sold-out shows each time we checked in via phone, and all these new experiences must have fed their creativity because, two months later, somehow the album is all but finished.
The pair managed to fit six days in the studio into their schedule before heading off to Australia again, and wrote four new songs, which brought their list to 11.
Excitingly, Little was happy to give TimeOut a sneaky listen to the rough cut in the studio and offer a few insights into their recent recordings.
"This is angry Georgia," he explains when Everytime starts, and he tells how L.A.F is their current favourite with its choppy rhythms and high energy.
He doesn't find there's much in the Lorde comparison - to him, they're musically worlds apart.
Georgia's vocal range is different, Caleb adds a completely different element to the songwriting, and the intricate, layered, rock-infused electro-lushness of Broods is quite a contrast to sparse, hip-hop-influenced Lorde.
Plus, you can tell Broods don't take it all too seriously when he explains that their biggest ballad, Four Walls, has been cheekily dubbed "the ultimate hipster wedding song" in the studio.
When quizzed about it a few days later, Georgia and Caleb laugh when explaining they've actually tried to practise walking up the aisle to that one. "You either have to go really fast, or almost in slow motion," Caleb points out. "It doesn't work that great. Unless you're a hipster on your fixie. Or rollerskates."
Jokes aside, it is a stunning album, full of heart, and it plainly represents where the pair are at right now, with lyrical themes of separation, homesickness, the attraction of scary but exciting new experiences competing with the comfort and confidence of the familiar.
"You're always going to write about the stuff that you're going through at the time, and this is what our lives have consisted of for the past six months," Caleb shrugs.
So, there have been a few relationship dramas then?
"Well, you have to over-dramatise things when you're writing a song. You have to make it more exciting," he laughs.
And they'll rein each other in if they think songs are heading off in the wrong direction.
"If Georgia doesn't like something, she'll just say, 'Nah, sorry Caleb, that was shit.' And I'll tell her if I think it's the cheesiest thing I've ever heard in my life."
"I think there's just a real honesty and a 'no hard feelings' type attitude between us," Georgia adds.
The pair appear to make a good team, not just musically but personally. You can tell they have each others' back. "When we were growing up me and Caleb always had our own little gang and our sisters would be lucky to be included, and as we've got older, it's just turned into a professional gang," Georgia laughs.
Now that "little gang" are releasing their debut album and finally setting out on their first headlining tour of New Zealand, all set to prove why they've been in such hot demand everywhere else.
"Our first ever show as Broods, at the Kings Arms, we were both so still. And shaking. We were terrified," Georgia remembers. "Now we know what to do with ourselves more, so I'm kind of glad we got to practise with international audiences before we did a show in front of the people who mean the most."
Who: Caleb and Georgia Nott, aka Broods
What: Debut album Evergreen, out August 21
Where and when: Powerstation, Auckland, Thursday, August 21; James Cabaret, Wellington, Friday, August 22; The Bedford, Christchurch, Saturday, August 23.
- TimeOut