Diane Keaton falls in love.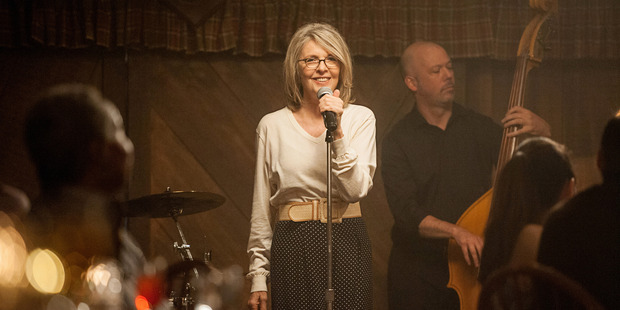 At 68, Diane Keaton shows no signs of slowing down. In between writing books, building houses and being mum to two adopted children, the Hollywood veteran co-stars alongside Michael Douglas in the romantic comedy And So It Goes. The film follows bitter realtor Oren Little (Douglas) who finds himself in charge of a granddaughter he didn't know existed after his wife dies of cancer. Uninterested in being a grandparent, he turns to his neighbour Leah (Keaton) for help...
The film shows you can find love at any age. Do you think it's realistic to fall in love at 68?
Yeah, why not? But it's not realistic for me. That's the great thing - it's free love to play it in a movie. But in real life it's harder. I can't even imagine going out on a date. It's not going to happen.
Why?
Because it's impossible. What, do you think some guy's going to come up to me and be like,"Diane, you wanna go on a date?" It's never going to happen, trust me!
Never say never...
You think? I don't know...
Martha Stewart tried out Match.com ...
You've got to be kidding! How did she do? I bet it didn't go well.
She went on a date with someone from it...
She didn't date him again though, right? We're not hearing about it now. I don't see Martha with this guy she dated from Match.
You've worked with some great leading men. How does Michael compare?
I love Michael Douglas because I saw his vulnerable side. He had this scene where he talks about love and I was so surprised. He started tearing up and I'm going, "Michael Douglas is crying. I can't believe this side of him." It made me love him. I didn't expect it from him.
Do you think he's softened a bit?
He has. I think it's a time thing and an experience thing. As you get older you see more tragedy, experience loss, lose your parents and people in your life who you've loved and that changes things.
What's the secret of a good screen kiss?
They're all good. I've never had a bad kiss because I've never had a kiss where the intention was to kill me or I hated him. It's always, "I love you" or "You're the best thing that ever happened" so those are beautiful. I remember with Something's Gotta Give I was in bed with Jack Nicholson for a whole day because [director] Nancy Meyers liked to do lots of takes. So you kiss, you kiss again and all day you're kissing. It was fun.
Did you always want to be a performer?
Yes, but I was afraid. I remember church being the place where they would sing songs or recite something about Jesus and I would cry and get very upset because I was too scared. Already I was hooked.
What was so attractive about it?
When you're acting, you're telling a story and it's not the story of my life - it's somebody else's. I'm part of telling a story and it couldn't be more fun.
Do you enjoy singing?
I always wanted to be a singer, but the voice wasn't good enough. When I was young it was Doris Day time and I remember thinking, I could never sing like Doris Day."
Was it nice to play part of a similar-aged couple in a rom-com?
It's a nice feeling for me. At 68, I'm still in a romantic comedy and it's like, "Wow. I beat the odds"
What did you love most about playing Leah?
I really wanted to be more like her. I'm too driven and it's not attractive. Leah's in tune with her feelings, kind and has a strong moral core.
So you still feel ambitious at this point in your career?
I have to work but there's an aspect of me which I wish wasn't so ambitious. I always like to have a project. I'm building a house from the ground up and I'm doing another book and sometimes I feel like I should slow down and smell the roses!
What are your fashion influences?
I always liked women like Katharine Hepburn who weren't afraid to wear men's clothes. I loved Cary Grant - he was a style king and I used to fantasise about dressing in pinstripe suits like him. Then as I got older my mother would go to the Goodwill store, buy old clothes and reconvert them. All my life, I've loved men's clothes, women's clothes and tailoring.
What are you wearing today?
These are my clothes!
That's quite a belt...
I love it because I don't have a waist, so it forces you to look like you have a waist. It's not like Rihanna who was half-naked the other day on TV. She's amazing.
Your kids must keep you up-to-date with that scene. Do you like these young, provocative stars?
I do. I like Miley Cyrus. I saw her concert and loved it. She's a good singer and some of those songs are great.