After a career that has segued from comedy to superhero, Eric Bana tells Michele Manelis all he wants now is his son's approval.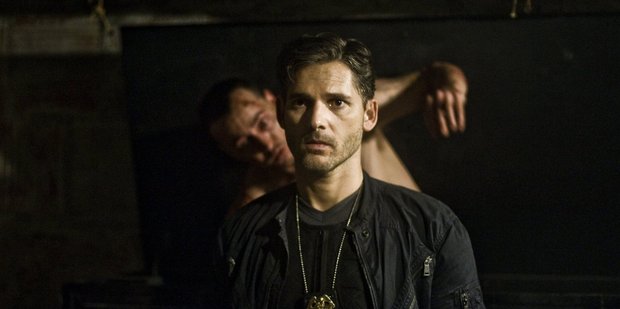 At first glance a supernatural horror flick seems an odd choice for Eric Bana, who doesn't jump easily when the work calls. The genre isn't known for offering demanding scenes in complex roles, nor is it what Bana has usually gravitated towards.
The Australian actor stars as a New York police officer who investigates a series of inexplicable crimes and, in doing so, becomes well-versed in the rituals of exorcism.
Read more: Movie review: Deliver Us From Evil
Bana explains, "I was sceptical at first but then I understood that this was a human story set in a somewhat supernatural world. And the film itself has a kind of sceptical way of viewing the material. It's not exclusively for people who believe in this stuff and there are a lot of exit doors for people who don't. But you are still going to be scared," he smiles.
The movie, directed by Scott Derrickson (The Exorcism of Emily Rose) also stars Joel McHale (Community), Olivia Munn (Newsroom) and Edgar Ramirez (The Counselor).
"I love the genre, I'm a student of the genre, and when producer Jerry Bruckheimer said he wanted to make a movie where Serpico meets The Exorcist, I thought it was the coolest idea," says Derrickson. "I immediately thought of Eric Bana."
Bana's unlikely path to gainful employment in Hollywood began as a sketch comedian on the Australian TV series, Full Frontal, from 1993 to 1996.
"I had never done any television before, only live stand-up and that was my first really big break," he grins. "I was over the moon. It was such a fun, exciting time. And still today I look back on those years as some of the best times of my life." At the demise of Full Frontal he was able to parlay his comedic skills into his own TV programme, The Eric Bana Show Live. Trying his hand at dramatic work, he then appeared on the medical drama, All Saints, and in 2000, landed a gig as a regular cast member in the soap, Something in the Air.
But it was 2000's Chopper that was to prove a sort of career epiphany for Bana. In a stroke of innovative casting, he landed the lead role as a serial killer in the controversial drama. It not only confirmed that Bana could be taken seriously as a performer; but more importantly, proved he could really act.
Bana has played lead roles in every genre imaginable including The Hulk (2003), Troy (2004), Munich (2005), Lucky You (2007), The Other Boleyn Girl (2008), Star Trek (2009), Hanna (2011), and Lone Survivor (2013).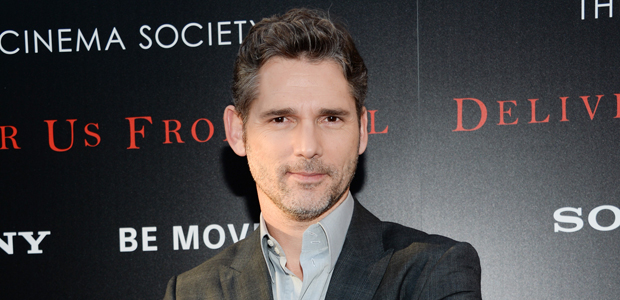 Eric Bana. Photo / AP
Bana is in his mid-40s now, masculine, comfortable in his skin, fit and ruggedly handsome. He's starting to grey around the temples and evidently not running screaming to a hair colourist like 99 per cent of actors his age. "Well, I am 45 and I want to be 45. I don't want to be 25, I have been 25; I don't need to be 25."
He doesn't need the huge expectation of carrying a very expensive Hollywood vehicle either, as with 2003's The Hulk. By all accounts a critical and commercial flop (though Mark Ruffalo's Hulk is now an integral part of Marvel 's Avengers movie machine), The Hulk doesn't sound like it was or is any kind of downer for the perpetually upbeat Bana.
"I never really think about it. The Hulk was 12 years ago; it was a lifetime ago. In retrospect it worked out because I certainly wouldn't want to be stuck doing the same thing for a long time," he says.
Although many actors adhere to the notion that "networking" and being seen at the right places will guarantee them future roles, Bana lets the work do the talking. His lack of desire to ingratiate himself into the Hollywood system only makes him that much more likeable.
"I'm just myself," he shrugs. I tell him he's often described by his co-stars in glowing terms. He laughs. "Well, I don't know about that."
He pauses. "Here's the thing: no one sees me outside of work, right? And I hope I'm nice to work with because I'm actually really excited to go to work and I don't take it for granted. I'm probably not a bad bloke to be around because I'm always excited about being there. Maybe it's a reflection of my enthusiasm, rather than a genuine reflection of my character," he laughs.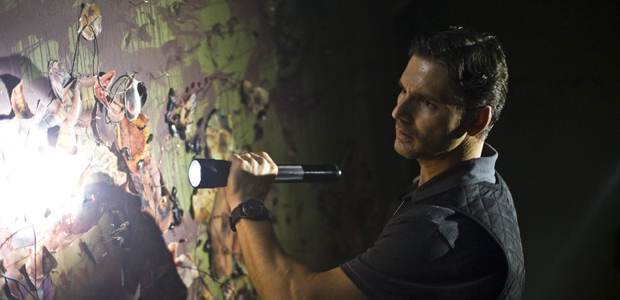 Eric Bana in Deliver Us From Evil.
"I'm probably grumpier than they think I am."
That apparent "grumpy" side has not interfered with a successful 17-year marriage. He married publicist Rebecca Gleeson (daughter of the now-retired Chief Justice of Australia, Murray Gleeson) two years after they met in 1995. The couple are raising their children: Klaus, 14, (named after his uncle) and Sophia, 12 (in honour of Bana's favourite Cadillac).
Although Bana generally keeps his kids at a safe distance from his day job, his doppelganger, Klaus, spent time on the Bronx set of Deliver Us From Evil. Bana smiles, "I've been re-educated about horror movies through my son who's genuinely interested in the genre from an historical perspective.
"He was on the set because we were shooting in the school holidays. It was really cool to hear him talk with the director about horror. It was a bit of an eye-opener for me."
Does Papa Bana feel more pressure than usual about this movie given that his son is somewhat of an enthusiast?
View the trailer for Deliver Us From Evil:
He nods, "Well, I have to say, yes, there is a bit more pressure than usual because I'm doing a movie that's in his backyard."
He chuckles. "Hopefully, when he sees the movie I'll get the thumbs up."
Bana remains a car and bike aficionado, and his passion is evidenced in the 2009 documentary he directed, Love the Beast. "I have to admit, I don't feel the same adrenaline when I'm on set as I do when I go racing cars or motorcycles. I love spending time doing that stuff."
Despite an array of awards and accolades he's collected from his work as a serious actor over the past 15 years, he still sees himself as a comic. Refreshingly, he offers no indication of a big head or inflated ego run amok.
Bana deadpans: "I'm medium-headed. And you're just assuming my ego isn't out of control." He laughs. "Now that's funny."
Who: Eric Bana
What: Deliver Us from Evil
When and where: Screening now
- TimeOut