Where have all the horror girls gone? Dominic Corry investigates.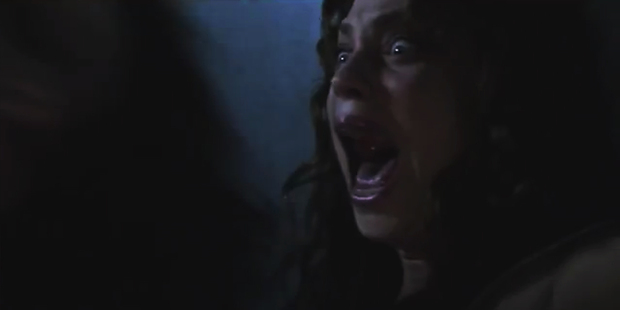 While watching the direct-to-DVD sequel Curse of Chucky recently, it occurred to me that we live in a cinematic era that hasn't done a very good job of holding up the glorious tradition of the scream queen.
The term is most famously associated with Hammer Horror icons like Ingrid Pitt and Caroline Munro, but the baton was passed in the late '70s to Jamie Lee Curtis, who starred in a string of horrors from 1978 - '81 including Halloween, The Fog, Prom Night, Terror Train and Halloween II. Curtis' authenticity as a scream queen was only enhanced by her being the daughter of Janet Leigh, who was famously stabbed to death in the shower in Alfred Hitchcock's legendary Psycho.
Heather Langenkamp took on Freddy in three Nightmare On Elm St films, but few have stepped up to carry on the tradition in a major way since then.
Which is understandable I suppose, as the term doesn't exactly denote an A-list career. But I'm surprised that more potential candidates haven't embraced the mantle.
Danielle Harris is probably the closest thing we have to a modern scream queen, and she's pretty cool. She has the culty distinction of starring in both the original Halloween series (parts 4 and 5) as well as the 2007 Rob Zombie reboot and its 2009 sequel. She also starred in Hatchet 2 and 3, and other horror titles like Left For Dead and Chromeskull II: Laid to Rest 2.
Harris may have Curtis beat in terms of sheer numbers, but not enough people have seen her mostly B-grade films for her to count as a truly cross cultural scream queen. Still, she's fighting the good fight.
Sara Paxton has starred in a number of horror films, some good (The Innkeepers), some bad (Shark Night 3D; The Last House of the Left), but most of them were cinematically-released, so that's something.
If all the Resident Evil films weren't so terrible, I might consider Milla Jovovich for the title.
Robert Rodriguez made a valiant attempt to revive the popcorn scream queen with Rose McGowan in Planet Terror, his section of Grind House, but that film failed to grab the public's imagination in the way it was clearly designed to.
These are just a few of the potential candidates out there, but I'd like to see a more mainstream actress unabashedly embrace the horror genre the way Jamie Lee Curtis did back in 1980. There's no shame in it.
The reason I thought about all this while watching Curse of Chucky is that the lead role is played by an actress who could totally make for an awesome modern scream queen - Fiona Dourif. She has bonafide horror film provenance as the daughter of cult icon (and LOTR actor) Brad Dourif (aka the voice of Chucky), plus she's got an amazing face and she's really good in the movie.
In other news, I saw Curse of Chucky, and I quite liked it.
I was genuinely (genuinely!) saddened to discover that even in the brand-awareness-driven movie landscape we live in, Chucky isn't well-remembered enough to generate a cinematically-released sequel or reboot. So it was pleasantly surprising to discover how good Curse of Chucky was.
For one thing, it's written and directed by Don Mancini, who's now written all six Child's Play/Chucky movies, and also directed the last one, 2004's Seed of Chucky. Sequels like this usually draft in talent befitting the direct-to-DVD nature of the project, so I was glad to see that was not the case here.
Curse of Chucky is a return to the more straight-forward horror of Child's Play 1, 2 and 3, as opposed to the self-satirising meta shenanigans of Bride of Chucky and Seed of Chucky. It maintains continuity with the previous five movies, making for one of the longest linear horror franchises of all time, let alone one all written by the same dude.
Mancini has never demonstrated a lack of inspiration in ways to cinematically exploit the notion of an evil kid's doll, and he's in full swing with Curse of Chucky, which is both an entertaining throwback and (hopefully) a new beginning for the franchise.
It's always seemed to me like New Zealand has had a disproportionately high degree of affection for the Child's Play/Chucky series, so make sure and check out this latest sequel if you're interested. And keep an eye on Fiona Dourif. If there's any justice in the world, she's headed for big things.
It kind of feels like the studio is testing the waters a bit with the film, so if it's as well-received as it deserves to be, we might just see Chucky up on the big screen again. Along with newly minted scream queen Fiona Dourif.
Incidentally, check out this poster for the original Child's Play from 1988. The distributors were clearly so embarrassed by the concept, they kept Chucky off the poster entirely! Can you imagine a film doing that these days? Anyway, cracked me up.
* Fan of scream queens? Sicko! Which ones? Fan of Child's Play? Sicko! Which ones? Comment below!