Five shows that will keep couch potatoes glued to their screens over the coming week.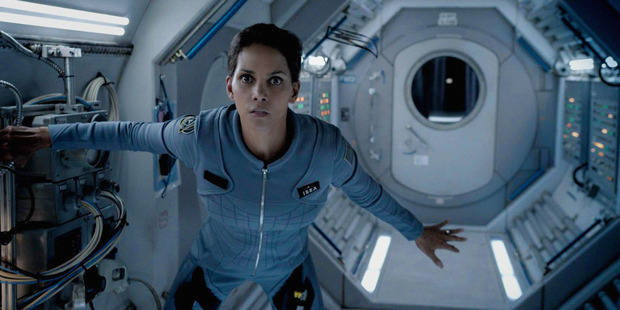 Pick of the week: Extant
Now it's turn of Halle Berry to make the leap from the big screen to the small one in Extant, a sci-fi thriller show executive produced by Steven Spielberg.
It arrives here on Prime as a result of the channel signing a deal with CBS Television Distribution -- the same deal that sees Modern Family returning to our screen on Prime tonight rather than TV3.
After two weeks on air in the US, it's been attracting largely favourable reviews and out-rating its competition on both weeks.
The 13-episode thriller has Berry as Molly Woods, an unexpectedly expectant astronaut. The premise of the show -- that Molly was somehow impregnated while on a solo year-long outer-space mission -- might seem, on its face, funny.
But Extant turns out to be smart and engrossing, with a meditative, gently futuristic touch (check out the high-tech garbage cans) that draws the viewer in.
At the start we find Molly adjusting to life back on Earth with her scientist husband, John (Goran Visnjic), and Ethan, their adorable young son (Pierce Gagnon).
Ethan, as we soon find out, isn't biologically theirs, or biological at all: he's a robot. Or rather, a "humanic," designed by John to satisfy their childless state (Molly had been told she couldn't conceive).
John not only loves Ethan as if he is their own flesh and blood, but also sees him as the prototype of a new class of robot that can be raised from "childhood" and instilled with human values, "programmed by a day-to-day human experience," as John tells a group of potential investors for his Humanics Project. "The humanics brain learns right from wrong, good from bad, the same way we did."
Of course, the success of this venture could lead to disaster. Were millions of humanics loosed on the planet, they just might rise up against their human masters. But that's a possibility John indignantly rejects.
Maybe he shouldn't. Molly soon finds that dear little Ethan is displaying flashes of attitude.
But she has other worries. She is hard-pressed to explain her pregnancy, and what to expect now that she is expecting.
She is haunted by not one but two dead (or are they?) astronaut colleagues.
And she is being investigated by her bosses at the private-sector International Space Exploration Agency for a suspicious 13-hour gap in her in-flight record-keeping.
Extant makes effective use of familiar storytelling tropes: the evilness of big business and science gone awry in an atmosphere of growing danger.
"Don't trust them," Molly is admonished by a shadowy figure at the end of the hour.
"Who?" she asks. "Anybody."
The series was created, and the premiere written by TV newcomer Mickey Fisher. He brings a fresh take on high-tech paranoia, while addressing a timeless theme: the blessings and pitfalls of God-given free will, exercised here by an adorable machine.
Extant
When: 8.30pm tonight
Where: Prime
What: Gravity meets A.I.
Comedy Pick: Modern Family

Local fans of the best American family sitcom of its era will he happy to know that the wait for the fifth season - which started screening in the US last September - is over. The Dunphys, Pritchetts, Delgado-Pritchetts and Tucker Pritchetts have now taken up residence on Prime, having been a high-rating TV3 staple.
In the opening episode, Cam and Mitch are both excited that they can now get married and begin formulating romantic proposal plans with help from the extended clan.
Meanwhile, everyone is trying to get rid of their kids for the holidays, with Manny off on his first solo trip to visit Gloria's family in Colombia.
Talking of holidays, that forthcoming episode about the clan going to Australia to meet Rhys Darby among others? That's episode 20 of this 24-week series.
Modern Family
When: 8pm, Thursday
Where: Prime
What: The fifth season, at last
Drama pick: The Mentalist
Patrick Jane, he of many wily ways of reading all your body language and an eye for the smallest detail, has been chasing Red John for five seasons. He killed Jane's wife and daughter, and has ponder is, will Jane and the CBI team finally, finally, track him down? They now have a list of seven suspects - all wildly different - and the team must tread carefully if they want to catch the elusive serial killer. Could Red John be cult leader Bret Stiles (guest star Malcolm McDowell)? Ghoulish forensic analyst Brett Partridge? Or the director of the CBI himself, Gale Bertram? And will Jane and Lisbon ever declare their feelings for each other, or will the smouldering tension go on for ever? One word of warning - don't go googling the series, which aired in the US last year, if you want to avoid spoilers.
When: Tuesday 8.30pm
Where: TV2
What: Will Patrick Jane get revenge?
Lifestyle pick: Nigel Latta: The New Haves and Have-Nots

He's looked into the minds of some of New Zealand's most sinister killers, given us a few tips on how to raise children, and how to cope with teenagers, and now he's back facing another key social issue. Respected clinical psychologist Nigel Latta tackles the provocative issue of the gap between rich and poor in this new documentary series.
Hoping to sort facts from spin, and get to the core of this major social issue he asks why New Zealand has one of the fastest growing gaps between the haves and have-nots. Traversing both sides of the divide, he checks out an agency that provides the wealthy with private islands and personal chefs, and visits Kiwi families working incredibly long hours on minimum wage, who are caught in the poverty trap. He asks for ideas to help bridge the gap before offering some alternatives and solutions we can all relate to.
Nigel Latta: The New Haves and Have-Nots
When: Tuesday, 9.30pm
Where: TV One
What: How to bridge the gap
Local pick: Pirates Of The Airwaves

Earlier this year, 3 Mile Limit, a dramatic and feelgood film of this well-known Kiwi story was released. Now the tale of how Radio Hauraki came to be gets the Sunday Theatre documentary treatment. Mixing drama, interviews, archival footage, and sixties music, Pirates of the Airwaves delves into the rather rollicking, revolutionary story of a group of young men who changed the world of radio forever in 1966, when they set up a pirate radio station.
Adamant that young folks wanted to hear their music on the radio, but unable to get the broadcasting minister to agree that it wouldn't corrupt the nation, the group somehow got together all the gear required, found an old boat and set off into the Hauraki Gulf where they were beyond the Government's reach. They operated from international waters for four long years, enduring storms, shipwrecks, financial woes, bureaucratic harassment and personal tragedy, before the argument was won.
Pirates Of The Airwaves
When: Sunday, 8.30pm
Where: TV One
What: Getting rock 'n' roll on the radio
- TimeOut