An online game that began in a New Lynn bedroom now has fans around the world. Alan Perrott meets the gamers who used their mouse — and won.
Chris Wilson was obsessed the moment he knew his 5-year-old fingers couldn't touch it.
His parents had come home with a new Amiga 500, the late-80s' go-to device for computer gaming at home and it changed the young boy's life.
"I still remember that day ... they wouldn't let me use it, but I thought it looked ... interesting."
Okay, he's one for understatement. Let's just note that within two years he was programming it and by his teens he'd taken to living in his bedroom where he set about cramming for a degree in computer science and finance.
Wilson is a computer nerd, and proud of it. He and his team are also, now, global gaming celebrities thanks to Path Of Exile, an online game they developed that has millions of fanatical followers.
It helps that Wilson knows exactly what gamers want - he's one of them after all - but their loyalty and enthusiasm for his work is such that although the game is free to play, many actually choose to pay. And they're paying quite a lot as it turns out, even if it's sometimes in art, pizza, beer, cake and in one case, a $300 bottle of Champagne.
It all began with a chance meeting in the Avondale College library in the late 1990s when Wilson - then a senior - saw "supersmart" third-former Jonathon Rogers tapping away on a computer keyboard.
"I said something like 'I know a lot about those', then we hit it off."
Their enthusiasm for gaming - either between themselves or in teams against others - soon leaped from a recreational diversion to a lifestyle option. The tipping point was in 2000 when the online action role-playing game (RPG) Diablo 2 arrived, a dark fantasy where characters slice, dice and slash through hordes of demons to complete a series of quests. It was fiendishly difficult to complete and the keenest fans began converging on various forums to discuss strategies. It was through one such site that Wilson and Rogers encountered Eric Olofsson, who was studying industrial design in his Swedish hometown, Umea, and professional American gamer, Brian Weissman, who would eventually become their business partners.
Wilson had completed university and although he'd immediately been offered a variety of programming contracts, he had no interest in working for someone else, even if it did fund his 50-hour a week Diablo 2 habit, an addiction that turned into research once he decided to create his own game. But it was a dream he kept to himself until late 2006. By then games were moving online - Diablo 2 was six years old and gamers demanded something new, especially given the trend away from their favoured bloodsoaked RPGs toward more cartoony graphics.
What did it matter that the ageing classic had cost up to US$9 million ($10.2 million) to create? Actually it mattered an awful lot, so one of the Wilson and Rogers' first moves was to contact people like Weissman for funding. Once they had some cash on board they emailed Olofsson: "Hey, we're making a game, do you know any lead artists who could help out?" "Sure do," he replied, "Me," and within a few weeks he had immigrated.
In early 2007 the trio moved out of the bedroom of Wilson's New Lynn home and into his garage - he doesn't drive, so it wasn't used for much else - where they spent eight months doing nothing but talk, research and play as they figured out exactly what it was about different games that inspired obsession.
"That was one of the things we got right," says Wilson, "we worked out what we wanted to do and then stuck to it."
It was a huge gamble - an unpaid one at that - forcing Wilson to borrow from his parents to supplement his savings (his folks now wish they'd taken shares instead).
Rogers, at 28 the baby of the bunch, says few people gave them any chance of success, but he felt the gamble was worth it for the new skills he'd learn. Olofsson was in for the adventure. Only six months out of design school, he was in London with friends when Wilson called.
"I've always done stuff I think is interesting rather than the normal route. I dropped out of university [before starting his design degree] because it wasn't very interesting. I just wanted to play games. So it didn't really matter that I was travelling around the world to work in a tiny space for no money, it looked like fun." (The now-36-year-old was also getting a reasonable income from a book he'd cowritten on industrial design.)
Besides, the foursome knew success or failure would only take about two years out of their lives.
"It helped that we didn't know how much of a bad idea this was," says Wilson. "None of us had made a game before and, sure, we had our plan but it still could have gone wrong in 10 different ways. In hindsight I'd say kids shouldn't try to pull businesses out of thin air, but it felt like we were always making progress so we kept going. All we required was for everything to go perfectly, otherwise ... "
Their devotion to detail is shown by the year it took to name themselves Grinding Gear Games. It's a gaming pun - aside from the image of two gears mashing against each other, grinding refers to the repetitious, time-consuming actions players go through to collect the in-game "gear" they need to progress. It's the one joke they've allowed themselves in a business they take super-seriously.
They'd also become employers once Weissman's money allowed them to fund a few salaried positions. The garage was now crowded and uncomfortable; summer heat had them raising the door to get air, leading to puzzled glances from passersby. No one had any idea what they were up to - they worked in complete secrecy; the plan was to reveal themselves only when they had something so badass it'd blow minds.
Then their two-year deadline passed, and aside from moving into their current bush-clad Titirangi office they were still nowhere near done.
In fact, it was another year before they'd even given the game a name, with early contender One With Nothing dropped for the more epic Path Of Exile.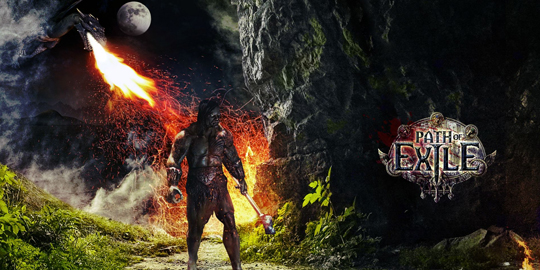 A Screenshot from Path of Exile, which began in a New Lynn bedroom and now has millions of followers worldwide.
But time was running out as the long-anticipated Diablo 3 was set to be released in 2012, an event they knew would drown out all competitors. So, in September 2010 they flew to America to show off their work in progress. With no reason for anyone to care, they adopted a unique PR strategy to get attention.
"As soon as someone answered the phone we'd say, 'We've come all way from New Zealand, please don't hang up'." It worked.
Exile's appeal had several strands. First, it's aimed at hardcore, adult gamers rather than kids or the mass market. Path Of Exile isn't only a difficult game to master, it offers a bewildering array of options in how it's played. "I guess we just built a game we'd want to play ourselves," says Wilson.
Essentially, you get seven basic characters to choose from, each with different skills and attributes. Your selected character then runs amok slaughtering and being slaughtered while collecting different items that provide different abilities depending on what kind of character you are and what they are combined with. There are about 1400 abilities - it's increasing all the time - and you get to take on about 120. Yes, it's all rather complicated.
Secondly, and even more importantly as far as Grinding Gear is concerned, Path Of Exile is free, no one pays a cent if they don't want to. Wilson likes calling it "a good business model", in the long-term.
Paying, he says, is a barrier to playing and allows people to spend their way to the top: "With our approach it doesn't matter if you don't have a good job or you're not the smartest; everyone starts from scratch and earns their way to the highest levels. So you can still become wealthy within the game, you get a second chance at being better than other people."
All of which was aimed at attracting truly obsessive gamers, the moneyspinners. Because although you don't pay to play Path Of Exile, you do pay to upgrade your character. Not in any useful, superpowers kind of way, but for a range of prices you can buy anything from fancy armour and glowing swords to pet scorpions. If you see a character being trailed by a diamond kiwi then you know whoever's driving it paid $1000 for the privilege. They call such purchases ethical microtransactions and it's proving to be catnip to the hardcore, especially when for a grand or so you can co-design and name a new monster. It's so appealing, they've had to block some from buying more.
But, such issues were still a few years ahead when they took the game for a show-and-tell to America. After that came the process of "beta" testing, where strangers play and evaluate a game so problems can be found and repaired. It kicked off in April 2012 with access opened to anyone paying $10, which was converted via the microtransaction system into dress-ups for their characters. It wasn't trouble-free, but by the end of the first day they'd made a confidence-boosting $90,000.
Their charmed run continued when Diablo 3 bombed and gamers began clamouring for a go at Path Of Exile, especially after glowing reviews.
Which made it a terrible time for Grinding Gear Games' money to run dry. No problem though, not when the game's fast-growing virtual community really wanted it to work, whatever it took. A fundraiser was held on the game's website - avoiding the fees of the crowdfunding sites - and they hauled in an amazing $3 million in double-quick time.
They've been running at a profit ever since.
Their official release, on October 23 last year, attracted so many visits that on day two they almost crashed the extra servers they'd installed.
Now, only nine months later, they have collected about five-and-a-half million registered users and increased their staff to 50, which is astonishing stuff for a dream that should never have worked. Wilson has calculated that the effort in getting to launch was the equivalent of one person working full-time for 110 years and with a bit of luck it will carry them for a good 10 years before they need to find another $10 million to build something completely new.
Until then it's all about momentum. Information updates are posted daily, they hold special events like the Child's Play charity race in May - competitors started from scratch and raced to reach the highest level they could in two weeks - and they intend to release game expansions every four months with the next, yet to be named, scheduled for this month. Wilson admits the demands of the business have left their work/life balance in a mess (he has a very understanding wife). Even trying to relax in front of another game becomes research and although he's started learning Mandarin, that's more about the translations they hope will pull in the rabid gamers of Asia and Brazil.
The result is a slightly alarming world, even if it's one with a vaguely New Zealand flavour - most of the flora is drawn from the bush around their base and the ominous narration is performed by Sir George Henare.
The Path Of Exile fanbase appears to live exclusively online with real-time playing stats showing no shift at all during major world events. The only event that budges their numbers is the release of another game. Exile fans are everywhere too, with 134 in Greenland alone. For many, this violent, virtual world is where they meet their friends - one guy even asked if he could propose to his girlfriend within the game.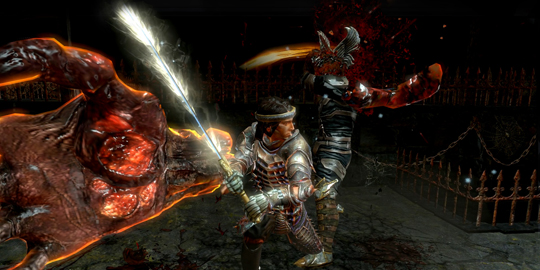 A Screenshot from Path of Exile.
Fans have also developed unexpected ways of playing. Some do nothing but collect items to trade with others, some race through as fast as they can to reach the end, while still others don't play at all, they just watch the livestreamers, the gun players you can interact with as they play in front of a web camera.
One Norwegian Path Of Exile ace, calling himself willywonka, makes about $60,000 a year via viewer subscriptions and screening the odd advertisement. Then there's the big Canadian, Kripparian, one of world's best gamers, who can attract 25,000 viewers whenever he appears. His endorsement is so valued he's thanked in Path Of Exile's end credits.
If there's a flea in the works, it's the forums, a vital annoyance because although they foster community (players back their game in the same way others back league over rugby) and those microtransactions, they can quickly degenerate into nasty chaos so they have to be monitored closely for bullying and abuse, which is an added expense.
But that's about the only irritation. For all the doom and dread of the game, they're away laughing. "Definitely," says Wilson, "it feels really powerful to not only create an entire world but then be able to improve on it, because that stuff influences lives.
"We hear from people about how we've got them through a bad patch, there's the stuff we get sent, the fan meets, and whenever we do anything wrong we definitely hear about it.
So we feel a real responsibility to give people a good time, an adrenalin rush, and there is a definite psychology to doing that. Games have to be rewarding, but you can't give fans everything they ask for, sometimes we have to do what we think is best for them - it's like we're parents on a grand scale."