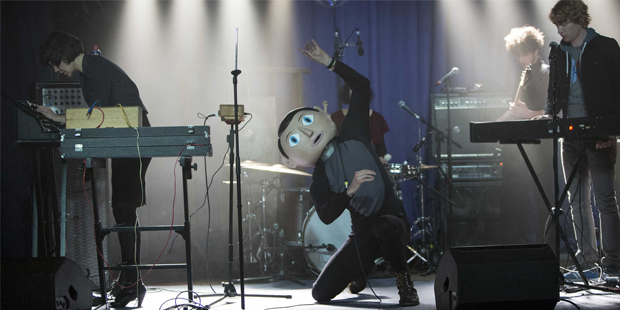 Earlier this year I wrote about my childhood obsession with '80s British humour comic Oink!, in particular the character of Frank Sidebottom, who featured in a regular strip.
Sidebottom was a clueless "pop star" who liked talking about his fame, but generally seemed like a crazy person. He had a giant papier maché head, and I stand by my earlier assertion that he was some kind of mixture of Austin Powers, Mr. Blobby and Peewee Herman.
Scroll down to watch the full trailer for Frank
I didn't know it in 1986, but Sidebottom was the creation of a British musician named Chris Sievey, who performed live concerts as Frank, and appeared as the character on British TV and radio with some degree of sustained success, even generating a video game.
Sievey sadly died of cancer in 2010, and the new film Frank (playing at the Auckland International Film Festival on July 23, 30 and 31) is inspired by what he achieved with Frank Sidebottom.
But it's not really a 'Frank Sidebottom movie'. For one thing, the word 'Sidebottom' does not feature anywhere in the film, and Frank is American. He is played in the film by Michael Fassbender, papier maché head and all.
Inspired (sort-of) by journalist Jon Ronson's experiences playing in Sievey's band, the film follows a young wannabe muso played by Domhnall Gleeson (About Time; Star Wars Episode VII) who joins a band headed by the enigmatic Frank. Then other things occur.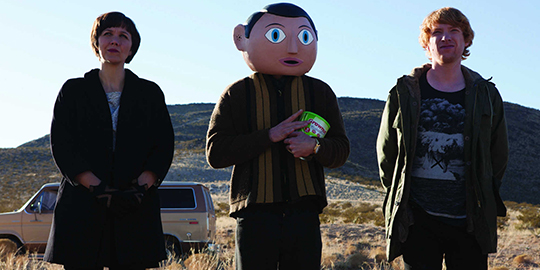 Maggie Gyllenhaal, Michael Fassbender and Domhnall Gleeson in Frank. Photo / NZIFF
I recently had the chance to talk to the film's director, Lenny Abrahamson. Here's how our conversation went:
Dominic Corry: As a child, I was completely obsessed with Frank Sidebottom, whom I discovered via Oink! magazine. Did you have any experience of the character during the time Sievey was performing as him?
Lenny Abrahamson: I did. As I kid I saw him on Top of the Pops and he did a lot of kids TV. That anarchic energy he had was intriguing and ever-so-slightly frightening for a child. Well, it was for me. I was never a massive fan, but I do remember him.
DC: Do you remember Oink!?
LA: I do remember Oink!
DC: It was very much ahead of its time in terms of its humour.
LA: That's the brilliant thing about British comedy. Some of the kid's stuff is just amazing. I don't think that's the case anymore because I've got kids and it all seems very sweet and nice.
DC: Did this project come to you as a script?
LA: Yes. It came to me as a version of what you see in the finished film. It was very different when I first read it - it's been four years since then. That was at the beginning of the process of development, and I worked very closely with the writers to find the version of the film that we all wanted to make. It was still effectively this film, in the sense that Frank was American. He was a sort of outsider musician, and you could feel the influence of other great outsider musicians on him. When my agent first told me it was about Frank Sidebottom, I said that I couldn't see myself making a film about him.
But then I read it and realised that Frank Sidebottom was just a point of departure and what Peter [Straughan] and Jon [Ronson, screenwriters] were after was something in the spirit of Chris Sievey and Frank Sidebottom. In other words something which kind of puts out that lovely, anarchic, punk-ishly creative kind of spirit that Chris brought to the character. And that was the starting off point for us. Chris didn't want anybody to make a film about him and Frank, but he was really interested in the idea of a film which played with Frank-ish things.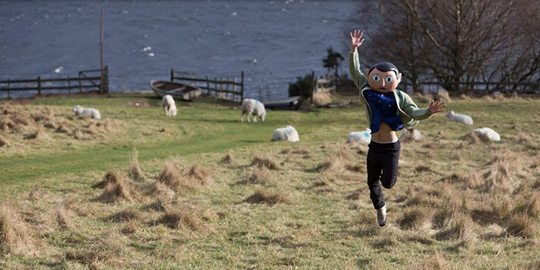 Michael Fassbender stars in Frank. Photo / NZIFF
DC: It's not exactly what one might imagine when presented with the notion of a film about Frank Sidebottom.
LA: Yes. Indeed. And that feels right to me. It feels like the film does its own thing. One way that I've described it to people is if Frank Sidebottom, during one of Chris' routines, had fallen asleep and kind of dreamt of himself as much more masculine, charismatic, American, growly. A bit more Iggy Pop, a bit less George Formby.
And we made the film of that Frank. Or another explanation is that some kind of Daniel Johnston or Captain Beefheart-like outsider happened to chance upon Frank Sidebottom on TV in the States one day as a child, and became obsessed with him. As if he had his own version in his head, and that's the film we're making.
DC: I think I like the second one. Your film makes it feel like the door is still open for a so-called "traditional" Frank Sidebottom movie.
LA: Indeed. You could totally do it. In fact there's a documentary being worked on at the moment. I think you'll love it. It sounds like it's going to be really good. I think it's perfect that you just end up with these tangential and more direct ripples from Chris Sievey's creation, and I think that's kind of fitting.
DC: To what degree was Sievey involved in the formation of the script with Peter and Jon?
LA: He wasn't really involved in the formation, but Jon did talk to him about what they wanted to do.
DC: So there was a sense of him giving his blessing to the project?
LA: Exactly. And then his family has since seen the film and are really supportive of it. Which was very important to us, because we just wanted to feel that it was something he would've approved of.
DC: This is a very difficult film to describe - how would you described it in the simplest sense? Do you think it conforms to a genre?
LA: No that's what's so hard about it. Because it's a really hard film to pitch. If you start telling the story, it sounds a bit strange and doesn't do justice to the film. I mean, you could say it's a film about a man who's really desperate to be something that he's not - that's the Jon character [played by Domnhall Gleeson] - he wants to be a rock star, but he just doesn't have the talent. And it's a film that takes him on a journey where he kind of faces that. That's one way of talking about it, but I guess it's a little bit po-faced. Or you could say it's a film that celebrates creative people who are on the margins of the mainstream. And how that's got some real worth - that you don't have to be on the main stage somewhere to be doing something worthwhile. But again that sounds kind of chin-scratchy.
Read more: Why Michael Fassbender is perfectly Frank
The way I see the film myself is that it's about its own creative spirit. It's about the genre-defying, playful madness of its style. The film is a celebration of that kind of creativity I think. And so it takes these tropes of fame and conventional success versus originality, and also sincerity versus fakeness. But it just puts them together in a way that I hope is exhilarating for an audience, and is ultimately a celebration of originality. When you're trying to do something like that, it becomes incredibly difficult to pitch or do a logline for. Because what you want to say is that it's a really original film like nothing else, but it's much easier to say it's 'Pretty Woman meets Transformers' or something. Actually that could be a good film.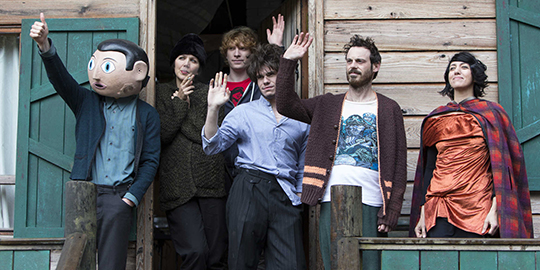 The cast of Frank, directed by Lenny Abrahamson. Photo / NZIFF
DC: I'd pay to see that. I loved your film, but I kept waiting for Little Frank to turn up.
LA: I sort of somehow regret that we didn't do a Little Frank thing.
And I also sort of regret not doing some sort of reference to Frank Sidebottom in the parents' house. It's all you would've needed to realise that's where it all came from.
DC: I see this film as a perfectly reverent take because it allows everything that Frank Sidebottom the character was to continue existing without any compromises while also being a beautiful ode to the whole thing.
LA: Thank you that's a lovely summary of it.
DC: When you look at a film like this from the outside, especially with the cast you have, it's easy to perceive it being a 'cool' or 'hot' project at some point. Did it ever feel like that for you? Or has it been a hard scrabble the whole way?
LA: It came together relatively easily, which you don't get to say very often. Especially for a film that on the surface, is as unusual as it is.
DC: Was the cast already in place at this point?
LA: No, even before that. Key people like Film4 were very good, even before I got involved. And [Executive Producers] Tessa Ross and Katherine Butler were just really championing this film. Everybody who got involved did because they loved it. And as we cast it, when Michael [Fassbender] and Maggie [Gyllenhaal] came onboard, and the word was that it's quite a good project starts leaking out eventually, and people start saying it's good - then it becomes a cool film. There are many possible worlds in which this film would've just been a pure curiosity that disappeared without trace and nobody would've noticed it. My last film, What Richard Did, caused some buzz in America and some people were interested in what I was going to do next and then the actors come onboard and the idea of Fassbender in a fake head for the whole movie, that sort of appealed to people. And yeah, by the time we got into Sundance and all that, the film had real momentum.
DC: What Richard Did was amazing. Were you looking to do something as different as possible for your next film?
LA: I was actually working on Frank before What Richard Did came up, and What Richard Did was very much in keeping with the first two films I made - it's quite austere, and it's quite a serious film. I have a side that adores physical comedy, and I wanted to indulge that kind of playful, anarchic side in me, and which I saw in Frank Sidebottom. So it's not so much that it's a change of direction, I've got a real drive for both kinds of films and I hope I continue to make films like What Richard Did but also to explore bigger crazier worlds. And also work on a different sort of scale.
DC: Your next movie Room sounds amazing. Are you familiar with an Australian film called Bad Boy Bubby?
LA: Yeah it's a reference that came up [while developing Room] and I saw it years ago but I've gotta watch it again. It's funny, a few people have mentioned that film.
DC: To finish off, I just have to ask officially, was it Fassbender under that mask for the entire movie?
LA: Yes. Absolutely, hand on heart. There's a one second stunt moment where it's not him because you would do that with any actor because it's too dangerous for the actor. Every other time you see Frank, it's Fassbender,. It's so much fun to take a guy like that and just cover him up.
Watch the trailer for the movie Frank below:
Do YOU remember Frank Sidebottom? Did you read 'Oink!'? Gonna see Frank? Comment below!