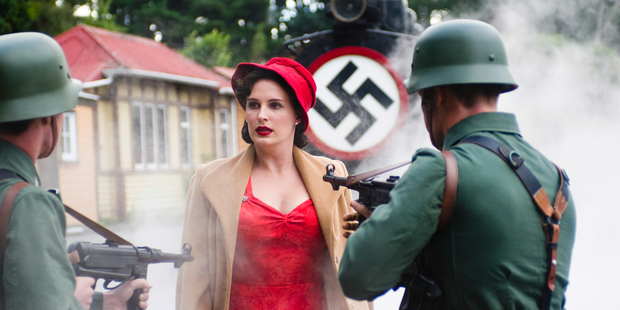 Pick of the week: Under The Dome
Last year's first season of this Stephen King-inspired US hit series followed the escapades of Big Jim Rennie and a handful of Chester's Mill locals as they came to terms with life inside the dome.
This season introduces a few more of Chester's Mill colourful townsfolk.
When an invisible and impenetrable barrier dropped down on Chester's Mill, the town had a population of more than 2000. In the two weeks that followed, murder, madness and a mass breakout of meningitis took their toll.
The show's executive producer, Neal Baer, says Chester's Mill still has some intriguing locals who we are yet to meet.
"There are [around] 1970 people in Chester's Mill. We didn't possibly meet them all last season."
Rebecca Pine (Karla Crome) has lived in Chester's Mill her whole life. As the high school science teacher, she spent season one out of the spotlight, studying the dome and trying to make sense of the unexplained force that has suddenly surrounded the town.
Crome says her character is very focused on finding a rational and scientific explanation for what is going on in town and she will befriend anyone who might be able to help her. As the school science teacher, she already has a close relationship with the teenagers in the show. Her commitment to understanding the dome leads her to form an interesting alliance with the town's self-appointed leader, Big Jim Rennie.
Crome explains, "[Rebecca] is a very straightforward individual and she can see how allying herself with Big Jim will enable her to promote her own purpose and get to the bottom of what's going on."
But their relationship might be more than purely scientific. Baer suggests the smart and sexy scientist could play Big Jim's Lady Macbeth.
While Big Jim might have a new ally in Rebecca, his list of enemies is set to grow even longer when his brother-in-law returns to town.
Sam Verdreaux (Eddie Cahill) is the brother of Big Jim's late wife and Junior's mother, Pauline. Pauline died long before the arrival of the dome and Sam has been brooding in the shadows of Chester's Mill ever since.
Cahill explains, "When his sister died 10 years ago Sam retreated to a cabin in the woods. He has spent the past 10 years drinking and marinating in his own thoughts ... When the dome came down it served a bit as a wake-up call." Sam's return to town is set to cause big troubles for Big Jim.And Sam might not be the only Rennie relative returning to Chester's Mill this season.
Says Baer: "We're saying goodbye to two of our beloveds [this season]. But in saying that, who knows what goodbye really means under the dome?"
When: Wednesday, 8.30pm
Where: Prime
What: The second season
History pick: The White Mouse
Though it's being presented in the Sunday Theatre slot, this screen biography of the wartime exploits of Kiwi spy Nancy Wake is very much a docu-drama. Re-enactments of her adventures as part of the French Resistance are interspersed with interviews with biographers - including Aussie rugby rep-turned-journalist Peter FitzSimons, who interviewed Wake for his book about her before her death in 2011 - and historians.
All are there to explain how the Wellington-born, Australian-raised Wake came to be firstly part of the local business aristocracy in Marseille via her marriage to first husband Henri Fiocca and then find herself with a Gestapo bounty on her head and a code name - "the White Mouse" - despite her spouse's advice that " the Resistance is no place for a rich, spoilt, temperamental woman." Wake is played in the dramatic scenes by Shortland Street's Rachael Blampied.
When: Sunday. 8.30pm
Where: One
What: Our glamour spy remembered
Local pick: Radar Across The Pacific
He's an affable, curly-haired everyman who sits somewhere between Hugh Fearnley-Whittingstall and Karl Pilkington. And the joy of Te Radar's new series Radar Across the Pacific has been seeing the colourful character interact with some of the outgoing residents inhabiting our neighbouring Pacific isles. But on Sunday's episode he's meeting folk who promise to be a little more stony-faced. Yep, in his six-part exploration of the history and heritage of the residents of the Pacific, Te Radar is heading to Easter Island - one of the most isolated, uninhabited places on the planet, known for its mysterious giant statues. Te Radar will learn how they were carved and constructed, and unveil the theories about why the society which built them suddenly collapsed. The island's Tapati festival is in full swing so he learns more about traditional crafts and contests including witnessing a traditional triathlon. He also promises to uncover a darker side to the island's history, linked to sheep farming. Only a Kiwi like Te Radar could work that one out.
When: Sunday, 8pm
Where: TV One
What: A non-idiot abroad
Comedy pick: The Late Night Big Breakfast
If you remember Eating Media Lunch and Moon TV you'll have a fair idea of the direction this new TV One show will take. Billed as an energetic, eclectic half-hour weekly comedy, it takes the format of a breakfast show, adds some current affairs, random guests, and sets it in a furniture store (Target on Dominion Rd), filmed live at night.
Is it Sports Cafe without the sports? 7Days without the one-line gags? Skitz without the skits? It's hard to say exactly, but it's the creation of Leigh Hart (Moon TV), Jeremy Wells (The Unauthorised History Of New Zealand), and Jason Hoyte (Nothing Trivial), who will be stimulating discussion on all sorts of topics, despite being most likely ill-informed (so they claim), and causing total mystification among their guests. Infotainment at its most irreverent.
The Late Night Big Breakfast
When: Thursdays 10.05pm
When: One
What: Three blokes talk shop
Drama pick: Masters Of Sex
Let's talk about sex: when we last left Dr William Masters (Michael Sheen) and Virginia Johnson (Lizzy Caplan), they were dealing with the aftermath of a disastrous presentation of their controversial sex study to colleagues. Season two deals with the fallout from that, and as protests from their colleagues build, the pair are forced to sever ties with their hospital. Moving towards the opening of their own institution, Masters and Johnson are forced to tackle the growing and complex feelings they have for each other. Based on the true story of Masters and Johnson, the researchers who revolutionised sexual thinking in the 60s, Masters of Sex has provoked an outcry of its own over its depiction of explicit sexual acts in a clinical setting. In the US it screens in the late timeslot of 10pm. But here you can watch it on Soho at 8.30pm this Sunday. And Time reports season two's debut episode deals with another big topic - the use of electroconvulsive therapy to treat homosexuals. Prepare to be, er, shocked.
When: Sunday, 8.30pm
Where: Soho
What: Second round of sexualised shenanigans
- TimeOut