Has Jacob really been resurrected? By Nick Grant.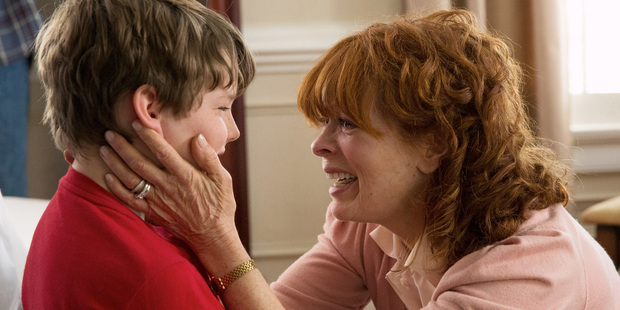 New eight-episode US drama Resurrection gets off to a striking start, with an 8-year-old American boy waking up in a rice paddy in rural China.
Jacob hasn't a clue how he came to be there and nor do the US authorities - they can't identify the kid and are going to put him in foster care until he convinces the immigration agent (the always watchable Omar Epps) to take him to a house in Arcadia, Missouri, he claims is his home. Living there is an older couple whose son Jacob, the spitting image of the boy on their doorstep, drowned more than 30 years before ...
Jacob's possible parents are played by Kurtwood Smith, best known as That '70s Show's Red, and Frances Fisher, an actress probably most familiar from her role as Kate Winslet's mother in Titanic.
What attracted Fisher to the series is not so much the central question - is the boy really the Jacob who died three decades ago and, if so, how and why has he come back - as the story's emotional underpinning.
"When I first saw the script, I was very moved by it because I thought about the people I've lost in my life and my reading was informed by that feeling.
"The show is so grounded in how ordinary people would respond to such an event. Although there are some extraordinary moments of, 'Wha, what is going on?'
"It's not super sci-fi - for the most part it's about the characters' emotional journeys. It's very deep and I think the reason it resonates with people is that maybe they thought the same thing as me: 'What if somebody I love came back?' I'd never seen anything like it before."
Others might be forgiven for thinking the premise sounds awfully similar to Rebound (aka The Returned aka Les Revenants), the French TV series that screened on Rialto last year, in which the reappearance of a small town's long-dead residents, apparently none the wiser or worse for wear, causes existential angst for the loved ones who buried them years before.
To further confuse the issue, the subtitled drama is soon to receive a US remake.
Fisher says she's not really in a position to comment on comparisons between the two because she's barely aware of the French show.
"I think I saw a segment of it like last year or something and it wasn't helpful for me because ours has such a different vibration to it."
Whatever the case, Fisher's work in Resurrection packs an emotional wallop. Whereas Smith's character is resistant to the idea the mystery boy is his son, "my character Lucille comes to wholeheartedly believe he really is, which I was happy about because that's what I would want to do", she says.
There is a heart-wrenching scene in the opening episode where Lucille tentatively approaches Jacob, her face battling between fearful disbelief and the yearning hope of a mother who has never truly recovered from the pain of losing her child.
"Aw, thank you," Fisher says when told of the moment's emotional effect on her interviewer. "I loved shooting that scene, because our director Charles McDougall gave us as much time as we needed to do it and it was very satisfying to see how he cut it together."
The series has been a hit and its US network, ABC, has ordered a second season of 13 episodes, which starts shooting later this month.
"Oh, I'm so looking forward to it," says Fisher, "it's just a joy to go to work with people you respect and love, and to work on material that's challenging and good and thought-provoking."
The veteran actress discovered her calling in her late teens.
"I was working as a secretary in Texas when I was about 19 years old and I wasn't very good at it. Then I started doing community theatre and I found I woke up at 4 o'clock when the whistle blew because I couldn't wait to get to the theatre and rehearse.
"That really got me thinking, 'How do you do this for a living? What a wonderful life that would be'."
And so it has proven to be, with roles in TV shows including Torchwood, The Shield and The Lyon's Den and movies such as Unforgiven and The Lincoln Lawyer.
Despite her onscreen success, theatre remains her first love. "It's where I started and the process of doing theatre is just a different kettle of fish," she says.
"Although doing a long-running television series is similar because you get to live with that character and work with the same people for an extended period of time."
Resurrection debuts Wednesday, 8.55pm, on TV2, with episode two screening the following night at 8.30pm.