Frank may seem odd.' />
Getting inside the head of his character takes a literal turn for Michael Fassbender in Frank, writes Helen Barlow.
The notion that the actor who so memorably revealed all in Shame should cover up his good looks in Lenny Abrahamson's Frank may seem odd.
Yet Michael Fassbender has done just that, encasing himself in a papier-mache head to recreate the appearance of late English comedian and cult musician Chris Sievey and his alter ego, Frank Sidebottom.
Sievey took on the character from 1984 until he died penniless from cancer in 2010, aged 54.
Fassbender keeps himself out of the celebrity spotlight as much as possible. Maybe Frank's mask holds an extra layer of meaning for the actor, who has never betrayed the sense that an Irish upbringing truly allows you never to get too carried away with yourself.
"You know, pretty remarkably, I think Michael hasn't changed," says Abrahamson, an Irish director best known for the 2007 Irish tragicomedy, Garage. I worked with him on almost the first thing he ever did, a commercial I directed for MasterCard, and he was lovely then and he's still the same guy. He's a very strong character; his head is not easily turned, ha ha."
Frank is an oddball outsider not unlike Sievey, yet that is mostly where the similarities end.
Based on a screenplay by Jon Ronson (a former bandmate of Sievey and the author of the book The Men Who Stare At Goats) and co-writer Peter Straughan, the film follows Frank and his band of misfits, the unpronounceable The Soronprfbs, as they attempt to record an album while tucked away in rural Ireland.
Watch: Official trailer: Frank
Domhnall Gleeson plays a young wannabe musician, Jon, who joins an avant-garde pop band led by the titular character (played by Michael Fassbender). Jon finds Frank's methods more bizarre and enigmatic as time goes on, and he struggles to contend with a musical genius.
The film is told from the point of view of the new talentless keyboardist Jon (Irish actor Domhnall Gleeson), who helps orchestrate an invitation for the band to play at South by Southwest Music Festival in Austin, Texas.
During this period, Frank never removes his fake head, not even to shower or sleep, and incredibly Fassbender was so dedicated to the role that he attempted to keep the head on as much as possible.
"Michael was actually pretty comfortable in the head, which was amazing," notes Abrahamson. "He couldn't see out very well because the eyeholes are too far apart so he could only look out with one eye, which is sometimes why he gave sidelong glances at people. He did all the running around almost blind. He kind of liked acting in the head."
Maggie Gyllenhaal may seem an unlikely piece of casting as the band's sometimes violent theremin player -- and, indeed, the American actress was reluctant at first.
"I didn't understand it at all and I at first said no," she recalls. "It took me a while to understand the tone, though once I was in it, I was in it. The way to do it was to pretend that Michael wasn't doing anything out of the ordinary by wearing a head, which actually was confusing me because I thought the movie was about the connection between these unusual people in this band. That he wears a big head created a whole different kind of relationship."
Ronson has published a memoir, Frank: The True Story That Inspired The Movie.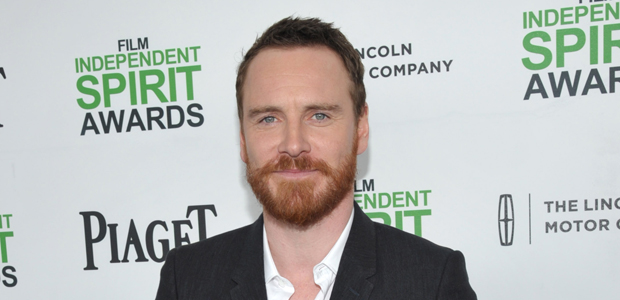 Michael Fassbender.
"I used to be in Frank Sidebottom's Oh Blimey Big Band and Frank wore a big fake head, though Chris did take if off sometimes," Ronson recalls.
"My favourite memories are of us speeding down the motorway at 2am with him with the head on. Nothing made us feel more alive. Another adventure! Then he fired us all for tax reasons: he owed £30,000 [$58,644] in back taxes and decided to go solo. He rang me a few years later and said he was staging a comeback and did I want to do something?
"Eventually, I wrote a piece in The Guardian remembering my time in the band and it had a sweet coming-of-age element. For the film we decided to fictionalise it completely and make it a kind of fable, mainly because Chris didn't want himself in the film. He thought it would spoil the image of Frank. Ultimately, the film is a tribute to people on the music margins."
What: Frank starring Michael Fassbender and directed by Lenny Abrahamson
Where and when: New Zealand International Film Festival, screening July 23, 30, 31.
- TimeOut