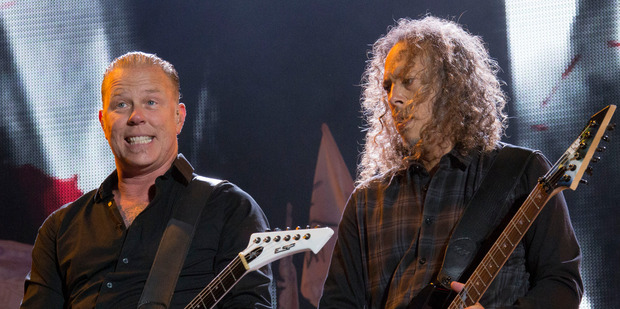 They're the most controversial headlining act at Glastonbury this year - but Metallica delivered where it counted, according to fans.
The hard rock band were heavily criticised in the build up to Britain's biggest festival, with critics saying they didn't belong at an event with roots heavily entrenched in alt-rock and hipster culture.
Front man James Hetfield's involvement in an Alaska bear hunting TV show didn't help things, with a petition circulating to get Metallica banned from the line-up.
Glastonbury photo gallery: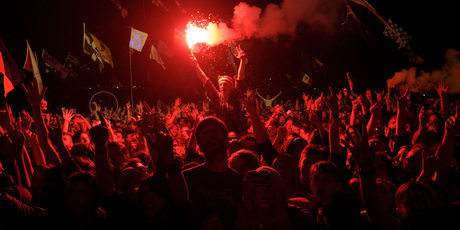 The hard rock act from America poked fun at the outcry from the outset, selling this T-shirt at the festival and opening their Saturday night set with this parody mashup video.
It was a performance that won over critics and fans alike.
"Glastonbury might not have known all the words or even recognised all the songs, but it certainly enjoyed the experience," wrote Independent reviewer Jamie Merrill in a glowing review.
"Metallica rocked Glastonbury and Glastonbury rocked them right back," wrote the Telegraph's Neil McCormick.
"The finale was fantastic.The almost classical guitar figure weaving through epic ballad Nothing Else Matters was gorgeous, a long suspended final note from Kirk Hammett developing into the compelling, driving riff of Enter Sandman."
Fans took to Twitter to praise the band's performance.
Watching it all again. Proper guitars. Proper lyrics. Proper stagecraft. Should headline every year. Crowd lovin it. #Metallicaglastonbury

— Jason Croad (@Jc_scabby_cabby) June 29, 2014
And that ladies and gents, is how you headline Glastonbury. #Metallicaglastonbury

— ? Sam ? (@spamwatkins) June 28, 2014
Watch Metallica's full 95 minute set at Glastonbury:
Elsewhere, Lana Del Rey performed to a sea of fans at the 170,000-strong festival, but she courted criticism for smoking a cigarette on stage, and the Independent called her performance "lacklustre".
"Sadly the singer, who smoked a cigarette on stage, was a big disappointment, even to some or her loyal fans," wrote the reviewer.
"Her usual stand-out track Blue Jeans failed to muster a reaction with hard-to-define vocals and lacklustre delivery, while new track Ultraviolence went largely unnoticed by a distracted crowd," he wrote.
Watch Lana Del Rey's full Glastonbury set:
Dolly Parton fared much better with reviewers, thanks to a set that included Jolene - and an impromptu rap about the festival's mud.
The Black Keys, Kasabian and Jake Bugg were also well received at the festival.
AC/DC are heavily rumoured to be headlining next year's event.
- nzherald.co.nz