If there had been television in 1914-18, how would have Gallipoli and other Anzac campaigns been reported at home?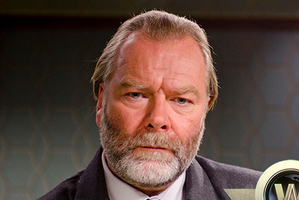 One of the things that attracted Mark Mitchinson to his role in Prime's new series War News is it doesn't involve his killing anyone.
The British-born, New Zealand-raised actor is probably best known for having portrayed two ripped-from-the-headlines murderers, Dunedin psychiatrist/poisoner Colin Bower in Bloodlines and Napier gunman Jaan Molenaar in Siege, parts that earned him best lead actor trophies two years running. "As a result," he says, laughing, "when they're casting a character who violently goes off the deep end, my name inevitably seems to come up, so it was nice to get away from that."
Instead, in the five-part series he's playing Ray Harkness, television current affairs anchorman, a role that had Mitchinson reaching for his remote control.
"I thought it was important there was a genuine confidence about him and a sense of comfort in the studio space," he says, "so I watched a lot of the CNN, BBC and Al Jazeera anchors, the people who'd been there for a while.
I was also influenced by Jeff Daniels' performance in The Newsroom - I quite liked how he's the guy who runs the show."
Helping create the sense of the fictional current affairs show being built around the anchor - something Mitchinson notes is evident in real examples "and not necessarily in a good way, because sometimes it gets in the way of the actual story" - is how the programme was made. By the time Mitchinson was plunked in front of a camera, the rest of the series had been shot. "It was like, 'Right, now it's your job to come in and pull it all together'," he says. "That involved eight straight days of shooting in the studio, working purely with the crew, director and an autocue, and then the people whom we did studio interviews with."
Being the only Auckland actor in Wellington-based Gibson Group's production also added a flavour of television journos' jaundiced view of anchormen as show ponies who arrive at the last minute and hog all the glory.
And the biggest challenge the part presented? The fact the current affairs show Ray fronts is dedicated to providing up-to-the-minute reports on World War I - yes, the global conflict that was fought 40-plus years before television was introduced to New Zealand.
"Basically, the premise of the show is, 'Imagine you had CNN during World War I'," says Mitchinson. "That allows us to tell these historical stories in a way that doesn't make the audience feel like they're watching a period drama. The current affairs format also enables us to provide a lot of contextual information, because not everyone watching it will be a World War I historian or know all of the background."
Although the series seeks to be as accurate as possible, there are other anachronisms beyond the television cameras and broadcast media, the most obvious being the modern way of speaking.
"There was lots of discussion about that," says Mitchinson, "and we all agreed that if we did it in the real language of the period, it would have been quite alienating for the audience."
Even so, when Mitchinson saw the finished product he was unsure whether they'd pulled it off or not. "My first reaction was, 'God, is this actually going to work?' But the more I watched, the more I was drawn into it because I - like everyone else in this day and age - have an intrinsic understanding of the access point into it, which is how current affairs shows are structured."
By applying such a modern storytelling sensibility to historical events, War News makes even well-known stories - like the disastrous Gallipoli campaign that dominates the first episode - feel fresh, relevant and relatable.
The series also unearths some largely unknown incidents, such as an atrocity committed by Kiwi troops in Palestine. "It was a real reminder of how no one came out of that brutal and costly war smelling of roses," says Mitchinson.
War News premieres Sunday June 22, 8.30pm, on Prime.