The reinvented Wiggles had a bit of a wobbly start but they're now as popular as ever, finds Bronwyn Sell.
A shrieking cavalry of children charges on to the Myers Park playground in the Auckland CBD, shattering the hush of a crisp workday afternoon. A few metres away, three men and a woman sit on concrete steps, casually dressed and posing for the Herald on Sunday's photographer. They're the Wiggles, arguably the world's most-successful children's entertainers. None of the kids notice.
But then, the famous foursome have left their trademark bright skivvies at their hotel - and this isn't Murray, Jeff, Greg and Anthony. This is Emma, Lachy, Simon and Anthony - the new generation of Wiggles.
The abdication of three of the original quartet and the coronation of the new princes and princess of children's pop hasn't passed without controversy in their native Australia. First, the group let go Sam Moran, who'd replaced ailing yellow Wiggle Greg Page for six years, and brought back his predecessor. Within months, Murray Cook (red), Jeff Fatt (purple) and Page bowed out, opening up the last Wiggle standing, Anthony Field (blue), to accusations of career fratricide.
Field recalls sitting at a meeting of the Wiggles board of directors in early 2012 when Cook and Fatt began talking seriously about retirement. They'd been pulling on skivvies and singing about hot potatoes and big red cars for more than two decades. Their earliest pre-schooler fans were starting to bring their own children to Wiggles concerts. Fatt was pushing 60 and battling heart trouble and Cook had ticked over into his 50s.
Retirement might have been inevitable, but it was poor timing. Vitriolic media and internet chatter suggested Moran had been badly treated and financial figures were about to be made public, revealing parent group the Wiggles Holdings Pty Ltd had made a net loss of $2.5 million in the previous financial year.
Field wasn't ready to quit. He began mentally casting a new generation of the supergroup from among unsuspecting Wiggles back-up singers and dancers. He needed performers with talent, appeal and professionalism who could handle the demands of constant touring.
In mid-April 2012, half an hour before a performance of the original group at Sydney's Enmore Theatre, Emma Watkins, Lachy Gillespie and Simon Pryce were summoned to meet Field in the dressing rooms. Field asked each of them to become a Wiggle. Astonished, they agreed immediately.
Until that day, they were your average hardworking unknowns. The youngest, Watkins, was 22. Fifteen years earlier, she had been just one of the kids in the audience at a Wiggles show. Gillespie, then 26, and Pryce, 40, had musical theatre backgrounds. Before his Wiggles work, Pryce's biggest role had been as understudy to the lead in The Phantom of the Opera.
Gillespie, who had grown up playing the piano and performing in his native Brisbane, was the biggest wild card. Because he'd worked only on the Wiggles' spin-off show, Dorothy the Dinosaur, he wasn't even on Field's radar until choreographer Caterina Mete gave Field a nudge.
Field was confident he had found the right mixture of strengths - Watkins' warmth with children, Pryce's experience and maturity as a performer and singer, and Gillespie's musical talents and "beautiful" singing voice.
For the rest of 2012, the original group embarked on a 243-gig farewell tour through eight countries, including New Zealand. They introduced the three newbies as Wiggles in training.
One of the trio's many lessons was that New Zealand audiences are far quieter than Australian audiences (which are quieter than Canadian audiences, which are quieter than American audiences). "There were not even claps after a lot of the songs, but you know they still love it," says Gillespie.
The new kids officially took over in January last year. Field says the quartet were creatively compatible from the start but they all admit to moments of doubt. On stage, they struggled to replicate the easy improvisation the original four had mastered. Off stage, they took time to settle into a songwriting rhythm.
"We needed a fresh sound while still being the Wiggles. Otherwise it was going to sound like karaoke," says Field. "At the start it was like a hits and memories show." Fans would pose for photos with Field, and ask the new Wiggles to hold the camera. To Field, Gillespie seemed shy in front of the camera. Though Watkins bubbled with confidence on stage, singing wasn't her strong point and the recording studio intimidated her. "I felt bad putting her through it," says Field.
The low point came when they drove for six hours to perform to 100 people in a tiny Australian mining town. This was a group that had, in its previous incarnation, sold out a week of shows at Madison Square Gardens in New York and once brought in $50 million in a year. "That first tour of Australia was hard," said Field. "Half-filled auditoriums, one show a day, endless touring."
Adds Pryce: "There was a lot of love for us and a lot of enjoyment, but it was really hard to get a sense of whether the mass of support was really there."
As the year progressed they found confidence and developed new strengths. Pryce and Gillespie introduced harmonies to the Wiggles and brought a musical theatre flavour to the songs.
"There's a real group effort in creating the songs now," says Pryce. "We all come from different angles. Anthony will start jamming on a riff, then all of a sudden Lachy will take over and then some words come. It's working really well."
Field says he clicked with Gillespie musically (prompting a blush from the younger man), and he loved the "beautiful" lyrics Watkins dreamed up. As we soak up the winter sunshine in the park, Field prompts her to sing, "I love scary nights, I look up at the moon and it looks so bright. In the dark black sky, I love to see the moon at night."
Television provided the breakthrough. In September, they returned to small screens in New Zealand and Australia with the first new Wiggles series in six years. The impact was immediate.
When the first few people said hello to Pryce in the street, he strained to recall how he knew them. After a while, he realised he was being recognised by fans.
"The other night I was at a restaurant and a rough-looking guy came up to me and said, 'I'm gonna kill you, mate ... I have to watch you every day and I'm getting a bit sick of it - but can I get a photo with you?' "(As if recognising there's a point to prove, a 20-something man strolling through the park stops to take a photo of the quartet on his iPhone.)
Their new song Do the Propeller reached one million YouTube hits, Australian concerts began selling out again, CD and DVD and iTunes sales surged and little girls began arriving at performances in yellow, wearing Watkins' signature bow. Now, Field reckons fans are more likely to ask him to take photos of them with the hugely popular Watkins.
The youngest fans don't remember a time before a woman Wiggle.
"Last year was such hard work but we never stopped believing this was going to happen," Field says. "We were hoping the kids would like it, and they have. Two days ago, we announced a big show in Australia, and it's sold 42,000 tickets, six months out. The difference is amazing."
Five Wiggly facts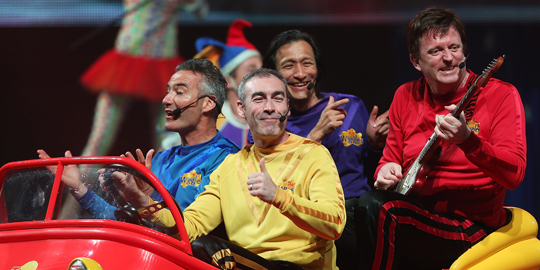 Anthony Field, Greg Page, Jeff Fatt and Murray Cook. Photo / Getty Images
1. There were originally five Wiggles. The fifth, Phillip Wilcher, left to pursue a classical career.
2. Anthony Field, Jeff Fatt and Murray Cook each own 30 per cent of the Wiggles' parent company. Their managers, Paul Field (Anthony's brother) and Mike Conway, own 5 per cent each. Greg Page sold his share when he left in 2006.
3. Field, Cook and Page created the first Wiggles album for a university assignment, when they were studying to be early childhood teachers. It sold 100,000 copies.
4. The Wiggles formed in 1991, the same year as Oasis and Rage against the Machine.
5. The Field brothers and Fatt found fame on the Australian pub circuit in the 1980s with the band The Cockroaches (and once toured New Zealand). Last weekend, the band performed for the first time in 25 years, at a Sydney RSL.
The new Wiggles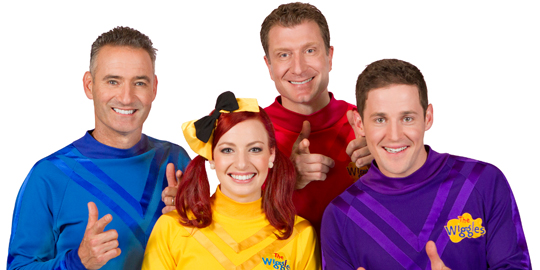 The new Wiggles line-up, from left, Anthony Field, Emma Watkins, Simon Pryce and Lachlan Gillespie.
Emma Watkins: The youngest Wiggle, 24 year old Emma Watkins has a master's degree in media arts and communication, and joined the Wiggles in 2010 as a dancer. She's the second female Wiggle - Kylie Minogue was crowned honorary pink Wiggle in 2009.
Simon Pryce: Simon is an old hand - or rather, voice - for the Wiggles. His rich operatic tones have been adding depth to Wiggles recordings for more than 12 years, and he performed as Ringo the Ringmaster for two years. When he told his friend's 13-year-old daughter about his new job as a Wiggle, she said, "Oh, how embarrassing."
Lachy Gillespie: A pianist and composer, Gillespie has a Bachelor of Arts in musical theatre. He served a three-year long Wiggles apprenticeship as Captain Feathersword in the touring Dorothy the Dinosaur spin-off show.
New Zealand tour dates
July 2: Tauranga, Baycourt
July 3: Whangarei, Forum North
July 5: Auckland, ASB Theatre (two shows)
July 6: Hamilton, Founders Theatre
July 7: Rotorua, Civic Theatre
July 8: Taupo, Great Lake Centre
July 9: New Plymouth, TSB Showplace
July 11: Napier, Municipal Theatre
Details: thewiggles.com