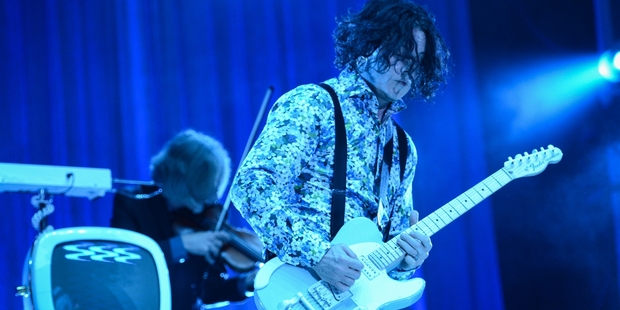 "They threw me down in a lazaretto, born rotten, bored rotten."
The way Jack White spits that line, with a swaggering, almost hip-hop-esque confrontational approach, angry and knowing, the enraged storyteller - it's the type of spine-tingling, lightning moment that turns up all over this album. His second solo album, and first release since his first, Blunderbuss, came out in 2012, Lazaretto has the same eclecticism and fiery undertones.
Once again it proves that White is capable of messing up genres and picking and mixing in a most singular way.
Blues, country, rock, folk, gospel, electronica, even those hints of hip-hop, they all whirl together taking him from heavy squalls of sound on tracks like High Ball Stepper and That Black Bat Licorice, to more contemplative, fable-ish tones on Entitlement and Want and Able.
The opening number, Three Women, which is a rewrite of 89-year-old song Three Women Blues by Willie McTell, is an adventurous juxtaposition of soul, 70s pub rock and rolling, Muscle Shoals-style swamp.
Lyrically it is almost a diatribe against modern love, but has an ending that turns upon itself and winks at you.
The title track, which jumps in second, is a brilliant, cynical, stadium-sized rock slice, full of monster riffs, spacey sonics, a swinging violin solo, and those spitting vocal lines that owe a little something to rap.
He throws a curve ball with Temporary Ground, a slightly warped country slowburner full of pedal steel and piano, and delivers a fairly bleak question of human existence.
Would You Fight For My Love? is probably the most conventional, straight-ahead rock song on the album, but it's a pretty poignant one, letting you see his vulnerable side, and still has some awesome warbling organ parts.
With High Ball Stepper he eschews words altogether, but it says a lot about White's instrumental talents that it's possibly the most blistering, compelling four minutes of guitar work you're likely to hear this year. With a touch of his Dead Weather darkness, somehow it feels like the aural equivalent of True Detective - the swagger, attitude, heat, sidelong glances, and fearsome intensity.
For the rest of the album, White takes some fairly dark and heavy subject matter, but then moulds it into all sorts of different soundscapes.
The bar-room bash of Just One Drink actually manages to distil a whole lot of drunken incomprehension and frustration into a riotous two-and-a-half minutes, while Alone In My Home sounds like a jubilant, harmony laden 60s pop song but is really all about isolation and hurt.
Entitlement somehow manages to turn the question of getting what you deserve into an impressive country ballad, while I Think I Found The Culprit is a swirling nightmare of paranoia, albeit beautifully arranged.
The exceptions are That Black Bat Licorice, which is excellent fun, showcasing White at his most nonsensical, but taking enormous pleasure in words and rhythms, and his sign-off, Want and Able is a simple piano, acoustic guitar, and vocal affair which is a philosophical riddle, and a sound demonstration of his ability to take a complex issue of the human condition and make it something you want to listen to.
White is almost like a taller, more southern, countrified version of Prince, such is his ability to sound entirely fresh, over and over, and this brazen, rollicking collection makes you wonder why more music can't be this good.

Jack White, Lazaretto (Sony)
Verdict: Singular, spirited, swinging brilliance.
- TimeOut