Hayden Donnell was there as Microsoft and Sony unveiled their upcoming games for the Xbox One and PlayStation 4. Here are his picks.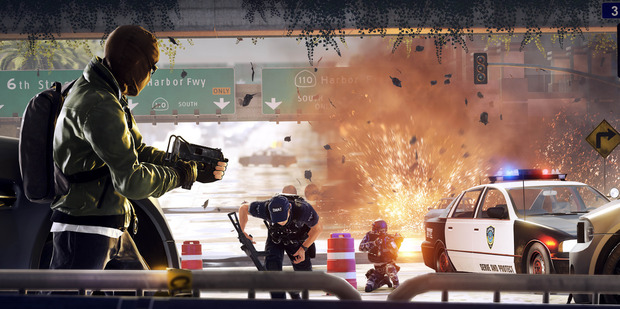 Bill Gates might not have been ambitious enough when he warned bullies that the nerds they torment will one day be their bosses. The E3 conference in Los Angeles shows that nerds haven't just become rich - they're rock stars.
Yesterday PlayStation and Microsoft made their pitches for the future gaming dollar in the lead up to the massive annual video games showcase. They delivered their press conferences in arenas in front of thousands of people.
The events looked and sounded like rock concerts, with lights flashing and speakers blaring as the games companies and developers made announcements about their future.
Who won?
Sony.
Microsoft's press conference was a chance to turn things around after a tough year.
It had earlier decided to debundle the Kinect from its XBox One after telling the assembled crowds at E3 2013 the technology was integral to the console.
Sales have also reportedly slipped behind Sony's. This year XBox division CEO Phil Spencer decided to focus the press conference solely on games in a blistering 90 minutes of trailers and announcements.

Whereas that conference felt a bit like Microsoft's mea culpa, with its regular assurances that "we're listening", Sony came out oozing confidence. It revealed a solid new line-up of games, mixed in with hardware offerings such as PlayStation TV, which allows you to stream games in multiple rooms, and a new white console to tie in with the launch of Bungie's hotly anticipated blockbuster Destiny.
THEMES FOR THE FUTURE
Co-operative play: What happened to the time when you could invite your friend around, grab a 1.5 litre bottle of Fanta and play a Golden Axe campaign together for five hours? For a while it's seemed like nearly all multiplayer gameplay was about competition. E3 showed co-operation is making a comeback. Games like Sony's popular platformer Little Big Planet 3 and Microsoft's Assassins Creed: Unity and Fable: Legends all expanded their cast of core characters from one to four, adding the possibility of friends able signing on to help you through a campaign. They all looked better for it - especially Assassins Creed.
Sequels and reissues: Gamers are getting old. It's been 10 years since Halo 2 was released, 11 since the first Call Of Duty. The greasy haired teenagers fuelling themselves through overnight games sessions with Red Bull and cheese balls are now 30-year-olds with jobs and partners who should know better. But that hasn't stopped them looking back fondly on days past.
Yesterday's press conferences showed the game giants are keen to tap into that rich vein of nostalgia. The loudest response Microsoft got at its conference was to the announcement that it would be re-releasing all four core Halo games on a single disc for XBox One in The Master Chief Collection. It was also giving popular title Crackdown an update for XBox One. Sony got big cheers for announcing it was giving The Last Of Us and Grand Theft Auto V the PlayStation 4 treatment. It shows the big games companies' willingness to wring franchise games for every drop of value. Many of the big announcements yesterday were about sequels: Uncharted, Assassins Creed, Halo, Far Cry, Call Of Duty, Mortal Kombat and many more were trotted out. It made the trailers for space exploration game No Man's Sky and Bloodborne, the new project of Dark Souls' creative genius, Hidetaka Miyazaki, sparkle a little brighter for their originality.
The best looking game: Arkham Knight looked amazing with Batman swooping from a skyscraper to his Batmobile and speeding through the streets to punch Penguin in the face. No Man's Sky was the most original with its proceedural design apparently allowing for an infinite universe (this may be a good thing or an open invitation to contemplate death and the nature of time). The Division still looks excellent, as do The Order - 1886, Call Of Duty: Advanced Warfare and Sunset Overdrive.
But the most impressive gameplay demo came from second tier blockbuster Assassins Creed: Unity. Its new cooperative features looked like a big step up for a franchise that doesn't always inspire fervour amongst the gaming community. There's not much cooler than seeing one of your 'brothers' knifing a guard in the neck out of the corner of your eye as you walk into the next room.
Surprise highlight: I got a huge kick out of most of the games in offer at the Best Of XBox showcase at the beautiful United Artists Theatre last night. But special praise has to go to the indie game Lovers In A Dangerous Spacetime for breaking my heart in the most addictive way with its weirdly difficult gameplay. I want to get my rabbit pilot, run back on board that spacestation and blast some bunnies free from their space captivity again as soon as possible.
* Hayden Donnell will be covering E3 throughout the week.
- nzherald.co.nz