Are the alt-rock icons mellowing with middle age? Chris Schulz travelled to Sydney to meet the Pixies, and found them as beguiling and confrontational as ever.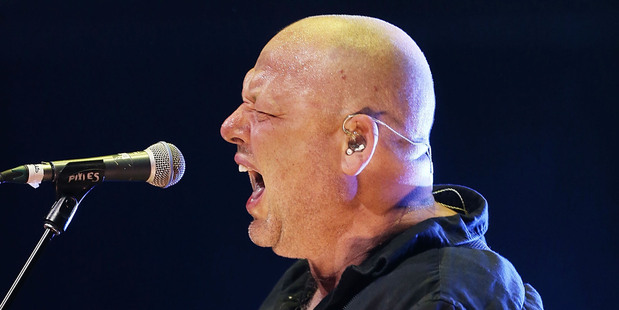 David Lovering stares at the floor in silence. Joey Santiago glances up at his boss, then drops his head like a naughty schoolboy and twitches his feet nervously.
Black Francis crosses his arms and stares straight ahead, his large frame dominating the small table the three original members of the Pixies are crammed around for their interview with TimeOut.
It's hard to tell what the frontman is thinking - his eyes are covered by dark glasses.
Judging by the Boston band's response to TimeOut's line of questioning, it's fair to say he's not daydreaming about unicorns.
Finally, after many awkward seconds, Santiago - the band's lead guitarist who has barely uttered a word - breaks the uncomfortable silence.
"Are you asking if we're dysfunctional?" he says, looking defensive.
Actually, yes. It's a fair question. After all, this is the Pixies; a band known for having the kind of internal conflict that would tear most acts apart at the seams.
Rumours persist that Francis faxed his bandmates to inform them of the Pixies' demise in 1993 - a split Rolling Stone magazine blamed on his fractured relationship with departed bassist Kim Deal. Where did the Pixies come in the magazine's list of the 10 Messiest Band Break-ups? No2.
Rumours of unhappiness have persisted since their 2004 reunion, and only grew louder after Deal's shock exit last year as the Pixies began sessions for their new album - Indie Cindy - their first since 1991's Trompe le Monde.
They've lost another bassist since then, too: the Muffs' Kim Shattuck lasted several months before reportedly being sacked for being too "extroverted"; her replacement, Paz Lenchantin, is spoken of highly but wasn't invited to this interview.
So yes, let's ask it again: are the Pixies dysfunctional?
"We do have that reputation," offers Santiago, glancing nervously at his bandmates. More silence.
Lovering - the band's studious drummer - decides it's time to weigh in.
"I think it's overblown [by the media]," he says in barely a whisper.
And that's it. Francis stays stubbornly silent, and judging by the dark clouds that have descended over the small office space underneath the Sydney Opera House, it's time for TimeOut to move on.
Perhaps the Pixies have accepted in-house tension as their "X" factor - after all, more than 20 years after their dominating five-album output, they're still celebrated as alt-rock's leading weirdos, capable of headlining festivals and selling out stadiums. Talking about it, thus acknowledging it, might destroy some of the magic.
Anyway, as they proved on the second of a four-night stand as part of Sydney's Vivid festival, the foursome are still a killer live act, ripping through 31 songs in an incendiary two-hour show.
If there was any tension on stage, it was buried under Lenchantin's bouncy and enthusiastic style, Santiago's impressive guitar-throttling techniques and Lovering's taut rhythms.
Even Francis seemed to be enjoying himself, dancing a little jig during Monkey Gone to Heaven and using a pocket camera to snap photos of the front rows between those guttural screams that punctuate the Pixies' loudest anthems.
When it comes to Lenchantin, all three agree that she has lightened the band's mood.
Francis: "She's great. We love playing with her. She's awesome ... she's funny." Santiago: "Not only that, but backstage is a lot lighter now. She's a free spirit." Lovering: "The audience likes her, too."
They also seem empowered by having finally released a new album. Although those new songs receive the smallest response at their show later that night - even the AC/DC strut of Blue Eyed Hexe - Lovering says Indie Cindy makes them feel like "a real band" now.
Francis admits recording sessions were fraught with nerves.
"You want to make it good, you want people to be happy with it. The pressure isn't any different to any other album," he says. "Yeah, all right, it's been a long time, okay, we'll get over that after a few minutes. At the end of the day, you're making a record. Is it good, is it not good? There's always pressure. If you didn't have pressure it wouldn't be that satisfying.
"I think everybody is a nervous wreck - in their own way. Some people are showing it, some are hiding it. The producer's nervous, everyone's nervous. It's a good thing."
They make TimeOut nervous too, thanks to one last burst of tension that's derived from an unlikely source. Quotes from Bono, Thom Yorke and Kurt Cobain have been used on Pixies posters on Sydney's streets, and we want to know what the band thinks of them - especially Cobain's, who famously said: "I should have been in that band."
Their responses are telling. Lovering jokes about how much money it cost to pay them to "say those nice things", while Santiago wonders if Cobain would have sounded good playing maracas.
When it comes to Francis, his answer is a little more sombre. He doesn't take those quotes as compliments - more as a threat.
"They want to be in my band? I'll fight them out in the alley. No f****** way you're joining my band," he says, punctuating his point with a snorted laugh and by crossing his arms again. He's not called "Black" for nothing.
Will they be back?
There's good news and bad news for Kiwi fans of the Pixies hoping for a return visit in the near future.
They last played New Zealand in 2010 as part of their Doolittle-plus-B-sides-and-greatest-hits tour in two shows at Auckland's Powerstation and Vector Arena.
But they're doing only four nights at the Sydney Opera House during this visit, with no plans to return this year.
Asked if they're keen to return to New Zealand, Black Francis shrugs his shoulders and says: "Sure. Why not?"
But here's the kicker: he doesn't want money for the shows - Francis has his eye on something else entirely.
"We're willing to barter ... Maybe you have a cornfield, or a winery - does your uncle own a winery?" he asks. "Make an offer. Get a second mortgage on your place, sell some stuff. We're willing to talk."
Who: The Pixies
New album: Indie Cindy, out now
Also: Come On Pilgrim (1987), Surfer Rosa (1988), Doolittle (1989), Bossanova (1990), Trompe le Monde (1991).
* Chris Schulz travelled to Sydney courtesy of Destination New South Wales and Qantas.
- TimeOut