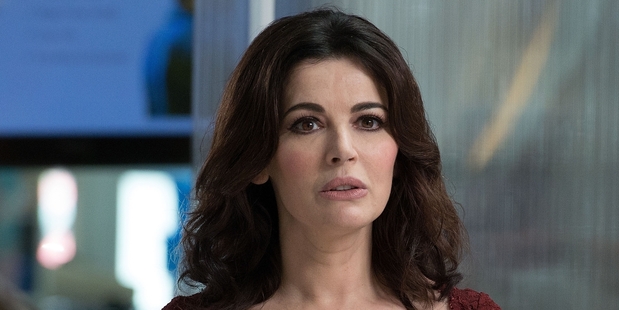 Nigella Lawson was a sweet delight for fans as she filmed a chocolate commercial in Wellington yesterday.
The British celebrity chef, who arrived in New Zealand on Saturday, was at the Wellington railway station to film a Whittaker's advertisement.
Clad in a figure-hugging burgundy dress, Lawson handed out chocolate to extras and spectators.
"It's lovely isn't it," she said of the chocolate.
Wellington resident Christina Saunderson caught a brief glimpse of Lawson.
"I'm a big fan. I've watched all her shows," she said. "Her eye makeup is always absolutely to die for."
Onlookers were permitted to watch filming near the main entrance of the station building, and some exclaimed as the star was seen inside the white set.
Her hair hanging around her shoulders, Lawson stood behind a white bench, with two blocks of Whittaker's chocolate and a platter of unwrapped chocolate pieces.
About 40 extras recruited for the filming were brought in to interact with the chef, some in pairs and others by themselves.
One extra said Lawson offered them chocolate during the filming. "She's lovely," he said.
The extras were warned before filming began not to speak to reporters as Lawson wanted her "privacy respected", he said.
When auditioning for the advertisement, the extra had been asked to eat a piece of cheese and describe it. Later in the day, Lawson spoke to a larger group of people at the front of the set, asking whether "chocolate lovers" were ready to try some chocolate.
Afternoon commuters were asked to join in, filling out the crowd of extras and tasting chocolate handed out by Lawson and two helpers.
Filming started about 10am and lasted most of the day.
Lawson wore grey pumps to complement her mid-calf burgundy dress, and little jewellery apart from a gold ring on her right ring finger.
Whittaker's did not respond to calls and security personnel on the set were tight-lipped about details of the advertisement.
Lawson has not made any public appearances during her visit.
- APNZ