Major roles that grow as they do are helping children to steal the show in television's most popular dramas. Susie Mesure reports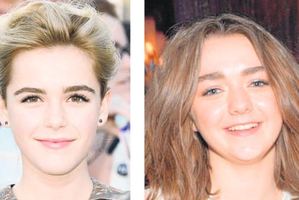 They're no Jon Hamm or Sean Bean. In fact, in television hits such as Mad Men or Game of Thrones, they are, literally, the smallest stars. But it's the children who are stealing the show, proving that size isnt everything.
The award for Mad Men's biggest personality has to go to Hamm's on-screen daughter, Sally, played by Kiernan Shipka. Shipka has aged along with the show: she was six when first cast. "To play someone from the age of six, while also being six, and then growing into a teenager, is the wildest thing. To grow up with Sally, and be able to evolve as a character like that, is something you don't get to do very often," Shipka, 14, told Vanity Fair.
In Nashville, the Dynasty-with-country-music series coming to One on May 7, Connie Britton and Hayden Panettiere may get the biggest billing, but they're upstaged by the show's youngest stars: sister singers Lennon and Maisy Stella, who play Maddie and Daphne Conrad.
Lennon has to deal with some of the programmes biggest plotlines. But it's the pair's on-screen electricity and exceptional singing voices that have kept audiences hooked in the US.
Something similar has happened in Game of Thrones.
From the first series, which starred Bean as Lord Eddard "Ned" Stark, it was the youngest member of the Stark clan, Arya, played by then 12-year-old Maisie Williams, who wooed viewers.
Even now, in series four, Williams still steals the show. Sansa Stark, Arya's elder sister, played by Sophie Turner is similarly captivating. The Stark sisters have some of the strongest plot-lines, but their appeal goes beyond the action.
So what's the secret? Casting director Lucy Bevan says the trick is to cast children to be themselves.
"It's a real challenge casting children, and you have to see lots of kids to find the right one. You need to find a child who is as close to the role as it's written as possible to bring it to life truthfully and authentically."
But it all hangs on the quality of the young stars themselves.
Mark Puddle, who runs Westend Stage, a Europe-wide theatre school for children, says: "The main thing is that young people have got better. There are more avenues to train, plus people have learnt more about how to direct children.
"It also helps that entertainment is seen as a serious career now, compared with 20 years ago. There is more confidence in the arts."
- The Independent