Artists employ intriguing ways to rise beyond the commonplace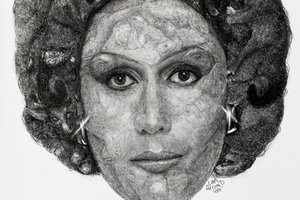 The ability to depict objects and faces with recognisable accuracy has always been an admired talent in artists.
Such realism has always been a concern of some artists, even as abstraction flourished last century. Yet realism does not create art in itself. The representation needs some interpretive element to lift it out of the commonplace. Three shows this week demonstrate that capturing a likeness is only part of the artists' purpose.
The exhibition by Liam Barr at Artis Gallery is called Lore and Behold. In his highly polished paintings we behold the lineaments of a person and equally realistic accompaniments that convey stories, real or imagined, about their past.
A typical example is Postscript where we encounter the direct gaze and pale face of Katherine Mansfield. Her familiar bobbed hair is crowned by old-fashioned fountain pens and her profession as a writer is emphasised by the keyboard and typewriter carriage bent as a tight collar around her neck.
As an adolescent she learned to type because she knew she would become a writer. Her long fingers tap out her last words, "I love the rain tonight", as a tattoo on her chin. The whole shape resembles a lamp and recalls the importance of a lamp in her most famous story, The Doll's House.
Whether one is acquainted with the writer and the lore about her or not, it is an intriguing and skilled image.
Other works are not so explicit in reference. Requiem for the Feathered has an arched window showing a landscape with a naked woman leaning in with candles in both hands. She is assailed by a group of birds that have pecked elaborate tattoos on her shoulders and breasts. This work has the surreal quality of a dream but it is the dream of the woman herself. We can admire it but do not share in it.
A simpler image with the same dream quality is Spirit Me Gently to the Sea showing a pale woman waist-deep in a great river. The reference is to legend or lore. She embraces a large eel made special by a ring in its nose. The woman's long black hair is an effective part of the design.
These paintings carry a sense of mystery. Others are more obvious. The four grim Brides of None are fierce and armed while Contemplace, elaborate though it is, has none of the scope for imagination that gives an extra frisson to the rest of the show.
Skill in drawing has always been the mark of work by Rozie Demant since she made a startling appearance as a teenage prodigy. Her exhibition, New Works, at Warwick Henderson is a departure from her best-selling previous paintings but similarly filled with anxiety allied to arresting beauty.
Two works in the former style preface the show. Both are set in a wide landscape. In one, two women with impossibly long legs hang by their heels alongside tall poppies and in the other the strange, long-legged creatures are beneath blossoming trees that shed red on the ground that may be flowers or blood.
The works show a very beautiful woman naked to the waist with a prominent lower lip, impossibly long eyelashes and flowers in her hair. Every painting has a slightly different atmosphere and the colour is rich and luminous.
The link with the previous work is the presence of hummingbirds and, hidden in the detail of the flowers, spiders. The spiders weave bright threads like jewels that delicately criss-cross and bind the women. The threads contribute to the general mood of delicate melancholy.
Demant displays great virtuosity and although at times the works come close to being just pretty their charm is undeniable.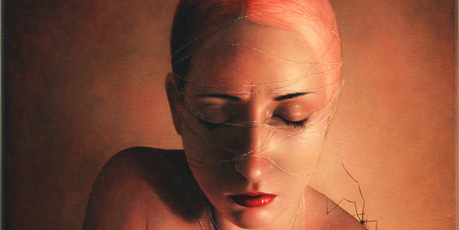 The darkest of the work in mood and tone is the oval Hummingbird and Web, while the most colourful is simply called The Web. The double image, Bound, with two profiles, one doubting and the other distracted, has the most complex interaction
There is excellent draughtsmanship, too in the new work by Liam Gerrard at Sanderson Gallery. This is a bizarre show where familiar faces and animals are drawn larger than life in charcoal on white paper. The artist's rhythmic and detailed handling of fur, feathers and teeth is strikingly apparent in his drawings such as a lion with pohutukawa flowers as a mane and in the depiction of two moreporks, one with prey in its talons.
The portraits are more problematic. Rachel Hunter and Dame Kiri Te Kanawa are surrounded by bizarre, seemingly unrelated objects. One version of Dame Kiri's face sits on three boar heads, and in Rachel the model is accompanied by hammerhead sharks. The effect is odd without being satiric.
These charcoal drawings are crisp and clear but for all their wit they engage mostly by the virtuosity of their draughtsmanship rather than compelling insights.
At the galleries
What: Lore and Behold by Liam Barr
Where and when: Artis Gallery, 280 Parnell Rd, to April 14
TJ says: Strange, precisely painted images of characters gazing full front at the viewer and given attributes that stimulate imaginative stories about them.
What: New Works by Rozi Demant
Where and when: Warwick Henderson Gallery, 32 Bath St, Parnell, to April 12
TJ says: Richly coloured, luminous paintings of self-consciously beautiful, naked young women made uneasy by tangles of spider web and the free spirit of hovering hummingbirds.
What: New Work by Liam Gerrard
Where and when: Sanderson Gallery, Osborne Lane, off Kent St, Newmarket, to April 6
TJ says: Remarkable large virtuoso charcoal drawings of birds and familiar celebrities surrounded by bizarre details whose tone and relevance ranges from comic to inexplicable.