Former TV journalist Guyon Espiner moves to radio this week as part of a huge shake-up at national institution Morning Report. He talks to Phil Taylor about why he's making the move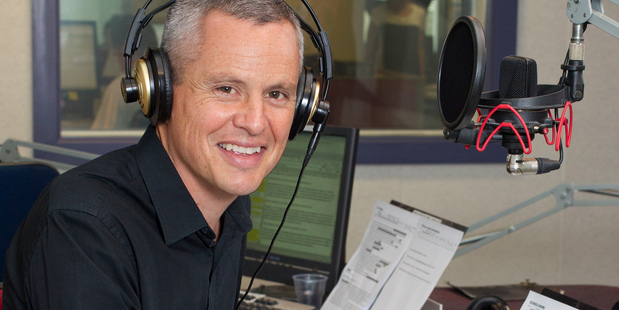 On Tuesday, 39 years to the day since he first switched on the microphone, Geoff Robinson will bring that day's Morning Report and his own remarkable career to an end with these words, "here's the bird". And some feathered native species or other will chirp listeners into the 9 o'clock news.
Rising at 4am on Wednesday to step into Robinson's shoes will be Guyon Espiner who, at 43, hadn't started primary school when Robinson made his debut. Espiner is happy to announce that the bird stays — one departing icon is quite enough.
"There's a notice here in the RNZ newsroom that says 'don't talk over the bird'," says Espiner down the phone from Wellington, where he has spent the past week learning the ropes and putting faces to the voices he will be working with. You can take it a lot further than that, he says: "You don't mess with the bird, so that won't be changing".
Espiner will spend his first week broadcasting from the capital alongside 36-year-old Susie Ferguson, the senior broadcast journalist born in Scotland to a Kiwi father, who replaces Simon Mercep (moving to Afternoons).
Thereafter, Espiner will work from RNZ's Auckland studios, with Ferguson and the production team in Wellington.
That was the arrangement for Mercep (Auckland) and Robinson, and RNZ chairman Richard Griffin and chief executive Paul Thompson were at pains to reassure a public meeting in the capital this week that there was no plan to shift north.
Aside from the presenters, an obvious change will be the introduction of new theme music composed and performed by New Zealanders including Maori traditional instrumentalist Richard Nunns, a Pakeha. Presenters will continue to use Maori greetings, and some new ones will be added.
The big difference will be the styles of the presenters. Espiner expects he is "a bit more aggressive and a bit more assertive" in his interviewing than listeners may have been used to, and says he and Ferguson aim is to make the show (he uses that word rather than the old-fashioned "programme") "snappier, livelier, pacier".
"We might be a little more colloquial; and we might not pronounce every word correctly, so it might be a little more real ... but that's not to say you want to chuck out that other stuff. [But] I think you will hear quite a different show."
Espiner had input into the shape of the new show but generally limited it to the editorial/interviewing stuff — the stuff he knows best.
"I'm new to this. This is a big challenge for me," the former newspaper and television political editor says. Tell the reviewers, he jokes, that however the show is on Wednesday, it will take time to evolve. How could it not with presenters - including a radio novice - who met for the first time only recently.
"We will get to know each other on air, as our listeners get to know us."
He's excited rather than nervous about "hitting that red button and making a bit of a nuisance of myself. I'm conscious of the expectation. These are big audience numbers and they are people who give a shit." (Morning Report has a cumulative weekly audience of 355,000; between 250,000 and 280,000 at 7am on any morning and is the country's most popular radio show, reaching 10 per cent of people aged 15 and over). For evidence that people care, he notes that the public packed out the meeting last week about RNZ's future.
Loyalty, he understands, must be earned. "I am fully expecting we will have plenty of email traffic, and probably several handwritten letters, saying 'who is this Espiner, shouldn't he go back to TV land?'
"I won't mind. I think we do need to give a bit of an elbow to some of our listeners and I think we do need to be a bit more volatile at times and to ruffle a few feathers."
Espiner doesn't think aggressive interviewing will put politicians off fronting up. Besides the attraction of a big audience, they generally accept a grilling so long as it is fair, he says. "That means sticking to policy rather than ambushing them on some personal issue. If you are sticking to the rules of the game then I think you have a bit of latitude to go pretty hard."
He's been around long enough to know there will be bruises. "I've absolutely had politicians blow up in my face." Deputy Prime Minister Bill English apparently does his own version of Manchester United legend Sir Alex Ferguson's notorious "hairdryer".
"I've had Bill English come down to the press gallery and shout, two inches from my face. He basically said that this town wasn't big enough for the two of us after I wrote about his leadership. He departed the leader's chair quite soon after that. I stayed where I was."
Espiner is an equal opportunity botherer: Michael Cullen, Helen Clark and Winston Peters are others he has significantly cheesed off. "I've had several screaming matches with Bill English but I think if I went back to him today, he'd have cooled off and be happy to talk to me."
A thick skin comes with the territory. As a young political reporter working for the Evening Post, Espiner found himself rounded upon at a press conference by Tau Henare, the "Dirty Dog"-sunglasses-wearing New Zealand First deputy at the time.
"He told me I was a boy sent to do a man's job. I was quite shocked because I was a pretty young and pretty green 26-year-old and not used to being singled out by politicians. You do have to develop a bit of a thicker skin if you are tangling with some of these guys."
The radio job comes after 10 years each in newspapers and television. It also comes after a lot of personal change in a short time. No wonder he says he hopes Morning Report is a long-term role. In the past two years he's left the high-profile job of TVNZ's political editor he held for six years, left Wellington, left TVNZ, joined and left TV3, got married and become a father. He confirms he applied for the job of head of news and current affairs at TVNZ but said missing out was not the reason he went to TV3. After a long stint as political editor he'd told his bosses in 2011 he wanted to do something else within the company but that coincided with a turnover of management and nothing eventuated. He'd put his CV in on the last day applications for the management job were open but said it was an afterthought and done without real expectation.
"I didn't leave because of that. I left because they didn't have anything decent for me to do and TV3 did."
Espiner is coming to look on his two years at TV3 as a transition period, primarily because he didn't find a role there that was a snug fit.
"I experimented with longer form current affairs [3rd Degree], I got to host my own TV show with my good mate [The Vote, with Duncan Garner]. I did stuff at TV3 that I'm proud of doing but to be honest it probably wasn't really me in the end, and I feel and hope that this is more me. My love is interviewing [and] the news. I love serious issues, I love economics, I love politics, I love the big social issues of the day. I love getting my teeth into the news and I wasn't able to do that really at TV3. [Morning Report] is a really good vehicle for me to do that and I hope that if it works out it will be something I will be able to build on and do for a number of years."
Fact file
Guyon Espiner
• Age: 43
• Married: with child, Nico, 5 months, to Emma Wehipeihana, 29
• Lives: Balmoral, Auckland
• Career: BA English, Canterbury; Diploma in Journalism, Wellington; political reporter, Evening Post; political editor, Sunday Star-Times and TVNZ; interviewer, Q+A; columnist, The Listener and North & South; presenter/reporter 3rd Degree and The Vote.
• Ties that bind: younger brother of journalist Colin Espiner; Duncan Garner was his best man.
• Little-known fact: Took up distance running after the death of his mother, more than a decade ago.
Espiner on ...
• Best delivery of a bollocking from a politician:
"I've had several screaming matches with Bill English. [One time] he came down to the press gallery and shouted two inches from my face. He basically said that this town wasn't big enough for the two of us after I wrote about his leadership. He departed the leader's chair quite soon after that; I stayed where I was."
• Changes in Prime Minister John Key, who rose on a platform of the anti-politician:
"I saw his first term at close hand covering it from the press gallery and his second term at a distance living in Auckland ... it seems he's made a calculation there are two types of issues: the stories that the media is interested in, like the oversight of the GCSB or the Oravida saga, and the 'real world' issues of the economy, health, education and law and order. It's almost like he 'provokes' the media by seeming not to take their stories seriously. They react by running them at high volume on rotate and Key banks on the public getting sick of the media rather than [focusing on] the 'scandal' they're highlighting. Perhaps he felt in the 'teapot tapes' saga last election campaign that he got that public mood right and backs himself to know what the voters really care about. Of course he'll get it horribly wrong one day because that's where it always ends up for any leader who stays in power for any length of time."
• Not finding his happy place at TV3:
"It's the dog that caught the car syndrome. You catch the car and then what do you do? To a degree that's what I felt had happened [with me]. Media Works — television and radio — have an embarrassment of riches and they didn't have the platforms to deploy them. To be fair, Mark Jennings [News & Current Affairs director] can't walk up to management and say 'I want a few million dollars for another show because I've got these guys I think would be great'."
• The toughest tele he's done:
"The Vote. I felt I was playing out of my skin. It was very challenging and Duncan [Garner] would agree. Certainly for me, it was the hardest television I'd ever done because it was a mix of being a debater, an interviewer an entertainer and a moderator all in one, and it was done in front of a live audience. We were stretched in many directions on that show and while it was disappointing that they cut it, it was a relief in some ways."
• Career politicians:
"I do think some politicians stay way too long. After a certain amount of time they are never going to find another position where they have the influence and trappings that Parliament allows them. Unless you've made Prime Minister, being a long serving politician doesn't exactly open up the doors of employment in other worlds. There are some pretty sad examples ... "