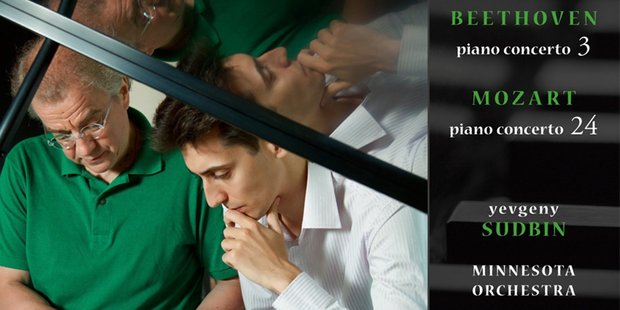 Beethoven & Mozart, Piano Concertos (BIS. Ode Records)
Stars: 5/5
Beethoven, Piano Trios (Harmonia Mundi, Ode Records)
Stars: 5/5
Verdict: New recordings bring back memories of local concert hall triumphs
Over the years, outstanding international soloists have braved serious jet lag to bring us their music. Enjoying their artistry live in the concert hall always enhances the impact of their subsequent CD releases.
Listening to Yevgeny Sudbin's new Mozart and Beethoven recording, one recalls the Russian's revelatory Beethoven with the NZSO last year; Osmo Vanska (also a 2013 guest of the orchestra) conducts the excellent Minnesota Orchestra.
Vanska and his players announce Mozart's C minor Concerto K 491 with a precision that ensures clear lines and pellucid textures.
A minute has barely passed and fresh, pungent woodwind colours make one aware of the almost painterly genius of this composer.
At first, Sudbin seems to toy with his notes, but not so much that pearly lyricism is threatened. The pianist's own sometimes boisterous cadenzas might not please all, but the Larghetto is a slice of Himmelmusik, the Rondo touchingly plaintive.
Sudbin and Vanska understand the slightly cajoling quality of Beethoven's C minor Concerto. Tutti are crisp and forceful, the pianist lingers fetchingly over his entry.
The Russian catches the improvisatory quality of the Largo and, when Vanska ushers in his orchestra, you are aware of every fibre of the musical weave.
After this, the infectiousness of Beethoven's gypsy rondo Finale is irresistible.
Alexander Melnikov has thrilled us on the grandest of our country's grands but his latest CD has him on an 1828 fortepiano.
Alongside violinist Isabelle Faust and cellist Jean-Guihen Queyras, he delivers two Beethoven Trios in what one hopes will be the first of a continuing series.
The historical instruments are electrifying.
The cool counterpoint that opens Opus 70 no 2 Trio sounds as if we have slipped back to a Baroque soundworld, an illusion that is even more delicious in the call-and-response writing of the third movement Trio.
Those who associate Beethoven's Archduke Trio with ducal grandeur may be startled by the Schubertian lilt of its first movement. The warm resonances of the fortepiano give the Andante cantabile a new emotional immediacy, while the Finale's frisky sense of fun often borders on the folkish.