Mr Selfridge's second season portrays the rapidy changing sensibilities of the time, says Stephen Jewell.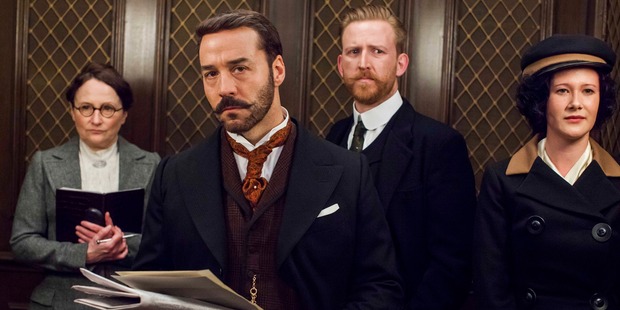 Set in 1914, five years after the conclusion of the first series of Mr Selfridge, if any character epitomises the rapidly changing sensibilities of the time it would have to be Delphine Day. As played by Prisoners' Wives actress Polly Walker, the free spirited socialite is like the E.L James of her era, penning erotic fiction and establishing hip hangout Delphine's. After befriending Harry Selfridge's wife Rose on the boat over from America, she becomes a pivotal figure - not just in the life of the famous department store owner and his family - but also in London's increasingly volatile political landscape.
"She writes rather risque novels and has been married three times, which was unusual in those days," says Walker, who admits that Delphine is probably a bad influence on Frances O'Connor's returning Rose. "On some level, she is trying to awaken her sense of independence by making her realise 'why should she say this or do that?' Rose is very interested in the arts and Delphine is part of a Bohemian set and this really cool clique, so that's very attractive to Rose as well. So that would probably be very threatening to a man like Mr Selfridge."
Rather than a seedy den of iniquity, Walker insists Delphine's is a classy joint. "It's not down and out, it's quite fancy and artistic," she laughs.

"More than anything, it's very tolerant as opposed to being grubby. It caters for both sexes and is very modern for the times. It's very louche and it's where you go with your mistress, your lover or whoever. The set is also very impressive and easy to work on. It's not like some sets I've been on, where you can feel it shake when you walk."
As one of the main newcomers to the second season, Walker admits that it can be a daunting prospect to join an already successful series like Mr Selfridge. "The only perspective I have is the perspective of my character," she says. "It does feel a bit like being the new girl, especially because most of the cast and crew have worked together before. But I'm used to that as you just have to adapt to whatever the job and the script is. But everybody has been charming and friendly so it's an easy-going set to work on."
Having spent the past few years juggling contemporary American genre shows such as The Mentalist and Warehouse 13 with Hollywood blockbusters like John Carter, the Lancashire-born 47-year-old welcomed the opportunity to be a part of an English historical drama, although she admits she initially found the traditional costumes restricting.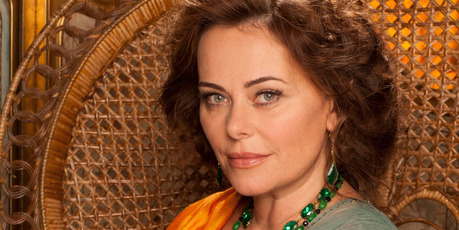 "I hadn't done period for a while so I was used to feeling quite free," says Walker. "But that's good because it forces you into a way of thinking that helps the part. I've only got a few dresses because Delphine has financial problems but the ones I' have are very corseted and shiny, with bright greens and reds. They're not comfortable and for the first week I was like, 'I actually can't function in this. I can't act, walk or talk'. But then you just accept the period as it was. It's not something that you would normally wear, so when you look in the mirror you have to stop thinking 'what the hell do I look like?' and just go 'here I am'. That takes about a week."
Walker also appreciated the opportunity to work with erstwhile Entourage star Jeremy Piven, who reprises his titular role as Harry Selfridge. "He's been nothing but helpful to me and I'm a big fan of his work," she says. "But Delphine is somebody who is not intimidated easily, certainly not by someone like him or any sort of establishment figure, so I very quickly had to take my fan-hat off."
For his part, Piven believes that Delphine introduces an intriguingly unpredictable element. "She's this great character of the time: a self-empowered woman, who wrote about her lovers and was like a breath of fresh air," he says.
"She starts this incredible nightclub and you just have to walk in there and you wish it existed right now. She also encourages Rose to have some fun, let loose and get a bit wild in her own way."
Another of this season's new protagonists, is Aidan McCardle who plays the previous much-talked-about-but-never-seen Lord Loxley. He's a much more sinister figure.
"I call Aidan the baby-faced assassin because he's got this look where you don't know how old he is," laughs Piven. "He looks like Charlie Chaplin would if he was a gangster. It also means you get to see the other half of Lady Mae in a completely different light because you see what she's been through."
Timed to coincide with this year's centenary of the outbreak of World War I, the new episodes grow gradually darker as the rapidly developing global conflict begins to impact on the lives of the characters.
"What we really wanted to do was stack the deck by having all the brilliant Selfridges' workers going off to the war and to show how tragic it was," says Piven.
"They thought they were going over to Europe, would beat up the Germans and come back really quickly. They would still have their jobs waiting for them, which Harry promised to do, which at the time was revolutionary. But it meant that anybody coming in after that would know it would just be temporary. It's really heart-wrenching because you love all these characters and they head off to war."
Mr Selfridge season two debuts at 8.30pm on TV One on Thursday.