Though rooted in the past, Pokey La Farge's music has an evolving quality. Before his appearance at Womad this weekend he talks to Lydia Jenkin.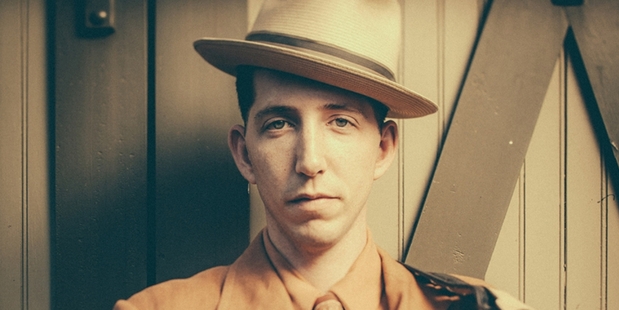 Pokey LaFarge does not dress like he walked out of a 1930s speakeasy just for his press photos - he really does dress like that.
"To me, I'm just dressing like a gentleman should. I look at it the same way as anyone else expressing themselves really. It's not really a matter of trying to dress ourselves to match the music, I guess it's a by-product of being exposed to these particular musicians and their music. These people who I love so much, they dress a certain way, and I guess they're my role models.
"But in some ways I think it's noticeable only because the standard has been lowered somewhat, you know, these days everyone is happy with jeans and a T-shirt, but I would never do that, and I just feel more presentable like this."
His heroes - like Milton Brown, Roy Newman, The Skillet Lickers, Dixieland Jug Blowers, and Carolina Tar Heels - would certainly approve. And it all adds to the feeling of authenticity that drifts from the Illinois-born, St Louis-based musician who's been impressing audiences far and wide with rip-roaring performances with his five piece band.
Choosing his childhood nickname (Pokey) and mixing it with the made-up "LaFarge" has given Andrew Heissler a memorable moniker, but it's the music that's really grabbing attention. A mixture of old-time country, swing, and pre-WWII blues, produced by a line up of horns, guitars, upright bass, drums, harmonica, and of course, vocals, it's American roots music with an eye on telling timeless stories.
"I would say we play music with an acoustic foundation, horn extenuated, lyrically and melodically driven mid-western swing."
"I think people's music is often innately founded in where they come from, and it's better to just accept that, than to deny it. The fact that I embrace that just makes it seem all that much more mid-western I guess, but my life has quintessentially been a mid-western experience."
He grew up in a fairly conservative family, with grandparents who were keen on teaching LaFarge all about history - both of his family and his country.
"I took interest in that, and ran with it I guess. And I was always interested in music, but it just took a little bit of exposure to different things, more historical things for me to open my mind up. Seeking earlier forms of music for myself was kind of how I ultimately did it. It became my own education. I guess that's what happens to a lot of people - they'll listen to Zeppelin, and Bob Dylan, and CCR and different bands like that, and ultimately it takes them back to the folk revival, and then back into the early 20th century."
His interest in history and music came together in a natural step forward when he thought about turning his writing into music.
"I was reading a lot of books, I was writing a lot -poetry, short stories. I wanted to be a novelist, I was reading a lot of great American novels, but yeah, it was all part of my desire to create my own world and live a life that was just as exciting as what the authors were, or what they were writing about. I was honing my writing skills, and so turning that into music seemed like the next step. People like John Steinbeck, Jack Kerouack, Mark Twain, and Ernest Hemingway, those guys were living incredible lives, and so are all the people whose songs I adore the most.
"They all have that aspiration of wanting to experience it all, and that's what my music aspires to as well."
Jack White evidently identified with that aspiration also, signing Pokey LaFarge up to his label Third Man Records after hearing him about three years ago on nationwide AM radio station WSM - a Nashville based station that also broadcasts from the Grand Ole Oprey. Since then Pokey has done work on White's album Blunderbuss, worked with him on the Lone Ranger soundtrack, and toured with him.
"We just keep in touch. I consider him a musical comrade - we have similar outlook. He's very much a person who does his own thing, who is a role model, and even though he receives criticism, he does what he wants to do, how he wants to do it, which is inspiring. He's not losing who he is. And it's important not to be afraid to fight, and Jack is a fighter."
It seems appropriate that though LaFarge is a great fan of history, and is a great fan of music from years gone by, he's signed to a record label that really echoes his own ethos of preservation through evolution. His music isn't retro, or a homage, it's timeless, and his stories are as modern as anyone else's.
"I'm definitely not trying to recreate the past, I have no intention of going back to the past, I'm very much living in the now, and accept where I'm at. I really just want to take the quality bits of the past, and take them into the future, because the more of our culture that we retain, the more we realise our identity, and then you can really say, well, this is why I'm proud to be an American, or this is why I'm proud to be Australian, or a New Zealander, because you know what makes you different. I think that's important."
Who: Pokey Lafarge
Where and when: Performing at Womad in the Bowl of Brooklands, Taranaki, March 14-16, plus a show at the Tuning Fork in Auckland on March 18, followed by dates in Wellington, Masterton, and Havelock North.
Listen to: Pokey LaFarge (2013), Middle of Everywhere (2011)
- TImeOut