Playing a warrior in the 300 sequel marks yet another fantasy figure for former Bond girl Eva Green. She talks to Dominic Corry.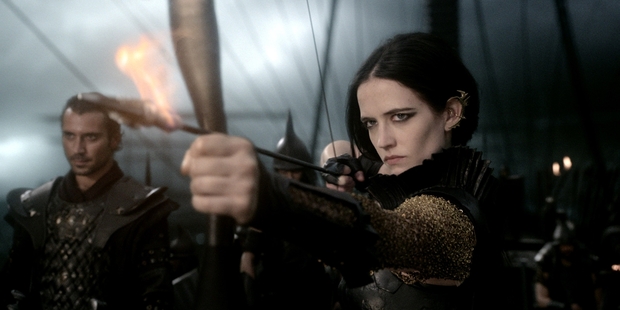 Stunning French actress Eva Green is in Los Angeles. It's a day after the Oscars, but she paid no attention to Hollywood's biggest night.
"I went out for dinner with a friend of mine," she tells TimeOut. "I think we were the only ones not watching."
Following a dramatic debut in Bernardo Bertolucci's controversial 2003 drama, The Dreamers, Green's international breakthrough came with 2006's Casino Royale, in which she memorably played Vesper Lynd, the only woman 007 ever loved.
She went on to portray Morgan in the Camelot TV series, play the witch Serafina in The Golden Compass and spar with Johnny Depp in Tim Burton's Dark Shadows and in between date Leonard from Shortland St - more on that later.
Green has called up to chat about playing the villainous Artemisia in 300: Rise of an Empire, the follow-up to the 2006 swords'n'sandals'n'abs hit. A street urchin who becomes Persian commander, Artemisia is a deadly force to be reckoned with, which is what attracted the actress to the role.
"It's so rare to see tough, strong women in action films. And it's like a fantasy, because I'm not that strong in real life and she's so cool and a warrior; a mad Joan of Arc or something. She's so driven and irreverent and completely disrespectful. To embrace the madness was fun."
How was it being the only woman on what must've been a testosterone-fuelled set?
"It was nice. It made me feel special. There were lots of good-looking guys around so you can't really complain. And she is a 'man' character. The biggest challenge was to be believable when holding my own with the guys."
Green researched the real Artemisia, but like 300 and its follow-up, she had few qualms about deviating from the historical record.
"I drew my inspiration more from literature, like Lady Macbeth. Because I'm not sure the real Artemisia was that physical, she was more of a strategist."
There's a pivotal scene between Artemisia and Athenian hero Themistokles (played by Aussie actor Sullivan Stapleton) in which they tussle in a more ... intimate manner than you usually witness between a hero and a villain. Green didn't think becoming sexual compromised her character's power.
"It's the way they do it, it's not feminine or romantic. There's something very manly about it, it's almost like she is the man in it. It is a kind of S&M, but it's two warriors fighting. I didn't really see it as woman using her wiles. It is unusual, that's for sure."
The heavy stylisation of the 300 movies means the filming takes place entirely on a studio with bright green backdrops everywhere. Surely that's a challenge?
"You wish sometimes it was another colour. The good thing is that you don't need to go out on location where it's freezing. You don't really know what it's going to look like, but because of the first 300 movie, you trust them. You just have a green screen, then a fan for the wind - not even real water. So you use your imagination. But it does help to have fellow actors with you."
Green's role in 300: Rise of an Empire is only the latest in a string of strong, if often fantastical, female characters the actress has played. After TimeOut suggests that she consciously avoids "damsel in distress" roles, Green explains that she did play such a role once, in a 2004 French film called The Adventures of Arsene Lupin - "Don't watch it" - and did not enjoy the experience.
"The danger in this mad business is to be typecast. So I really hope that after this, the offers are not just all evil bitches."
Green admits that along with The Dreamers, the film most people still associate her with is Casino Royale, directed by Kiwi Martin Campbell.
"He was great! Very very instinctive and very calm. A down-to-earth guy, very open."
At this point, TimeOut gingerly broaches the topic of Marton Csokas, the Kiwi actor Green dated for several years after they met on the set of Ridley Scott's 2005 epic Kingdom of Heaven. Did she ever make it down our way during their time together?
"No, unfortunately, we never did," she responds, wholly unfazed, in true European fashion, by the personal line of inquiry. "I actually saw him recently and remarked on how we'd never been to New Zealand. We went to Australia, but that's it."
Now TimeOut decides to enquire as to whether or not Green is aware that Csokas, despite carving himself out a nice international career playing tough guys in everything from The Bourne Supremacy to the upcoming The Amazing Spider-Man 2, is still best known in New Zealand as the ultra-nerdy Dr Leonard Dodds from Shortland Street's early days.
"I've seen pictures of it! I would love to see footage of that!"
Green's next role is the title character in Sin City: A Dame To Kill For (in which Csokas plays her husband) which, like 300 and its sequel, is adapted from a graphic novel by Frank Miller.
"She is a character inspired by film noir, so she's an archetypal femme fatale. It's a lot of fun, because depending on who's in front of her, she can be a pure, fragile damsel in distress - there you go! I'll finally be a damsel in distress - or a really tough woman. But it's a very funny role actually, I really enjoyed myself."
Who: Eva Green
What: 300: Rise of an Empire
When and where: In cinemas now
- TimeOut