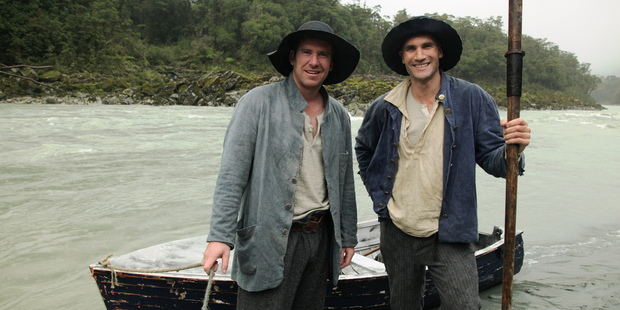 This week the First Crossings team are in the Sub-Antarctic filming an epic survival story.
Adventurers Kevin Biggar and Jamie Fitzgerald are on the Auckland Islands, filming episodes for TV One about famous shipwrecks there 150 years ago.
in 1863, two sailing ships, the Grafton and the Invercauld, smashed into opposite ends of the main Auckland island. But hitting rocks several months apart, then sinking, is about all these vessels had in common.
The First Crossings team hasn't provided a title for the footage, but a good one might be, Good Wreck/Bad Wreck.
The Grafton's five crew members were heroes. With next to no tools they built a life for themselves and a boat to sail the 200 nautical miles to Stewart Island.
Meanwhile, all but one of the Invercauld men seem to have been self-centered no-hopers. Theirs is a harrowing tale of treachery and cannibalism - of the original crew of 25, only three men survived to tell it.
The main Auckland island was (and is) so rugged and hard to move around on, that each crew kept to their own end of the island. They had no idea their counterparts existed, and they also were polar opposites morally speaking.
While the Invercauld survivors descended into apathy and every-man-for-himself, the Grafton men prayed together, read from a Bible and set up a mini form of Government based on democratic principles.
But it was the ingenuity they then displayed which has earned them a place in history.
They were led by American Captain Thomas Musgrave who was a brilliant navigator, and first mate Francois Raynal, a Frenchman possessing unsurpassed survival skills, honed on the Australian goldfields.
Under Raynal's leadership they built a hut out of rocks, making their own cement out of crushed shells, burnt in a fire. They thatched it with native grasses, platting thousands of strands of the stuff together to make it wind and waterproof. This home had beds, a stone fireplace, a library, crockery and even a caged parrot.
The men cured seal leather to make clothes and shoes and built a metal-working forge, firing it with peat dug from the ground. They kept the fire hot with bellows made from seal skins and scraps of timber. Diving for iron from the wreck, they forged saws, chisels and augurs, 700 hundred nails and spikes and 180 coach bolts. Some hunted seals for food while others built the boat.
The first plan was to build a craft to carry all five, using planks cut from the island's rata forest, but growing weaker on a meagre diet of seal meat, Raynal realised the men wouldn't survive long enough to finish the craft. So they changed tack.
Following his design, they lengthened the ship's three-metre dinghy by a further metre and raised its deck by 60mm. Sails and a jerry-rigged mast came from the Grafton.
Musgrave navigated the fragile vessel, Rescue, back to Stewart Island, saving Raynal and Norwegian seaman Alix McLaren. There wasn't room for Portuguese cook Henry Forges or English sailor George Harris, but the survivors returned by steamer to rescue them months later.
In December I made exactly the same voyage but in a Russian Ice Breaker with 2000 horse power engines, a craft used by Kiwi eco-tourism company Heritage Expeditions.
During my time aboard The Spirit of Enderby, I saw the roughest water imaginable. How the Grafton crew's little "walnut shell" made it remains a mystery.
By 1880 Raynal was safely back in France, where he published the beautifully written memoir, Wrecked on a Reef, Or 20 Months on the Auckland Islands, which became a best seller.
Directly or not, for the past 100 years this story has informed many fictional tales in which ingenuity sees the protagonists win by the final page.
In my view, Raynal's book, and one by Musgrave, are the true head waters of works such as Flight of the Phoenix and even Henry Winkler and John Rich's television series MacGyver. I'd add in every florid work of fiction in which castaways live in relative comfort, from The Admirable Crichton to Gilligan's Isle. And I'd go even further.
Wellington academic Christiane Mortelier translated the book into English, publishing it in 2003, with many added historical appendixes, including one showing how the book inspired Jules Verne to write science fiction.
About 100 years ago, works by Verne such as From the Earth to the Moon inspired two little boys who loved science fiction. They were American Robert H. Goddard and German Wernher von Braun.
Boyhood dreams of space travel, gained from reading Verne and H.G. Wells, inspired Goddard and von Braun to study rocket science, and they grew up to become the fathers, or perhaps grandfathers, of America's modern space programme.
So an astonishing epic story, which happened in New Zealand 150 years ago, has a link with the greatest adventure of them all - the Apollo moon landings. To me, the spirit of Raynal and Musgrave was the spirit of Armstrong, Aldrin and Collins.
I say roll on these two long-awaited documentaries, due to screen later this year, which will tell the tale of the Grafton and that of the Invercauld. The job couldn't be in better hands.
- nzherald.co.nz