Daily life isn't a barrel of laughs for the 7 Days comedian - even though he's married to another professional funny person.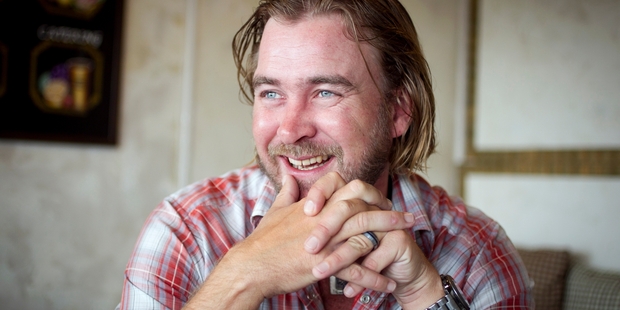 How on earth did Jeremy Elwood end up being a comedian? There is no use asking him, he doesn't really seem to know, beyond saying that he did some acting at school and liked the applause.
He did try to do law at uni, but he thinks that was a nod towards conventionality rather than any desire to actually be a lawyer. There is no use asking me because I spent much of our interview idly wondering what I'd have picked him to be had I not known he was a comedian.
He is good on 7 Days, the popularity of which means that he is sometimes recognised now. The woman behind the counter at the cafe sort of recognised him. Was he on TV? Was he a comedian? Was his name Jeremy ... something? She could have done the interview for me.
I don't think he meant to be less than forthcoming, more that he is not particularly fascinated by himself - which is odd, I think, in a comedian whose egos are often rather large. He said that of course you have to have an ego to get on a stage and tell jokes, but not bringing it with you when you get off stage is probably the comedian's idea of work/life balance.
He is a balanced sort of character. He is not a show-off, off-stage. He is a pleasant chap, with a slight edge.
You'd hope he had an edge; I'd hoped for more of a show of it. He saves it for performances, not for questions about what he's reading: "Books", or any aspect of his life which is "a pretty ordinary life". He is doing some acting again, in a play which he is also co-producing, called The Slapdash Assassin, (at the Basement Theatre from February 25) which he first appeared in in Christchurch in 2012 at its "world premiere".
I thought he must be being funny but he meant it literally. He seems to go to some trouble to make sure he is not to be confused with a funny guy given to absurd flights of fantasy. I think I was interviewing the serious actor who is in a play which happens to be a comedy, rather than the comedian.
He is the lead and plays Jerome, the slapdash assassin of the title, whose former Garda grandfather bequeaths to him a catalogue of rogues who have got away with crimes but who he never managed to get put away. It is a comedy which tackles serious issues, so it sounds perfect for him.
He is middle-class, as he emphasises reasonably often, from a nice middle-class family - his father is an epidemiologist; his mother was a nurse. He's a left-winger who mostly votes Labour. He loathed and loathes Thatcher and the only bit of (mild) controversy he's found himself in was over some tweets about her death.
He says he doesn't think he did compare her to Hitler - which was the controversial bit. If he did, that wasn't his best joke, I said. If he did, he said, "I didn't mean it as a joke ... I wasn't trying to be funny that day. I grew up in England in the 80s. I'm an opinionated person as well, so not everything is meant to be for a cheap laugh".
His parents moved from Ireland to Canada, where he was born, to England and then to Dunedin, where he went to Otago Boys' High. He played soccer and the violin and then the saxophone. After he ditched law, he completed his BA in theatre studies. He is not at all theatrical, let alone flamboyant or even extroverted. He is not an introvert, either. He just seems to sail along, rather stolidly, building his career, living what he calls his not "particularly funny" life. He must have some interior life, which must be funny, or at least absurd, but he's pretty good at hiding it. For some reason he even balks at using the word "creative" about what he does.
He likes cooking - he briefly cooked for a living, in a Mexican restaurant in Edinburgh, which sounds like a joke - and playing golf, badly. He likes reading - books, remarkably - and is currently reading Neil Young's memoir and has just finished Leonard Cohen's.
I might have picked him for some lower-management type in a worthy institution such as the Human Rights Commission, or perhaps one of those a bit cool English teachers. He was wearing a metal pendant on a leather thong with a fleur de lis pattern. He got this in New Orleans and it is made from "stuff salvaged from Katrina".
It looks faintly hippyish. He likes it. He seemed to have an idea that I didn't. I can't think where he got that idea from. Perhaps, when being heckled is an occupational hazard, you're on the lookout for slights.
He appears pretty laidback, with a prickly edge. He batted away all of my attempts to slot him into any of the stereotypes about comedians (no angst here: "I'm a white middle class guy who tells jokes.") Except for one: He is both thick and thin-skinned - "I have my moments" - which is fairly typical of every comedian I've met.
Also he's not funny in interviews. I wasn't expecting him to be but I also wasn't expecting him to warn me that he wouldn't be. It seemed a funny thing to explain in advance. He wouldn't waste his jokes, I suppose. "Well, see, I don't."
An elderly chap wandered by and wasted a joke. He said, to the photographer: "You'd better not take a photo of me. I might break the camera." The comedian said, after the funny guy was out of earshot: "Yeah, funny at parties." That guy was funnier than him. "Yeah, well, that's because he doesn't have to sit here for an hour."
That was one of his moments, and fair enough too. You can see that it would be incredibly annoying to be a comedian and have people expect you to be funny, at parties, or in interviews which go on for an hour.
He is married to Michele A'Court who is also a comedian. Perhaps his wife thinks he's funny. He thinks she's funnier, of course. "Oh, I guess I have to say that really!" Yes, he does. I asked him who the funniest comedian in the country is and he said: "Oh. You want me to say me?" Er, no. He was supposed to say she was. What I find funny, although not funny ha, ha, is that they got married in Vegas nearly three years ago after having been together for more than 10 years.
He said they did it because "we could, really. We literally, one day when we were in Vegas - we didn't go there to get married - we were just there and we just sort of decided to see how hard it really is, and it's not".
He has a wedding ring which I said looked like a tab off a beer can. That seemed a reasonable enough guess, given his liking for jewellery made from scrap heaps. He said it was titanium, thank you very much and that Michele has a "proper" wedding ring. Except for the fact of both being comedians they are just a normal couple, he says. I couldn't think of too many other comedian couples.
He thought of Dawn French and Lenny Henry, although they are no longer a couple, and Billy Connelly and Pamela Stephenson, although she is now some sort of therapist.
"But I think it's just because it's a small sample size. There aren't that many people who do comedy."
They give each other "notes" on their respective performances but are not at all competitive about out-funnying each other. He is 38 and she is 52 and I think they are either a bit sensitive about this or perhaps just bored by other people being interested in the age difference. "We don't like to bring it up because, you know ... you do an interview about a show you're doing or something and the headline the next day is: Age difference relationship, or whatever. It's not what we're about, or why we're together and it's not a reason why we shouldn't be together."
She has a grown-up daughter from a previous marriage; he's never wanted children. "It's just not a thing that's in my DNA." He loves his wife's daughter, of course, but "I don't like other people's children, not particularly. I just don't really have a connection. I do a line about not liking children, but that's just comedy."
It is just comedy so at the risk of being incredibly annoying - imagine asking a comedian to be funny! - I did ask for a joke, one about his wife. Surely, I thought, one of the perks of being married to a comedian is that you could tell jokes about your spouse and get away with it. He does have one but, he said, "it's not specifically about her, it's about marriage in general".
At which point, if he'd been on a stage and I'd been in the audience, I'd have been heckling him to get on with telling the damn joke, for God's sake. But he isn't on a stage, which is rather the point, I suppose. The difference is that on a stage he's an "amplified" version of himself: "A little louder, a little faster."
The joke, then, is: "Between the Lord of the Rings and The Hobbit coming out, I got married so I haven't seen The Hobbit because now the idea of putting a ring on and becoming invisible isn't a f***ing fantasy any more."
Oh, all right, he is just a bit funnier than that old guy. But just why he was determined to make getting a comedian to be a bit funny more difficult than getting blood out of a stone is a joke that is too clever for me.