Lyttelton's country crooners take their dark musings on the road, writes Lydia Jenkin.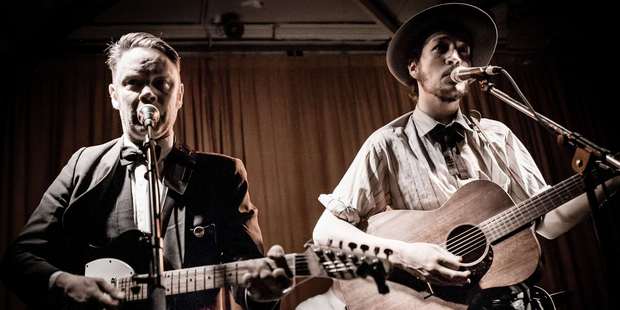 Right now, Marlon Williams and Delaney Davidson might be the hardest-working country musicians in New Zealand. They've played 12 shows in the last two weeks, and they've got 14 to go.
It might sound a bit mad but the pair are actually upbeat about wringing out their voices and fingers, night after night.
"Did you know Reefton was going to be called Quartzopolis?" Williams asks. "Because it was all about quartz-based electricity. There's so many amazing stories you learn when you're on tour."
The pair do like a good story - in fact, the reason for all this touring is the recent release of their latest collection of stories, aka songs.
Sad But True Volume III: Juke Box B Sides is the third album the Lyttelton pair have recorded together, full of intriguing tales and dark musings that come wrapped in wonderful tunes.
A favourite of Williams is The Ballad of Minnie Dean - a song that takes a little bit of gothic, southern history and gives it a new life.
"Minnie Dean was a baby farmer down south, and she took in children who were unwanted for a small amount of money, and then because there was no infrastructure in place for her to properly look after them - you know, it was all a secret. There was some shame involved with these unwanted children. Society chose to ignore it until they found bodies of children all over the place.
"And so they chose to punish Minnie and use her as a scapegoat for this awful problem. So it's got all the aspects of a good socialist folk song - it's taking a stab at society that chooses to ignore a serious welfare issue."
Like all good country artists they write songs that are based around current social issues, too, and New Zealand's battle with obesity probably couldn't find a more cutting theme song than Candyman.
"I realised one day, when I went into a dairy and looked at the shelves, that there was maybe half of one shelf that wasn't sugar - and the rest of the shop is a sugar outlet," Davidson explains.
"Cigarettes are even a sugar addiction because they release blood sugar, that's why it feels so good to drink and smoke, you get that big sugar rush."
It's a sly indictment, with the Candyman as an evil overlord who's got a firm grip on everyone. But, perhaps surprisingly, the lyrics were one of the last aspects to fall into place.
"Marlon had this descending chord structure worked out and we would just make random noises along with them, just going 'ahsaneyalarego', and the other person would listen to what you were singing and go: 'Ooh, did you just say that?', and you'd go: 'No, but that's a good line,"' Davidson laughs.
It means everything is right in the pocket, fitting perfectly together, and it demonstrates what a strong songwriting partnership the pair have.
"You have to let go of all self-consciousness, all worries that you're gonna be a dick or say something stupid, and just go for it. And pure gold starts happening. It's like channelling or something when it really happens," Davidson smiles.
"When I'm trying to write, I often think about it like trying to remember something," Williams adds. "I'll be sitting there, going, 'Right, how does this song go again?', as if it was already there, as if the whole song had already been written."
The pair like the notion that songs have a life of their own, that they exist somewhere regardless of who wrote them, because it's more important that those songs are shared and given the chance to evolve. That's not to say they don't give credit where it's due, just that they're happy for songs to grow from anywhere, much like the tradition of oral storytelling.
One of their live favourites, I'm Only On Fire, was written by an old friend of Davidson's, Damien Jones, but had never really been performed when they took it on.
Watch: Bloodletter by Delaney Davidson & Marlon Williams from the album 'Sad But True' - The Secret History of Country Music Songwriting Volume 1.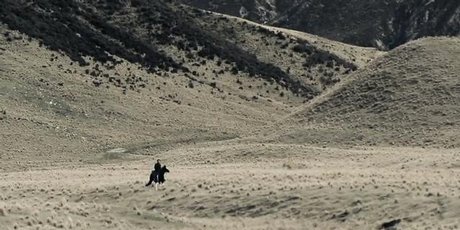 "We discovered that we really enjoyed singing it together, enjoyed the dynamics we could bring to it. And then we recorded it and of course, we asked him the whole time if it was cool with him, but I like the idea of not worrying about what someone else might do with your song, or worrying about that feeling that you're stealing from somebody, but that it's just something that keeps evolving."
"It feels like a bit of an old-timey song, but now I think it's got a very specific Kiwi feel to it, too," he says. "'She's lit up tonight, under neon lights' makes me think of an old Dragon song, or something like Be Mine Tonight [by th' Dudes]. That 1970s, Kiwi, Mainstreet on a Friday night feeling."
This tour will be the last opportunity to see the pair perform together for a while, as they both have solo albums to record and release this year, and are heading off for overseas tours.
But fear not, Volume III won't be the last of their collaboration - they're thinking World War II will be their inspiration for Volume IV. Vera Lynn, battalion songs, that sort of thing. "It will be the saddest one of all," Davidson nods.
Who: Marlon Williams and Delaney Davidson
What: New album Sad But True Volume III: Juke Box B Sides
Where and when: Performing at the Wine Cellar in Auckland on Monday, 9pm, as part of a 26-date Arts on Tour national tour
- TimeOut