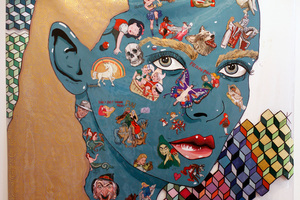 Nine students, nine different styles. A group of new graduates showcase their work.
A new year brings new artists and new departures for established artists. The Corban Estate Gallery has an exhibition of work by recent graduates from Auckland's art schools alongside a change of direction by Sam Mitchell.
Mitchell, who won the Wallace Award in 2010, has three big paintings in the show. Her past works on the back of transparent perspex were fairly small. These paintings at Corbans are huge, almost floor to ceiling, on sheets of loose, transparent acrylic, which needs, like the work on perspex, a difficult reverse technique of detail first, backgrounds later.
Two of them are gigantic heads crowded with images that represent thought processes. One, a full face, is thinking about toys, robots and roses. The next, with hair of gold, is stylised in patterns in a way peculiar to the artist and more coy and oblique, thinking of wild spirits, pirates, knights and maidens, unicorns, witchery and even Leda and the Swan. The third is a skull with good teeth and demons dominating women.
The style of the detail that crowds the heads is sometimes taken directly from comic books and tattoo motifs and the overall impression is of curious contemporary idols.
They are very impressive works but just a little lacking in the fine savagery characteristic of Mitchell in the past.
The New Grads Show features nine artists, and nine techniques and attitudes. Winston Shacklock's screen-prints use vivid colours to reinforce the ironies he seeks to establish. His images are historical pictures of men in uniform but the sense of the artificiality of military reputation is suggested by shrieking orange and green hues.
The decorative Blue Hydrangeas by Janette Cervin is a round painting crowded with blooms. The surface is thick polished resin with the painting both under and on it. The careful detail is in the tradition of flower painting before the Impressionists.
Two digital prints by Caleb Satele have more edge. This Bitch has nothing to do with women but rather capitalism. A bright young man is surrounded by a frame of gold bars, a treasure of gold coins and a shower of diamonds. He holds a paper cup to receive this largesse. In contrast to this ironic opulence is the work made of a single fluorescent tube and parallel lettering by Deborah Rundle. The lettering is a couplet of a 1960s Jim Reeves song: "Put your sweet lips a little closer to the phone/Let's pretend that we're together all alone." The title of the song, He'll Have to Go, is the title of the work and seems, ironically, pointed more at the singer than the song.
A return to flowers on a trestle table is a major part of the work by Tunisia Angell-Kea.
The table features a preserving-jar full of dried rose petals as the key to the installation. Further objects show how a nostalgic effort to preserve memory and beauty leaves only traces. On the floor, an installation by Paula Schaafhausen is also about transience, with two small wooden carvings of the god of the ocean (Tagaloa) and another seven of the same figures moulded in dark and white chocolate. The reference is to the islands of Tuvalu being washed away by rising seas. The chocolate statues will melt in the course of the exhibition.
Mark Grubner comes closest to traditional painting. Figures in suits are prominent but they lack heads and are just still-life objects in the moody rooms they inhabit.
The most animated and anguished work in the show is Mise-en-scene by Annie Puri, an installation of five screens. It is the fourth screen that matters - a dark, close-up image of a woman with heavy eyes, a black band around her neck and black shoulder straps. She seems to sing a tormented song. Although there is a soundtrack we cannot hear the song. But we feel the emotion.
Julia Hannig is a good photographer and appropriately fascinated by light. A witty image shows a light illuminating the source of its power. There is similar wit in the most enigmatic piece in the show. Andrea Baker is showing a glass case filled with ranks of wineglasses filled with something like orange juice. The title, Vol au belier, suggests windowshopping or a smash-and-grab raid; certainly something desirable but unattainable.
This is a good showcase for nine clever artists starting out to explore a variety of modes of expression, given a welcome showing in a difficult art world.
Will Handley, whose exhibition Notable Outcomes is at Sanderson's Newmarket gallery, uses an unusual technique that involves thick, reinforced cardboard, which gives his painting collaged areas of sculptural relief.
The basis of his work are images of people taken from old photographs but their faces are usually blank flat shapes; the viewer can impose upon them whatever personality they wish. The most effective works have two figures interacting. Structural Laws has a setting of brown hills in front of which an athletic couple are swinging from roman rings.

At the galleries
What: First Is Last, Last Is First by Sam Mitchell; New Grads Show
Where and when: Corban Estate Arts Centre, Henderson, to March 2
TJ says: Sam Mitchell still paints on transparent material but her work has made a big jump in size, alongside the launch of nine recent graduates from several art schools.
What: Notable Outcomes by Will Handley
Where and when: Sanderson Contemporary Art, Osborne Lane, Newmarket, to February 9
TJ says: Droll, surreal paintings that use thick cardboard for relief sculptural effect and leave a lot of space for viewers to add what meaning works for them.