Chris Schulz talks to Savages, expected to be the loudest act at Laneway.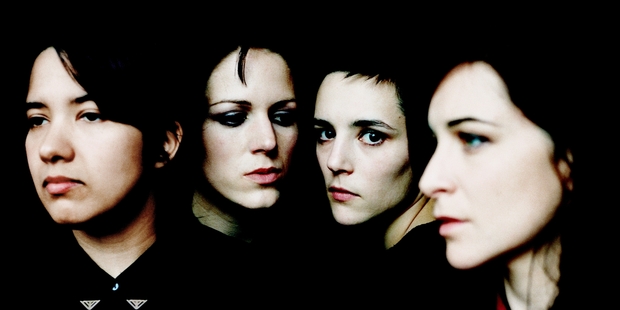 Here's some advice: if you're planning on watching Savages perform at Laneway, keep your cellphone in your pocket.
It's a tip worth heeding because, as drummer Fay Milton explains to TimeOut, if you don't you might end up with a crazed French woman screaming in your face and snatching your phone out of your hand.
"I have seen Jehnny Beth take people's phones off them if they wave them in her face," Milton says.
"It's hilarious. She puts them on the drum riser. They get them back at the end of the show. It's like being a teacher confiscating phones."
Milton might be laughing as she tells the story, but there's a reason behind the band's phone ban. It's not that the quartet don't want footage of their post-punk racket being posted on YouTube - they just want fans to take their shows seriously.
"It's more about experiencing the show with your whole body - not just your eyes through a screen.
You forget what your legs are doing: you're not in touch with yourself, you're not in touch with the music - you're out of touch with everything," Milton says.
"People have been very positive about it. You're much more connected to your audience and they're much more connected to you."
The cellphone ban generated plenty of headlines when it was first instigated, but it's not the only reason for press interest in the band.
For starters, Savages are an all-girl group working in a genre of music more often populated by tattooed lads in black.
But they proved their musical chops with their Mercury Music-prize nominated debut album Silence Yourself, which was included in many lists of the best records of 2013. It's full of atmospheric rockers like Shut Up and Strife, tracks elevated by grinding punk riffs, waves of feedback and Beth's scary, occasionally demented howl.
Savages are also regularly hailed for their incendiary live shows, in which they deliver one rabble-rousing racket after another and always close with a searingly abusive song called F******. That they'll be the loudest band at Laneway on Monday is a given.
Despite the plaudits, they've also faced criticism, mostly for their image as a deeply serious, nearly humourless group. Official photos of the quartet mostly show Milton, Beth, guitarist Gemma Thompson and bassist Ayse Hassan posing with funeral-like scowls across their faces. But Milton says Savages aren't as morbid as they're portrayed.
"We laugh a lot - probably a lot more than anyone would think. We're all human beings, so we have different sides to our personalities like anyone does. We have fun when we're having fun. but we're serious about the music.
"I think people who write reviews sometimes miss the joy in our music. They write that it's so serious but if it's us looking out on the audience from the stage there are so many smiling faces, people are really happy.
"It's serious and intense, but it's wild in a way as well - it's not miserable."
From an outsider it appears that Savages have held a tight grip on their output. They rarely give interviews, are choosy over festival performances and have released just one album and one EP - although they're hoping to perform several new songs at Laneway from a second album scheduled for a late 2014 release.
Milton, who yawns regularly and repeatedly mentions how tired she is, says last year became a "white-knuckle rollercoaster ride" once Silence Yourself was released.
"We've been flying by the seat of our pants. We finished the album, we put it out two months later which is ridiculously fast in record terms, we've done so much touring, been to so many places, it's been a whirlwind. It's been great.
"We like to not get too carried away [with press]. It's important but it's very time consuming and it really takes the energy away from the really important things which are playing good shows and writing good songs."
Who: Savages
What: All-women post-punk rabble rousers from UK
Where: Laneway, 7.10pm, Hey Seuss stage
Essential listening: Silence Yourself (2013)
- TimeOut