Irish dance group Fabulous Beast are bringing a powerful work to the NZ Festival. Choreographer Michael Keegan-Dolan talks to Bernadette Rae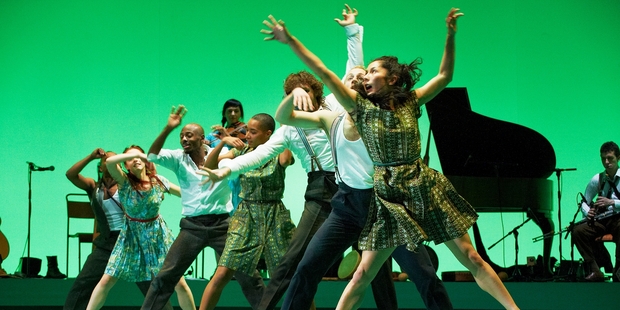 Irishness has always been at the heart of Fabulous Beast founder and choreographer Michael Keegan-Dolan's idiosyncratic body of work, as he follows themes from serious music, literature and classic pieces from around the world.
His productions of The Rite of Spring, Julius Caesar, created with the English National Opera, The Bull, from an ancient Irish folk tale, and Giselle, which was performed at the New Zealand Festival in 2008, have all proved him a darkly dramatic, even foul-mouthed storyteller.
But his 2011 collaboration with musician Liam O Maonlai, from the band the Hothouse Flowers, has been described and promoted by this year's New Zealand Festival as "a party on stage" and "the sort of scene you would be lucky to come across in an Irish pub these days" - the latter a quote from the Irish Times.
What happened? "I asked my very literary and academic cousin what he thought of my work," says Keegan-Dolan, from his home in the depths of the Irish Midlands, "and he advised me to reconsider my view of the Irish peasantry.
It did make me think about how I was seeing and how I was sharing."
So Rian is a completely different beast to previous work and, if not more positive in outlook, then more realistic, he says, describing making it as "a transformative experience towards light and joy".
"Both Giselle and Rian are perfectly valid expressions of being an Irish artist," he adds. "But there has been a changing perspective of all facets."
And, in further explanation, "We have winter, summer, day and night - our capacity for the light is only fully understood in contrast to the dark."
Giselle was made in 2003, Rian eight years later. "Eight years of searching and learning how to see more clearly," he says. "And I had children."
Keegan-Dolan and his wife, Fabulous Beast dancer Rachel Poirier, welcomed a son four and a half years ago and a daughter two years later, just as rehearsals for Rian began.
"Marathon man [O Maonlai] played for hours and we danced for hours," Keegan-Dolan says of the first period of the work's creation.
Anything that could be remembered from that process was later deemed to have some quality, and was consolidated and quirkily labelled (Kicking the Sleeping Hare, Soft Boxerand Thank God for Yoga) until 108 movements, all with a story, depth and meaning, remained. So, while Rian might seem like a party in parts, it is a potent party and a powerful piece.
"Some of it actually came from quite a sad place. Some of the slower songs are full of yearning, sadness, remembering. There were lots of tears shed in the making. But sadness and joy only exist in relationship to one another."
Keegan-Dolan has had a serious 13-year relationship with yoga, studying with well-known teacher Shandor Remete "who taught me about the energetic map of the body and how that energy works".
All his dance is made from that aspect, he says, and to elicit the power of the performers' natural physicality. In his essay The Body he writes: "Most actors are just talking heads and most dancers are not even headless bodies as many of them have had the sense and power of their own physicality taken from them by the pursuit of an external manifestation of perfection."
He also writes: "I work with sensation and energy. How I feel when I visualise a person ... where does tension manifest ... in the throat, the neck, the abdomen, the pelvis?
"I see and then feel my way around the characters who will eventually occupy the landscape of the piece. These characters then become the building blocks of our productions."
The "session" structure of Rian allows the characters of its eight dancers and five musicians, who interchange roles at times, to manifest an expressive, cultural hybrid. Two of the dancers have African origins and O Maonlai has spent a lot of time in Mali, so some of the show beats to an African rhythm.
But its backbone is Irish music, and an ancient form of Irish dancing that leapt wild and free, long before the commercialised, arms-clamped-to-the sides version became popular, fused with a contemporary idiom.
"What takes us most deeply to the past, to who we are, is music listened to with attention," says Keegan-Dolan. "Connecting with the past brings up sadness - and in this part of the world we have had a lot of trouble.
"Ireland might have had a terrible past but I am now more aware that most countries have had difficulties and suffering in their pasts.
"And we are all still here - living and dancing and singing. Now, that's a party!"


New Zealand Festival
What: Rian
Where and when: St James Theatre, Wellington, March 12-1
More info: http://festival.co.nz/rian/