Grouplove fans can expect a lot of headbanging and a big party atmosphere. They talk to Lydia Jenkin.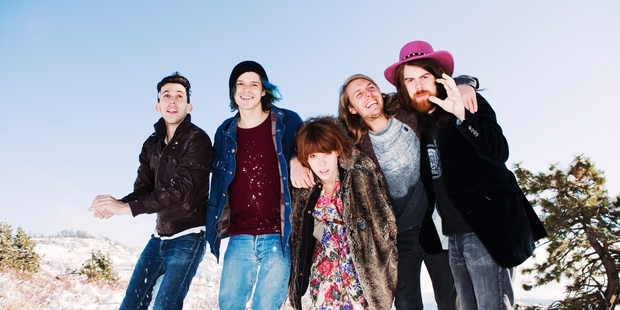 The story of Grouplove's creation sounds like something that might have happened in the 70s, but seems far too much like a hippie fairytale for the cynical world of 2009.
But Californian guitarist Andrew Wessen and his older brother Matt really did make friends with a Greek guy who had some property in a romantically quaint little place called Avdou, in the north of Crete, and they really did decide to set up an artist commune where people could come and stay, without having to worry about rent or day-to-day domestics.
And New York singer/keys player Hannah Hooper really did meet Matt Wessen when he came to her art studio to buy a painting, and instead ended up inviting her to the commune. Lead singer Christian Zucconi really did decide to follow Hooper, whom he'd only just met, but fallen in love with, to Avdou.
"I first met Hannah when she came out to see me play with a friend," Zucconi says.
"We spoke kind of awkwardly after the show, but there was definitely something there. So we hung out later in the week and had a lot of fun. And I remember the first time she showed me her paintings - I was kind of nervous to see them, because you want it to be good. But I remember just being blown away. Her paintings can be very emotional, and sad, and I remember that was sort of the moment when I thought, 'Yep, this is it, I have to go to Greece with this fine young lady'."
English bassist Sean Gadd was invited to come from London, and drummer/producer Ryan Rabin, a friend of Andrew's who was studying in the Czech Republic, thought he'd check it out too. And the five of them did really have a wonderful creative time together in this little village, all packed into close living quarters. Except that's not where they formed the band. They didn't even know Hooper could sing when they left the commune and all went back to their homes.
"When we left Greece, forming a band together just wasn't on our plate," Zucconi says. "Hannah's never been in a band before. She's a natural, secret musician, which we all found out afterwards, but it wasn't until I was playing a solo show in Toronto that we discovered her musical ability really.
"She'd been coming to my shows and knew all my songs, and I called her up on stage, and luckily she was a bit tipsy, so she came up, and started singing with me. Then about a year later, Sean came over from London to visit us, and we all went out to California where [Wessen and Rabin] were living, and we sort of accidentally ended up recording our first EP.
"We never expected it, or planned it - it's kind of crazy."
It might seem all very lucky, but clearly there was something about the group that tapped into a wide audience right from the start. They played their first show in May 2010, but less than six months later they were touring with Florence and the Machine, and signing a record deal. They became an in-demand festival act, and songs such as second single Tongue Tied from Never Trust A Happy Song, blew up and more than a million copies were sold in the United States and certified gold in Australia and Canada. They've had synchs with iPad, Chevrolet, Coke, Madden and Fifa games, and their latest single, Ways To Go - from album No2, Spreading Rumours - featured in the Girls season-three trailer.
"You kind of stop trying, or stop having all these plans and expectations - sometimes that's when things happen," Zucconi says. "But we're so grateful. We can't believe sometimes that we even know each other, yet alone get to tour the world. It's still weird."
It had been a whirlwind couple of years when they stepped off the bus after touring Never Trust A Happy Song, but they seemed determined to keep the momentum going so they went straight into a recording studio/house to start on Spreading Rumours.
"Most of us were homeless anyway when we got back and would have been crashing at parents' places or friends' houses, so to actually have a home where we all got to live together for three months was great. It was intense but we got a lot of great stuff from doing it that way. We wanted to make it all about harnessing the energy we'd found as a live act, so we did everything live, and it was all worth it I think."
The house/studio was in an old historic neighbourhood in the Hollywood Hills, with quite a musical pedigree of its own, which helped inspire the five-piece to keep going through the tricky bits.
"It used to be an old Motown house that Berry Gordy used in the 60s and 70s. So back in the day, you know, the Jackson Five or Diana Ross, when they came to LA, they would stay there and rehearse there. So it was really cool to be sharing those walls. And right above the house there was another old house that the Beatles used in the 60s, so we'd all hang outside late at night, looking up and imagining the Beatles out on the deck, tripping out."
They specifically worked to create songs that would work well in a live setting, with high energy, and a "slightly combustible" sound.
"When we perform it feels like a cathartic release that we get to experience with all our fans. That's what we like to do. We like it when fans can lose their minds with us, so those were the songs we were looking for."
So what can fans expect tomorrow from a band that has featured everything from messy house parties and paddling-pool bellyflops, to a child dictator, and a whole lot of dancing in their videos? "The live show looks a lot blurrier than the videos," Zucconi says. "There's a lot of headbanging, a lot of hair flying around, it's kind of dangerous, we're always almost hitting each other in the face with our guitars. No, I'm kidding, but we are a very physical live band. I guess we're like some sort of animal of truth when we're up there. It's very sweaty, it's a big party, that's what we're all about.
Who: Christian Zucconi, lead vocalist of LA five-piece Grouplove
Where and when: Playing on the Tamaki Stage at 2.30pm, at Big Day Out, Western Springs, Friday January 17
Listen to: Spreading Rumours (2013), Never Trust A Happy Song (2011)
- TimeOut