The crazy news crew that brought you Anchorman are back in a sequel that is sure to put the silly in silly season. Will Ferrell talks to Des Sampson about keeping it classy.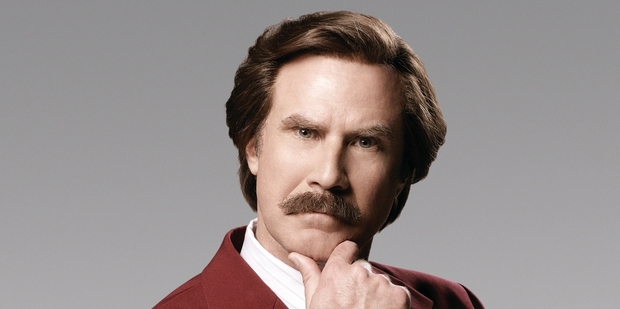 After a nine-year break from our screens, the big news story is that Ron Burgundy - Will Ferrell's TV news alter-ego - is back making headlines in Anchorman 2: The Legend Continues. The most pressing question is: what took him so long?
"Oh, it was just laziness. We all just got fat and complacent after the first one," teases Ferrell. "No, seriously, after we did Anchorman things just got a little crazy and we were all busy doing other projects, so it just didn't dawn on any of us to revisit this.
"But then a strange thing started happening: the interest in the film just kept growing and growing," he says. "We'd be doing press for other movies and journalists would ask us - usually at the end, in a reverential sort of way - 'Would you ever make an Anchorman sequel?' They just wouldn't let it go! It was the same with the fans; they kept begging us for more.
"All of that added up and after a while we started to think, 'Why not?' It was such an important movie for all of us and so much fun to do," recalls Ferrell, fondly.
"So, we set ourselves the challenge to do that thing that seems to be so difficult: making a successful sequel."
Time has moved on in the Anchorman world. It's the 80s - a decade on from the first film - and set in New York, where Ron Burgundy and his trusty team of Brick Tamland (Steve Carell), Brian Fantana (Paul Rudd) and Champ Kind (David Koechner) are the graveyard shift on a new 24-hour cable TV channel.
Some things don't change though, with Anchorman 2 - like its predecessor - peppered with bad taste jokes, crass one-liners and close-to-the-bone, off-key sketches about race, disability and drug use. It does make you wonder if anything is off-limits for Ferrell and his co-stars.
"Hmm, not really," says Ferrell, shrugging matter-of-factly. "So long as the characters are unaware of how offensive they are and what they do isn't mean-spirited, or pointed in some way, I think you can go anywhere with humour."
That's just what they do in a couple of risque scenes involving newcomer Meagan Good, who plays their new, black boss. They're skits that threaten to overstep the boundary between bad taste humour and racism. Similarly, when Ron Burgundy and Brian Fantana smoke crack cocaine live on air, during an investigative segment of the show, it makes you ponder: have they gone too far this time?
"I just want to clarify that in those scenes, where there are so-called 'racist' jokes, it is just satirical," says Ferrell, seriously. "Ron and his news team are not racist; they're just unaware, just ignorant. For them, it's a shock because they've never had a female boss and, on top of it, she's African American. Those two things are just stunning to them.
"As for the smoking crack thing, it doesn't even begin to push boundaries, in my mind," asserts Ferrell. "I mean, there's been a mayor of Toronto caught on film smoking crack, so what these guys do is nothing. It was just one joke on a list of many that we thought these guys could do for a laugh. We didn't think any more of it.
"Also, you've got to remember that in the 1980s cocaine use was so commonplace it was considered benign," he adds. "People didn't even think cocaine could harm you, so these guys were just connecting the dots and saying; 'Oh, this is a way you can smoke it, that's fun.' That's all there was to that scene."
For Christina Applegate, who reprises her role as Ron Burgundy's partner Veronica Corningstone, in Anchorman 2, the real boundaries being stretched by Ferrell and his film-maker buddies, Adam McKay and Judd Apatow, are the genre-shifting roles they're offering women in their comedies, as she explains.
"It's so much harder for women to do comedy than men because it's still very much a boy's club, driven by men. So, nine times out of 10 playing the female part in a comedy is a thankless task because there's no way that some of these guys are going to let a woman be funnier than them. Instead, they make sure that the female role isn't funny and that it's usually just a pretty girl who's there to be soft, supportive and co-operative.
"But these guys are different. They want the women in their movies to be funny; they want us to challenge; they want us to spar; they want us to be strong, powerful females who stand out," Applegate enthuses. "That's so few and far between in this industry, because we're used to seeing women in comedies as imbeciles and weak. But Will, Adam and Judd are able to take strong, feminine women and make them lovable, likeable and funny, while making the men look like complete buffoons! That's got to be a good thing.
"Also it's nice to know that, at some point, Ron will get his ass whooped by a lady in high heels," she adds, laughing. "I did it in the first film and this time it's Megan's turn to beat him up good."
Who: WIll Ferrell as Ron Burgundy
What: Anchorman 2
When: Opens at cinemas today
Read our review of Anchorman 2 here.
- TimeOut