Freed from his role as Harry Potter, Daniel Radcliffe is carving out his own acting niche, writes Helen Barlow.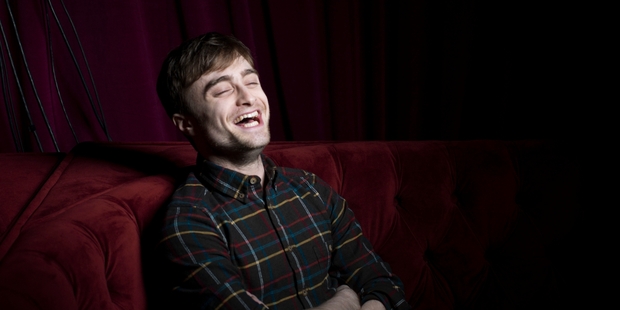 Daniel Radcliffe brims with enthusiasm about what he has been able to achieve since leaving Harry Potter behind. It's not that he's ungrateful for what the boy wizard has given him, it's just that he needed to prove himself away from Hogwarts.
Over the past two years the 23-year-old has been racking up edgy performances all over the place - on the West End stage in Martin McDonagh's The Cripple of Inishmaan and in his trio of movies, Kill Your Darlings, Horns and The L Word.
Even if Radcliffe gets his gear off in all three movies, his sex scene in Kill Your Darlings is the most daring. What are his Harry Potter fans going to think?
"If they coped with my simulating sex on the back of a horse in Equus, they're going to cope with this," he chuckles, referring to the 2007 West End play where he also went full frontal before going on to make his final Harry Potter instalments. "The gay sex scene held no fears for me."
Britain's wealthiest performer under 30, Radcliffe is going the independent route with his new films.
"If you are in the financial position where you don't have to work for money, you can pick and choose the projects you do and it's your duty to choose them carefully," he says.
Radcliffe is keen to work with adventurous directors on challenging material. The L Word, about that thing called love, is probably the most commercial and least interesting of his recent movies. But the horror-loving actor - who most enjoyed it when Harry Potter became dark - is clearly in his element when he has a green horn sticking out of his head in Alejandre Aja's Horns, and when he plays Beat poet Allen Ginsberg in Kill Your Darlings.
Radcliffe loves poetry - at 17 he published a quartet of poems under a pseudonym, Jacob Gershon. One poem, titled Away Days was written from the point of view of a cheating husband and details his affairs with prostitutes, while another focused on junkie rock star Pete Doherty.
"I love the romantics, Keats in particular," says Radcliffe. "There may not be a more beautiful collection of words in the English language. His ability to put words together sounds amazing."
In Kill Your Darlings, though, we see a less poetic side of Ginsberg in his early years. The film, directed by John Kokkinos, tells the astounding real-life story of Lucien Carr, the love of Ginsberg's life without whom the Beat poets - Ginsberg, Jack Kerouac and William S. Burroughs - would never have met when they were students at Columbia University. We know little of this, because after Carr spent two years in prison for the 1944 manslaughter of David Kammerer (his early lover and mentor who was 14 years his senior) he disappeared from public view, with his friends promising to refrain from writing about him and, most importantly, his crime.
From what Kokkinos could glean, Carr, who actually went on to marry and raise a family, "stayed in this weird kind of co-dependent relationship with Allen all the way till his death in 2005". Ginsberg died in 2007.
And the Hippos Were Boiled in Their Tanks, the novel Burroughs and Kerouac wrote based on Kammerer's 1945 murder, when they were aged 30 and 21 respectively, was first published in 2008.
"This story's been suppressed for a long time and it's a pleasure to finally be able to tell it," says Radcliffe.
According to Kokkinos the Ginsberg role was tailor-made for the Harry Potter star. "Allen starts off in the film as a dutiful Jewish son, as somebody who spends his life taking care of others and only showing one part of himself. By the end he is a poet and a rebel. I had a feeling Dan might be able to relate to this - and within five minutes of our first meeting I pretty much knew the role was his."
To play the young Ginsberg, Radcliffe donned a frizzy wig and American accent in what he considers his most transformative role yet. "The script was fantastic - that's all you can base your choice on. And when I met with John I could see he has this fantastic energy. He was a joy to work with."
Radliffe embraced the nature of working quickly on the low-budget production.
When rising American star Dane DeHaan came to audition, Radcliffe knew the actor was perfect to play Carr, essentially the lead in the film. "Afterwards John and I came out of the room having to calm ourselves down, we were so excited," Radcliffe recalls.
Being compared to a young Leonardo DiCaprio for his talent and magnetic looks, DeHaan, like Radcliffe, relished playing such a complex character and now says: "Lucien makes people fall in love with him. Certainly my job in the movie was to understand that."
Long before Radcliffe and DeHaan's on-screen kiss ("We were straight into it, there was no time to be nervous," Radcliffe chuckles) they bonded over their hair. "We went to the salon together, and Dane got blonde hair and I had to come out with like an afro. I actually grew rather fond of it," Radcliffe recalls.
While Radcliffe is under no illusion regarding what the Harry Potter movies have given him, he's "very happy doing other things now".
"I'm more comfortable on set and more comfortable in my acting ability. Over the past two years I've started to grow because I've finally been doing work that I'm really pleased with and proud of. Kill Your Darlings was sort of the start of that for me. I was really so proud of the way we made the film and I loved it when I saw it. I walked on set and felt that I belong here, and I know what I'm doing and I have a right to be here."
Still, his fans aren't going to let him escape his former role of boy wizard for a while yet - when Radcliffe was at the Venice Film Festival a mob of teenage girls chased him to the loo. "Surprisingly, since I finished Potter it's got a lot more intense but it's lovely that people are still so effusive to say the least," he says. "You just have to step back and laugh at the fact that 500 people chased me to the toilet!"
And all that running from Pottermaniacs might just help his next role - in Gold, Radcliffe plays British middle-distance champ Sebastian Coe at the time of his rivalry with Steve Ovett in the lead-up to the 1980 Moscow Olympics.
Who: Daniel Radcliffe, the actor formerly known as Harry Potter
What: Playing Beat poet Allen Ginsberg in Kill Your Darlings
When and where: At cinemas from today
Follow @nzherald_ent on Twitter for all the latest entertainment news.
- TimeOut