The man behind zombie-bashing thrill ride Dead Rising 3 talks to Chris Schulz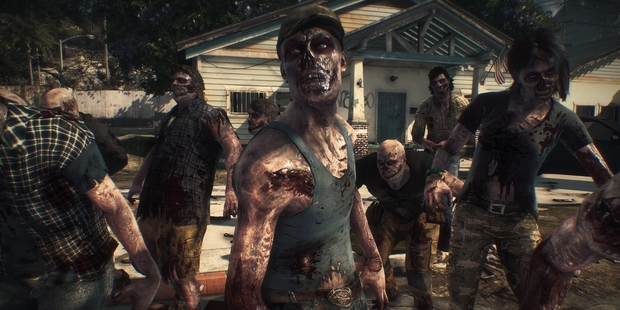 Mike Jones knows his zombies. As the producer of gloriously gruesome Xbox One game Dead Rising 3, Jones has spent the better part of three years designing zombies intimately - both inside and out.
He knows exactly what happens when you cut off one of his zombies' heads with an axe. He knows how they'll react to a shotgun blast to the chest. And he decided exactly what kind of scream his zombies will make when you take to them with a flamethrower.
Jones calls the level of detail his 200-strong team at Capcom have been able to achieve on Dead Rising 3 "exhilarating".
"We wanted to put more emphasis on the zombies this time around," he says about the R18-rated game, released as an exclusive Xbox One game on Friday.
"If you cut open a zombie you'll see individual bones and organs - all anatomically correct - sticking out of their bodies. You can even see individual teeth and brains if you split their heads open."
It's not just zombies' insides that will entertain gamers in Dead Rising 3, a third-person experience that follows mechanic Nick Ramos as he tries to escape the zombie-infested Californian city Los Perdidos before an incoming nuclear strike.
Jones promises plenty of upgrades from the Xbox 360 games, including visual improvements, no loading screens, Kinect and SmartGlass options, and an open world game so big, it's larger than Dead Rising 1 and 2 combined.
It comes with so many different characters, "you never really see the same zombie twice," he says.
"We use a procedural system to dynamically create zombies in the game," he says. "So you'll see different zombie archetypes based on what part of the city you're in: business zombies downtown, doctor and patient zombies near the hospital, bikini zombies near the beach and construction zombies near work sites."
Beach babe bikini zombies? Yes, you heard that correctly - but don't laugh for too long or one of Jones' specially skilled "marquee" zombies might end up eating your organs.
"Marquee zombies really stand out from the zombie horde and have different behaviours. Most of them are repeating the last muscle memory action they were performing before they turned, like firemen zombies swinging axes, cop zombies shooting guns randomly or football zombies trying to tackle you."
Taking all of that on may sound like an extreme zombie challenge (see game preview below) but there is another element to all this mayhem: weapon creation.
Part of the fun of the Dead Rising franchise is combining weapons to see what kind of damage they'll inflict on the zombie masses. In this instalment, Jones says up to five weapons can be combined "on the fly" - and even vehicles can be pimped out for zombie kill thrills.
"We've got more weapons and more combinations in Dead Rising 3 and you can now combine them anywhere. So the pace of the gameplay and the improvisational opportunities have really increased.
"You can also combine vehicles to create combo vehicles. My favourite is combining a motorcycle with a steam roller - we call it the 'roller hawg'. It also has flamethrowers, just because."
Jones says there's more than just brainless zombie bashing going on. The game includes a "social commentary" about human survival - much like the themes explored on hit zombie TV show The Walking Dead.
"There are definitely themes of morality and survival in the story. For example, Nick struggles with situations where he or others are forced to commit acts of violence towards other living people to survive.
"It's not the same as killing zombies, and in Nick's mind could be avoided."
But the fundamental element of the game is survival, and to do so thousands of zombies will have to be dispatched in vividly detailed and gruesomely explicit ways.
Jones says they get away with a high ranking on the "gore-o-meter" because Dead Rising 3 isn't human-on-human violence.
"It's a bit deeper than pure shock value. We wanted to put more emphasis on the zombies this time around. We wanted the zombie hordes to be the major threat to players and for players to take that seriously. Making the zombies more realistic and believable helps reinforce that idea.
"Seeing zombies left over with missing limbs or crawling on the ground after barely fighting your way through a crowd alive can be exhilarating," he says.
With all that zombie action in his day job, Jones says he can't handle too much gore when he heads home at night. How does he relax?
"Recently I've been enamoured with theoretical physics and quantum mechanics so I've been watching a lot of documentaries and reading some books. And I play a lot of games but I usually get enough gore at work so I stay away from the violent stuff after hours.
"I also drink a lot of beer."
What: Dead Rising 3
Where and when: Xbox One exclusive release, available from November 22.
For fans of: The Walking Dead, The Last of Us, Call of Duty's zombie mode
Click here to buy Dead Rising 3 for Xbox One.
Follow @nzherald_ent on Twitter for all the latest entertainment news.
- TimeOut