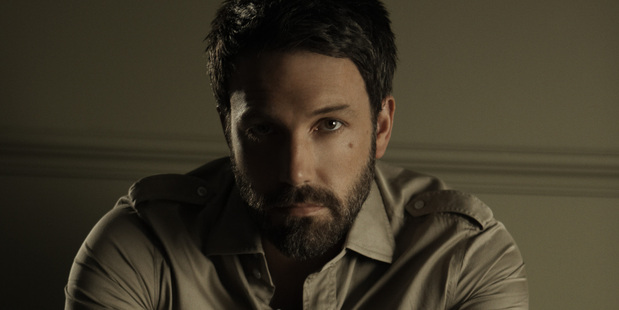 Holy nipple-free Batsuit!
Moviemaker Kevin Smith claims he's had a sneak peek at Ben Affleck in his Batman costume - and the experience was apparently "mind-bending".
Speaking on his most recent Hollywood Babble-On podcast (via E! Online), Smith revealed that director Zack Snyder showed him a picture of Affleck's costume for the forthcoming Man of Steel sequel.
"He pulls out his iPhone and he shows me something that, I'm not kidding, I went glassy-eyed and weak in the knees," said Smith, who directed Affleck early on in his career. "I saw the Batman costume. More than that, I saw a picture of [Affleck] in the costume."
Speaking in more detail about the outfit, Smith said it was a departure from previous screen incarnations of the suit.
"Now I don't want to give anything away, because that's up to them and stuff, but I'm going to say this - I instantly bear hugged him [Snyder]," he said.
"You have not seen this costume, in a movie, on film before. And for a comic book fan, it was mind-bending. I was like 'Get out of here, only you have enough power to pull this off'. Because every other movie does this Matrix-y, X-Men black armour thing," he continued.
"There wasn't a single nipple on this f***in' suit, man. It was fantastic," self-professed superfan Smith shared.
"I'm already, of course, a flag-waver for the movie, but the costume blew my mind," he added.
"I think you'll be happy, everyone will be like, 'Holy s**t'. It's its own thing; we haven't been down this path at all. Even the hardest core 'frick this movie' person will be like 'alright, I'm ready.'"
Smith then bleeped out a segment of the podcast where he speculated on what influenced the design of the suit.
"It seemed like it was very [Bleep] influenced," he noted.
George Clooney, who starred as the caped crusader in Joel Schumacher's critically-maligned Batman & Robin, recently commented on the rather anatomically-conscious costume he wore in the 1997 sequel.
He was kept in the dark about those moulded nipples.
"The Batsuit was uncomfortable for all of the world. Even little kids come up and kick me," he dished to MTV while promoting Gravity. "They put nipples on the damn thing. You know, I didn't even know it until the film came out."
Clooney also weighed in on Affleck's contentious casting as Batman.
"I am the least qualified person to comment on anyone playing the role of Batman since I so terribly destroyed the part," he quipped to Empire magazine (via The Playlist).
"I tend to look at it like this - let's just see what the movie is before everyone starts beating him up. He [Affleck] is a smart man, he knows what he is doing."
The Man of Steel sequel, tipped to be called Batman vs. Superman, is slated to hit the big screen in July 2015.
NOTABLE NUGGETS
And finally ...
* Watch: Mariah Carey says she "hated" working on American Idol: "It was like going to work every day in hell, with Satan." Ooh, burn. Your move, Nicki Minaj.
* "I'm so sorry for anyone who took my actions the wrong way and I hope you can forgive this mistake" - Justin Bieber issues lengthy apology for mistreating Argentine flag.
* Nicolas Cage pillowcases are a real thing, folks. Ditto saucy snaps of Cage in his birthday suit, according to scandal sheet TMZ. But the actor denies they actually exist. Ooh, matron!
* Lily Allen fires back at Hard Out Here racism claims; and check out Allen's cover of Keane's Somewhere Only We Know here.
* Kate Moss dons Playboy bunny outfit for mag anniversary shoot.
* For the love of humanity, Jennifer Aniston is not pregnant.
* Mark Wahlberg drops some serious F-bombs while blasting actors who compare making movies to being in the military.
* Listen: Taylor Swift covers Eminem's Lose Yourself.
* Sinead O'Connor talks Miley Cyrus spat, calls music industry "nothing but vampires and pimps".
* Watch: Russell Crowe stars in first trailer for Darren Aronofsky's Noah.
* George Clooney quips that Sandra Bullock drunk dials him every night.
* Us Weekly plays clairvoyant, takes a stab at when Kim Kardashian and Kanye West will start expanding their brood.
Have a fabulous weekend, folks!
- Rumour Has It